As the impact of COVID-19 reverberates around the world, directors reflect on how the crisis could reset governance in Australia and examine the key issues for boards and management.
When we look back, the striking thing about COVID-19 has been the speed — the exponential nature of the pandemic that enveloped us and the rapid decision-making required to respond. In less than two months from late January, when a handful of Australian cases emerged in the middle of the bushfire emergency, millions have been forced to work from home, a nationwide shutdown began, health/medical contingencies were enforced and $214b in government rescue measures came into play.
While frontline medical teams rushed to implement testing procedures, monitor the spread of the disease and ready intensive care units, enterprises saw customers disappear and revenues dive. Business continuity and risk management plans were tested — and sometimes found inadequate — and the community tried to absorb this abrupt shift in circumstances.
Like most trying to comprehend the enormity of recent events, John Mullen, chair of Telstra and Toll Holdings, hunted in vain for parallels in past experience. "How do we make sense of it? I'm not sure that anybody can," he says. "First up, we thought it was a problem to be managed, but we appeared to be relatively immune. That changed rapidly and we've seen dramatic health and economic impact — and those who can least afford it are most affected."
The COVID-19 and economic crises have exposed what scholar and former risk analyst Nassim Nicholas Taleb describes as the "interlocking fragility" of globalisation — from disruption to the fabric of our human connectedness and the primacy of public health and safety, to "just-in-time" supply chains and global markets, and flows of financial capital. "In my 44 years in finance, I have never experienced anything like this," BlackRock CEO Larry Fink wrote in his March letter to shareholders, calling COVID-19 an unprecedented medical, economic and human challenge. With the urgent need for organisations to respond, a coordinated response between government, banks and insurers, and emerging partnerships between business and unions, and public and private healthcare providers has demonstrated a rare alignment of interests putting societal needs first.
In late March, the federal government set up the National COVID-19 Coordination Commission (NCCC). Chaired by Neville Power MAICD, Perth Airport chair, with CSIRO chair David Thodey AO FAICD as deputy chair, it has enlisted leaders across the private and not-for-profit sectors. These include former Labor minister and ACTU secretary Greg Combet AM; chair of the Coalition for Epidemic Preparedness Innovations Jane Halton AO PSM FAICD; chair of the Little Group Paul Little AO FAICD; and CEO of Energy Australia and RBA board member Catherine Tanna. They are joined by Secretaries of the Department of the Prime Minister and Cabinet (Philip Gaetjens) and Home Affairs (Mike Pezzullo). The commission is being assisted by former Productivity Commission chair Peter Harris AO and former Dow Chemical CEO Andrew Liveris.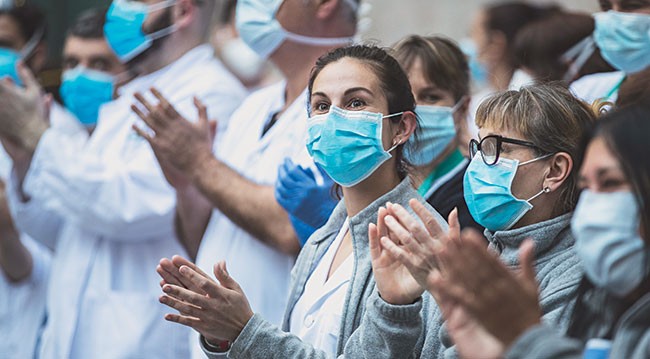 The NCCC is advising the Prime Minister on non-health aspects of the pandemic response and working with Chief Medical Officer Prof Brendan Murphy, who leads the Commonwealth health response. The National Cabinet, which includes state and territory leaders, leads the national response at a government level, while the National Security Committee of Cabinet's COVID-19 Taskforce and the Expenditure Review Committee determine the Commonwealth response to the pandemic.
"This is about working cooperatively across private-to-private and public-to-private networks to unlock resources, break bottlenecks and fix problems so Australian families, businesses and communities are supported through the challenging months ahead," said the PM.
Mullen monitors the Telstra board's crisis management from home, checking in daily with CEO Andy Penn. To save time, the board is copied in on the minutes. "If anything material changes, we have a quick board call," he says. "My job is to [give them] the freedom to do their job."
As in many organisations, Telstra board and management have been working on further contingencies to support executive leaders as the crisis stretches across many months. "I've had these conversations so many times with risk officers when you look at all the issues and then the risks that overtake you are something else," says Mullen. "We all have the risk matrices, the bubbles and severity, and we all manage them. But when these things really happen, it affects your risk appetite. Is there anything you can really do about it? No."
In Brisbane, Andrew Fraser GAICD, chair of Sunsuper and Queensland homeless support enterprise Orange Sky, has helped guide its founders as they put the social enterprise into temporary hibernation. Also a director of NZ Rugby League, Motorsport Australia, and Watpac, Fraser has been struck by how rapidly the disruption from the health emergency moved into the real economy, in contrast to the 2008 global financial crisis when he was Queensland Treasurer.
"The time lapse from US sub-prime issues to genuine economic impact was substantial, but this economic crisis is faster and in the real economy very quickly," says Fraser. "It is a fluid situation. Decision-making needs to be contextual and informed by the now and the future. You have to lead through and beyond, always planning on being on the other side of the challenge and with the capacity to not just endure or survive, but to succeed in the world that follows."
These are unprecedented circumstances... Investors will be relying on directors to be very focused and on top of their game.
Time horizons
Boards also need to be cognisant of the impact on the psychological wellbeing of teams and the endurance required as the health crisis continues. Rebecca Davies AO FAICD — who as a director of Defence Health and Catholic Healthcare is involved on the frontline — says directors and management need to work more closely together than ever and have a set of timelines. "We need to triage issues and 'business as usual' and come to agreement about how we work both in the short, medium and longer term," she says. "Our prime focus is providing services while keeping everyone safe. Some business-as-usual activities might need to take a back seat for now."
She says the board might take on the job of doing the medium and longer-term thinking, and do that without distracting management from crucial delivery issues. Again, clear agreements about that are needed, but boards can be thinking about how to drive recovery, what opportunities might present themselves, and how best to capture the many lessons we're all learning at this time.
"If financial viability is the issue, that comes first," says Davies. "That might mean discussions about whether our purpose can still be fulfilled. Maybe it can't be in the short term, but the purpose still makes sense for the future. We might need to think about how we go into hibernation and plan for the recovery. Or we might need to think about whether the purpose is not going to survive. Does that mean closing down, pivoting to a new purpose, or a new way of delivering on the current purpose?"
Directors need to watch how staff are coping, including their management teams. "We need to understand the stress everyone is under," says Davies. "Dealing with more uncertainty, potential danger and ambiguity than we have had to before, directors need to take extra care on interactions with the team and take stress off rather than adding unnecessary stress."
Korn Ferry reports that CEOs need to make difficult decisions for long-term business continuity, including reducing labour costs through lay-offs or forced leave. Tim Wiseman, its US-based associate client partner, recommends being clear and upfront about internal communications in case it could be toxic to morale. "If you know there will be headcount reduction or you need to close down a loss-making project or pull back from a market, don't mislead or give mixed messages," he says. "If you have to do this, do it once and then move forward."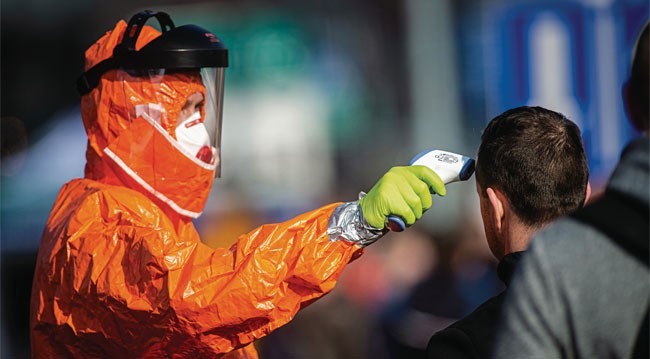 Fraser says seeing different organisations of different scale and structure has been helpful.
"It has created a cross-check for me, seeing initiatives and responses and applying, modifying, adapting in other organisations. You have to be fully engaged, available and agile, but you have to back leaders to lead."
Beau Leese, co-founder of Australian online education company Practera has also worked through a massive change. "A five-year shift into online education is happening in five months," he says, describing the delicate line between huge opportunity and downside risk. With 40 staff in six countries, Practera ramped up to help 20 universities provide online services for students stranded in China and elsewhere by travel bans.
Practera has two COVID-19 response plans. It has taken a leaf out of the Silicon Valley COVID-19 playbook. "We are preparing plans to reduce costs substantially, by 20–40 per cent, and also to invest massively," says Leese. "And we are keeping both those plans running at the same time. Any board and management absolutely needs to know how they'd reduce costs and also invest if demand spikes and opportunities present themselves. We've talked about operating in a VUCA (volatile, uncertain complex and ambiguous) world for a long time and it has become real. For many, it's simply a matter of who can survive and whose business models are flexible enough to get them through."
Towards normality
As organisations and authorities work through this disruption, the ever-present temptation will be to to return to business as usual as fast as possible. Once the threat is perceived to have abated, the pressure will be on. Instead, directors say, we will need to reset to a new "normal" — whatever it may look like.
"Societally, we have had a golden run for 50 or 60 years," says Mullen. "Before that, there was something of similar magnitude, wars, depression and the like, which tended to reset the moral compass of society. The shock may remind us what's important in life." Fink sums it up well. "When we exit this crisis, the world will be different. Investors' psychology will change. Business will change. Consumption will change. And we will be more deeply reliant on our families and each other to stay safe."
Looking for more insights on the COVID-19 pandemic? Go to our dedicated COVID-19 hub here.
This is of of your complimentary pieces of content
Already a member?
Login to view this content