PROFESSIONAL DEVELOPMENT
Your learning pathway.
We recognise that your director career extends beyond any one course and we are dedicated to supporting and guiding you for the entirety of your learning pathway.
Our Professional Development Handbook is the perfect way to explore how our world-class courses, events, services, publications and tools can support you.
The handbook will help you identify a learning pathway that suits your current and future development needs, because even the most experienced directors never stop learning.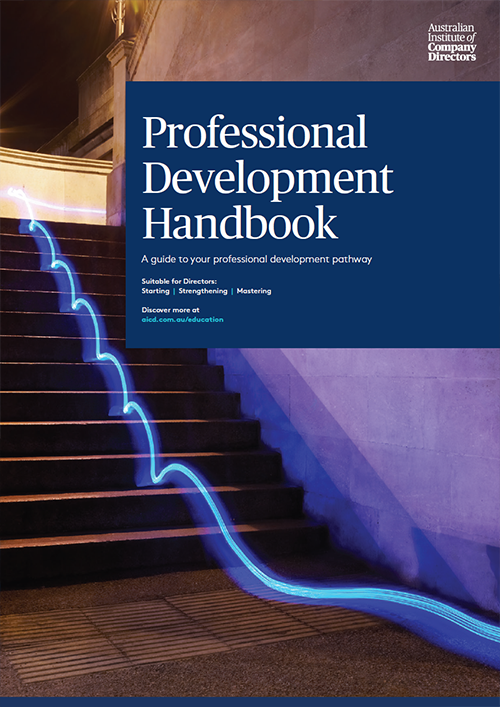 Core
Our 'core' offerings provide you with the critical elements of directorship. They are designed to deepen and extend your governance knowledge.

Individual
Our 'individual' offerings focus on the attributes that individuals bring to their role as a director. This encompasses the roles and responsibilities of directors and leadership capabilities.

Board
Our 'board' focused offerings cover the practices that individuals bring to their board. This includes the roles and responsibilities of boards, how boards operate and how boards perform.

Organisational
Our 'organisational' focused offerings cover the responsibilities of directors in the performance of organisations. The key focus is on governance, risk, strategy, finance and management relations.

Need help?
Contact us for any queries you have about AICD membership, services and advocacy work.
Find an Answer
Have a question? We can help.
View FAQ
This is of of your complimentary pieces of content
Already a member?
Login to view this content