FIND OUT MORE
Choosing the path forward.
Recent inquiries, including the Financial Services Royal Commission and the Royal Commission into Institutional Responses to Child Sexual Abuse, have put governance practices under the spotlight.

In April 2019, we released a consultation paper in response to current debates on governance practice and standards. 
We asked AICD members to share their views on the Forward Governance Agenda, and over 1,200 members responded through an online questionnaire. You can read the consultation paper and our report on members' responses below.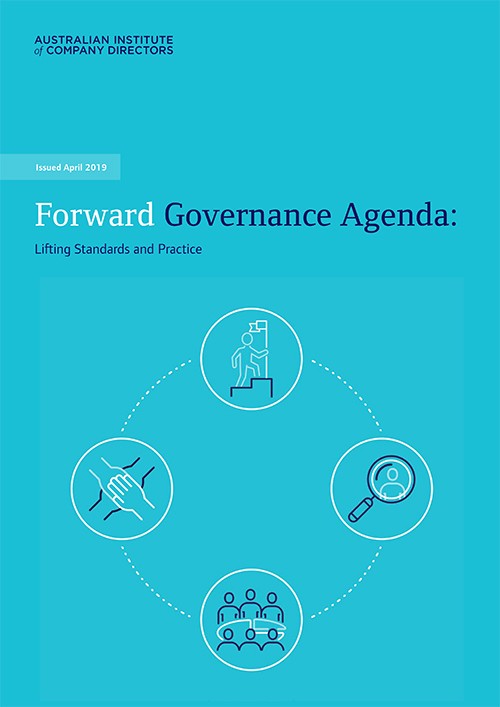 Consultation results and next steps.
In addition to our consultation paper, our Chair, John Atkin FAICD, and Managing Director & CEO, Angus Armour FAICD, attended events around the country to meet and discuss these issues with members. 
Our members shared their views according to key themes, on areas where we should increase our focus or change our approach to help strengthen governance practice.
Standards and professionalism
Members support a revised AICD Member Code of Conduct with a focus on clear standards of practice, and increased Director Professional Development obligations.
Duties and stakeholders
The AICD should lead debate on directors' duties, and engage with directors, stakeholders and legal experts on the best interests duty and increasing resources for members.
Demonstrating accountability
Only a third of members consider existing director accountability mechanisms to be 'adequate'.
Culture and remuneration
Culture is a high priority for directors. Members want practical guidance on the governance of culture and remuneration.
WHAT NEXT?
Future steps.
We have now embarked on a series of initiatives under each of the themes of the Forward Governance Agenda. These include a review of our Member Code of Conduct, better cut-through on the role of the board, more practical tools and resources on the duties of a director, the governance of culture, and more. 

Commence a formal review of the AICD Code of Conduct, to include consideration of standards of governance practice and options for compliance frameworks. 
Revise the AICD's Director Professional Development (DPD) scheme to require a focus on priority topic(s) as part of each 3-year DPD cycle. 
Refresh AICD resources on directors' duties to reflect contemporary practice, within the current framing of the best interests duty. 
Support debate with greater stakeholder engagement and new research. 
New guidance on bringing stakeholder voices to the board. 
Increase the prominence of stakeholder views in AICD communications. 
Increase focus on stakeholder and community understanding of the role of the board and non-executive directors. 
Consider non-prescriptive guidance on board commitments. 
Further research annual director election models and impacts. 
Develop new resources to support members in the governance of culture. 
Engage proactively on expectations on the governance of remuneration, promoting appropriate framing of the board's role with stakeholders. 
Consider scope for good practice guide on governance of remuneration.
Need help?
Contact us for any queries you have about AICD membership, services and advocacy work.
Find an Answer
Have a question? We can help.
View FAQ
This is of of your complimentary pieces of content
Already a member?
Login to view this content