In the light of recent disasters, boards need to have a plan that goes beyond recovery, to building long-term resilience. Here are the governance issues directors must be across, writes Denise Cullen.
When the worst of the fires abated, Aspen Group employees scrambled to reopen the company's tourism properties in locations such as Barlings Beach and Tween Waters on the New South Wales south coast in time for the Australia Day long weekend. None of Aspen's buildings had burned. However, the company had been forced to turn summer holidaymakers away as fires ravaged nearby areas. It had taken a minimum $500,000 hit to revenue as a result and was hoping to recoup some of its losses.
"Initially, we thought we weren't directly impacted by the fire, but because of all the debris and soot flying around, that had become untrue," says David Dixon, joint CEO of Aspen Group.
Staff found downpipes and air conditioners completely blocked. Once-sparkling pools were black because the filters were clogged. Rooms were full of soot. Illustrating the cascading effects of contemporary disaster, there was little help immediately at hand.
"There has been a lack of supply of contractors, builders and other people to do the work because they've either got their own problems, they've left the region or they're overwhelmed by demand from other sources," says Dixon.
Parallel stories of devastation have emerged as a host of communities attempt to pick up the pieces. The bushfires have claimed lives and homes, destroyed crops and properties, closed roads, knocked out power, water, fuel, food supply and phone services, decimated essential trade and stretched individuals and communities to breaking point.
Cruelly, the fires were followed by severe flooding through parts of NSW, Queensland and Victoria. According to the United Nations Office for Disaster Risk Reduction (UNDRR), the number of weather- and climate-related disasters has more than doubled during the past 20 years. UNDRR statistics show more than 90 per cent of global disasters in the past two decades were floods, storms, droughts and other extreme weather events. The financial impost of this is huge and ever growing. Figures from the Australian Business Roundtable for Disaster Resilience and Safer Communities suggest the total cost of natural disasters is forecast to more than double in real terms to $39b per year by 2050.
Recovery
Former AFP Commissioner Andrew Colvin APM OAM is leading the National Bushfire Recovery Agency, established by the federal government in January. The agency will be funded with an initial $2b ($500m in the financial year to June) to coordinate a national response to support affected families, farmers and business owners.
The agency is modelled on the North Queensland Livestock Industry Recovery Agency, established following the 2019 North Queensland floods, as well as the experience of the Victorian Bushfire Reconstruction and Recovery Authority, created after the 2009 Black Saturday bushfires.
The prime minister announced a Royal Commission into the bushfires on 20 February.
The three commissioners are retired air chief marshal Mark Binskin AC, former federal court judge and chair of ANSTO Annabelle Bennett AO SC, and professor Andrew Macintosh, a specialist in climate risk and impact management.
The commission will deliver its findings to the federal government by the end of August.
Surge capacity
Whether fire, heatwave, deluge, flood or cyclone, disasters demand a major coordination effort behind the scenes — involving federal, state and local authorities, businesses, not-for-profits and community groups. Despite the heroic efforts of those on the front line, as the nation grapples with events that are increasing in frequency, severity and impact, cracks in the current system are starting to show.
Historically, Australia's firefighting and emergency services organisations evolved out of small groups of landholders banding together to combat a common threat. This history is reflected in their current structure. For example, rural fire brigades remain locally oriented and volunteer-based. Constitutionally, the state- and territory-based organisations to which these smaller entities belong bear complete responsibility for fire and disaster management within their borders. In his address to the National Press Club in January, Prime Minister Scott Morrison proposed a greater role for the federal government in times of disaster.
As it currently stands, the federal government has limited response powers. Under the federal system, the primary role for the safety and protection of Australians during natural hazard events belongs to states/territories and local government. The Commonwealth delivers emergency management services for the Australian territories for which it is responsible. The federal government can provide federal resources to assist in disaster management efforts — such as the deployment of Australian Defence Force (ADF) personnel — and provide financial assistance to help those affected by disaster get back on their feet.
All state/territory-based fire-fighting and emergency management organisations are members of the Australasian Fire and Emergency Service Authorities Council (AFAC). Coordination of deployment of resources across the nation is undertaken by the Commonwealth — through Emergency Management Australia, which sits in the Department of Home Affairs — in concert with organisations such as the AFAC National Resource Sharing Centre (NRSC) and the National Aerial Firefighting Centre, which are funded through co-contributions by all jurisdictions.
The NRSC coordinates a cooperative arrangement in which staff, volunteers and other resources move between states, territories and even countries to provide "surge capacity" in times of high need, says AFAC CEO Stuart Ellis. "It's worked very well during these emergencies over recent months," he says. "There's a single focus and unity of purpose, which has allowed for well over 6000 firefighters to pass through NSW."
Resources deploy across state boundaries every year, with examples including the Sydney hailstorm in 1999, the Black Saturday bushfires in 2009 and the Queensland floods and Cyclone Yasi in 2011. But even when volunteers are willing to deploy outside their local area, or abandon their paid work positions for extended periods, overlapping fire seasons between states means "intertwined efforts" are draining capacity.
"The biggest challenge for this season is fatigue," says Ellis. "It's a terribly overused word, but the length of the fire effort nationally is absolutely unprecedented."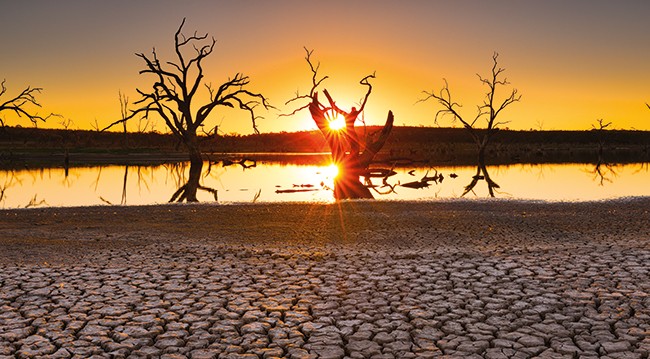 Fit for purpose
In the wake of summer's devastation, some have begun casting around for alternative models. Writing in The Conversation in January, Dale Dominey-Howes, professor of hazards and disaster risk sciences at the University of Sydney, says current arrangements "are no longer fit for purpose".
"We clearly need to overhaul our emergency management plan with a workforce that's large, nationally mobile, fully funded, and paid — rather than using under-resourced volunteers," he says.
But Jillian Edwards MAICD, AFAC director of capability and member services until 2019, says the cost would be prohibitive and warns to be wary of unintended consequences. "Take volunteers out of the equation and the taxpayer would have to fund the capability," she says. "Paid firefighters are a very expensive resource and we wouldn't have that surge capacity when we need it most."
Other, more intangible benefits may also be lost, she adds. "Volunteering motivates people and provides the glue that keeps the community spirit alive. They volunteer together, know each other and are familiar with the local landscape."
Edwards suggests more businesses need to buy into volunteering as part of their models and social responsibility contribution.
As part of the initial federal government response to this most recent bushfire emergency, volunteer firefighters are eligible to apply for up to $6000 to defray lost income.
2019–2020 bushfire season
9.8 million hectares burned
33 fatalities (including nine firefighters)
3048 houses lost
5811 interstate personnel deployed
668 overseas personnel deployed (NZ, US, Canada)
$1.9b estimated bushfire losses
$3.5b estimated economic impact
More than one billion animals killed
Sources: NRSC, Guardian, University of Sydney, Insurance Council of Australia (as of 18 February).
Rethinking the reaction
In the past decade, the focus has begun to shift from the mechanics of responding to disasters, to the means by which they might be minimised or prevented from wreaking such havoc. In December 2009, the Council of Australian Governments agreed to adopt a whole-of-nation resilience-based approach to disaster management, recognising that a national, coordinated and cooperative effort was needed to better withstand and recover from emergencies and disasters.
In May 2018, the Department of Home Affairs set up the National Resilience Taskforce, which sought to develop a national disaster mitigation framework to reduce the impact of disasters. Following a 12-month study into the cause and effects of disasters in Australia, the taskforce released Profiling Australia's Vulnerability: The interconnected causes and cascading effects of systemic disaster risk. Among its key conclusions was that natural hazards lead to disaster only "if they intersect with an exposed and vulnerable society… and when the consequences exceed people's capacity to cope".
The report called for greater attention to the decision-making processes that govern land use planning, building standards and infrastructure design, urban and regional development and asset management and investments.
Mark Crosweller ASFM MAICD, former head of the taskforce, says failure to adequately consider future risks in early decisions facilitates further risk creation. He says traditional decision-making tools — such as risk matrices, which weigh likelihood versus consequences — were inadequate when it came to prioritising climate and disaster risk reduction options. "The more catastrophic level risks are also the rarest, so we tend to trade them down," he says. "But, as we're seeing, catastrophic levels of disaster are becoming manifested and organisations, both public and private, simply aren't ready for them."
Managers could implement a range of controls to minimise manufacturing and construction-related risks, but nature did not provide that opportunity. "Directors should look hard and twice at the hazard and risk profiles and make sure they seek sufficient professional advice to understand the impacts [of disaster] on their business," he says.
Analysis may yield the conclusion that the proposed risk treatment is cost prohibitive. Even so, says Crosweller, possessing that knowledge would enable you to "respond more appropriately than if you simply chose to ignore it".
He adds there is enormous untapped potential for private and public sectors to work collaboratively in relation to resilience, risk reduction, hazard identification and management. "Governments may call upon the private sector for assistance, but there's no consistent or devolved mechanisms to engage the private sector more regularly on these matters." He notes that having worst-case conversations is confronting, but necessary. "A government can't say, 'No, I'm not interested,' and nor can a company director, because they have liabilities, obligations and responsibilities."
Crosweller says exposing the full potentiality of all hazards and risks was dependent on accurate and up-to-date information. "If you're an investor and you made a decision based on 40-year-old data to build something on a bit of land that was subject to a one-in-100-year flood event, then that would be a fundamentally flawed decision, which may result in a significant financial impact and a possible reputational impact."
Confronting carbon
Neil Bibby AFSM FAICD is the former chief executive of Victoria's Country Fire Authority (CFA) and one of more than 20 former heads of state and territory fire and emergency services who signed an April 2019 statement that called on political leaders to heed climate change warnings and the escalating risk of natural disasters. "At the moment, there's an emphasis on dealing with the symptoms rather than confronting the disease," he says. "Organisations need to consider how they deal with carbon and the effects of the carbon they generate on the world."
Bibby says while water, power and telecommunications industries were well practised at getting back up and running after a major incident, others struggled to manage the effects — including the staff who may have lost homes or are exhausted or traumatised as a result of fighting the fires. "The burnout of firefighters, volunteer and career, is very real," he says. "During a major disaster, company directors have to look at how they support their people, particularly those living in rural areas."
He says some companies lack policies on volunteerism or have a poor understanding of who was involved in firefighting efforts. "Leadership is needed to bring people back together after traumatic events because when large events like these fires go through town, they're wiping out the small businesses that keep these towns alive — which, in turn, support farmers."
Also imperative during times of crisis is clear and effective communication with stakeholders, says Nancy Fox FAICD, who serves on several boards, as well as volunteering with the RFS (see breakout p39). "Whether it be residents and businesses in the fire-impacted area or your shareholders, customers and employees, it is easy for sending your message to become an afterthought," she says. "In the RFS, we mitigate this risk by having appointed community liaison volunteers whose priority is to keep everyone informed. This can be the difference as to whether someone decides to stay to defend their property. The ramifications can be a matter of life and death."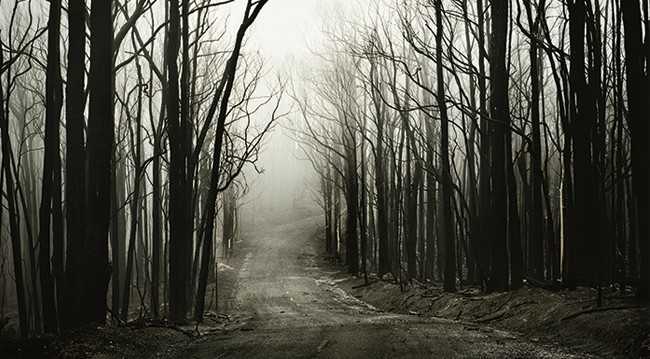 In December 2019, Nancy Fox FAICD was working as an RFS station officer at Mount Wilson in the Blue Mountains when she got word the Gospers Mountain blaze was heading for her home. Her husband, she knew, was sleeping after fighting fires overnight. Alerted by colleagues, he put his ash-stained uniform back on and headed out again. Fox was worried, but focused on the tasks at hand — fielding calls, coordinating trucks, checking supplies. "You try to be dispassionate about what you need to do… but it's a whole different feeling when your property is involved," she says.
The challenges were a world apart from Fox's corporate roles — chair of Perpetual Equity Investment Company, non-executive director of Perpetual, ING Bank Australia and Lawcover, and deputy chair of Taronga Conservation Society Australia.
She and her husband had been there before. In 2013, the same fires which destroyed more than 65,000ha of the Blue Mountains National Park burned portions of her own 9ha property. The 2019 fire was "far hotter" and "blew across the landscape like a blowtorch," says Fox.
Design features including rooftop sprinklers, fire-resistant glass windows and a large cleared area dubbed the "asset protection zone" ensured that while the septic system melted and metal water tanks collapsed, the house survived. Surrounding bushland was razed to the ground.
At the time of interview, the trees were black. "In two to three weeks, all the leaves will drop and the burnt trees will look like bones," says Fox. "Then the bush will start to regenerate."
Fox joined the RFS 11 years ago as a commitment to the local community — and it is as non-negotiable as her board roles. "When the call comes, whether from my chair or my RFS captain, I need to be able to rejig my priorities to provide the time and effort required," she says.
Her role as RFS station officer involves planning, logistics and putting the incident controller's orders into action. In the mayhem of a fast-moving fire, there is no place for democratic decision-making. "To avoid confusion on the fireground, the incident controller makes the call and everyone responds to her," she says.
Volunteer shifts span 12 hours, but the time passes quickly. "You're so busy with what needs to be done. A truck needs diesel, a radio has been damaged or a hose has melted on the fireground and needs to be replaced. With the fires coming through, you can't be standing around waiting for fuel or water. You have to keep responding while trying to think a step ahead."
This is of of your complimentary pieces of content
Already a member?
Login to view this content