Ken MacDonald FAICD has won this year's Queensland AICD Gold Medal Award for his long service to the state's boardrooms.
Self-professed proud Queenslander Ken MacDonald FAICD has practised corporate law in the energy and natural resources sector for more than 40 years, and held various directorships in the industry for over 30.
It was whilst working as a law student over one Christmas period for Feez Ruthning & Co in Brisbane – now part of Allens – that he observed some of the senior partners working on documents in the energy and resources sector for international organisations.

"That fascinated me," MacDonald says. "Over the December/January period I decided where I wanted to have my focus. It was commercially interesting, intellectually stimulating, and it was cutting-edge stuff in the late 60s and early 70s."

MacDonald went on to become a partner at what is now Allens until 2007, when he retired as a partner to pursue work as a director. He remained an active consultant to the firm until December 2016.

Although much of his work has concerned international joint ventures and overseas investments, it is his attachment to place that has directed his career. As a university student, his original intention was to pursue a diplomatic career.

"I abandoned that when I realised that to be successful you'd have to change where you live every couple of years, and I didn't want to do that," he says.

When asked what he finds special about Queensland, he answers, "There is a great willingness of many Queenslanders to take nothing for granted and to never give up. I think that's a product of Queensland having, over its history, often been a harsh and difficult commercial environment."

Consolidation within the sector has significantly influenced the governance challenges faced by energy and resources boards and MacDonald mentions anticipated regulatory changes as being a particular difficulty for directors. "In an international context, that's always been the case, but it's much greater now," he says.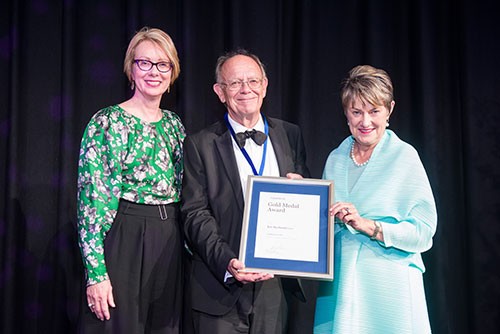 He says that navigating compliance in areas where there is high reputational risk is also an issue. "Regulatory and community expectations have expanded significantly, and the potential reputational risk that can strike at the very heart of a company is much greater than it used to be."
The scale of some of the organisations he served made reputational risk particularly difficult to gauge, although he admits, "It is quite a challenge as a board member for an organisation of any size to develop confidence that there isn't a smoking gun out there."

It is clear that MacDonald's legal background has informed his skills and governance style. He believes the hallmark objective analytical skills of a successful commercial lawyer, and the ability to sift through vast amounts of material and pinpoint the important information, have held him in good stead in the boardroom. An ability to coolly assess legal risk, in particular, he says is also very valuable. "In areas where there is some legal risk, [lawyers] have a better ability to assess it materially and not get panicked by it."

The most difficult decisions he has ever had to make as a director fall into two categories. The first is what to do when facing a potential insolvency event. While he's often advised on insolvency as a lawyer, MacDonald says he's only seen it once as a director. He believes the 'Safe Harbour' reforms passed on 11 September – which carve out a 'safe harbour' for company directors from personal civil liability for insolvent trading – are significant.

"It's very, very difficult…The changes going through Parliament now will make that position a lot better – by no means perfect – but I think that's a very welcome development."

The other decisions MacDonald has found most difficult are those that directly affect people's careers. "That can be quite a difficult time. Often the decision itself – what the right thing to do is – is pretty clear, but implementing it can be a challenge."

As chair of organisation boards and board committees, MacDonald has found great satisfaction in balancing the tone in the boardroom amongst directors.

"I've always got strong feedback that people have felt, under my chairmanship, absolute freedom to speak their mind on any subject. To run a reasonably efficient ship and make decisions, but to make sure people feel that way, is not always easy. It's nice to know people think you've done a good job. I'm proud of that."

This is of of your complimentary pieces of content
Already a member?
Login to view this content