For more than a decade, the AICD Chair's Mentoring program has been opening career pathways in the boardroom.
Ten years ago, Anne Ward FAICD was employed as general counsel for Australia and Asia at National Australia Bank when she "got a call out of the blue". "It was from someone at AICD saying, 'Look, we're putting together this program and we'd like you to consider being involved'," she says.
Ward joined the first cohort of the AICD's signature Chair's Mentoring Program, matching board-ready women with senior directors to help boost the number of women in the boardroom. At that time, female representation on ASX 200 boards sat at 8.3 per cent. She was matched with Graham Kraehe AO, who had chaired National Australia Bank until 2005. They met approximately every month over the course of the year-long program.
"It was just fabulous, being able to have these really open and frank conversations with someone of such enormous experience," says Ward. "You learn so much through that process, but it also helped me firm up my views about what I wanted to do next."
The following year, Ward left NAB to "hang out my shingle as a non-executive director". Since then, she's forged a full-time director career with appointments including chair of Colonial First State (2013–21), director of MYOB (2015–19), chair of Qantas Superannuation (2004–19), chair of Zoos Victoria (2013–18) and council member with RMIT University (2015 to the present).
In 2018, Ward also joined the board of Redbubble, an online marketplace for independent artists. She became its chair in March 2020, just as the pandemic was taking hold globally. "For a couple of months, my life felt like get up, eat, sit down, Zoom all day, go to bed, get up and do it all over again — and every day was the same," says Ward.
After the first fraught couple of weeks, when most parts of the world were in some form of lockdown, Redbubble sales quickly rebounded as consumers turned to online shopping. "We saw a massive take-up of our offerings, and like lots of companies, Redbubble did things it had never done before," she says. "One of ours was to design and launch a mask product within three weeks from the get-go — for a couple of months in 2020, 25 per cent of our sales were masks, which was just extraordinary, because this was not a product we'd ever had before or dreamed we would need."
When Redbubble entered the ASX 200 earlier in 2021, Ward became one of just 21 females chairing ASX 200 boards. Almost half have participated as mentees in the Chair's Mentoring Program, indicating that from the program's early experimental days, the program has helped to shift the dial measurably on diversity in the boardroom.
"Reflecting on it, the program was absolutely instrumental in putting the topic of women on boards into the minds of the most senior chairs in Australia," says Ward. "For a lot of people, it personalised the discussion."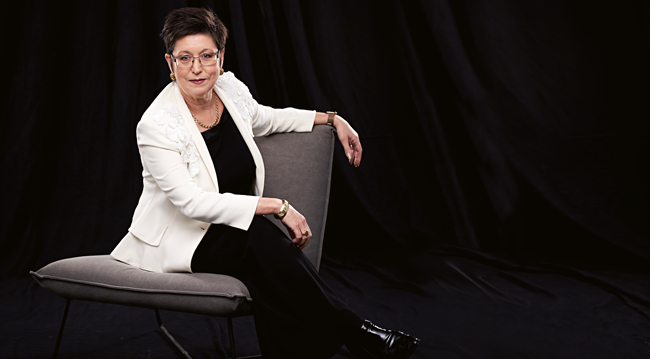 Anne Ward FAICD
Since then, the AICD has worked in partnership with groups including the 30% Club, which seeks to increase gender diversity at board and senior management levels. According to AICD analysis, the ASX 200 reached the 30 per cent target late in 2019, while female directors now hold 34 per cent (as at 30 September) of the seats at ASX 200 board tables.
Approximately 350 mentees have participated in the program and many mentors have become "serial mentors" who have participated multiple times. Compared to the early days, when promising candidates such as Ward were tapped on the shoulder, the program is now highly competitive, attracting hundreds of applicants to each round.
Serial mentor David Gonski AC FAICDLife notes that at the start of the program in 2010, few mentees had existing directorships, but now the program is attracting "people of enormous stature (who are) already quite established". A number of them, including Sally Pitkin AO FAICD (Super Retail Group), Anne Templeman-Jones (Blackmores) and Jacqueline Hey GAICD (Bendigo and Adelaide Bank), have also returned to become mentors to the next generation of female directors.
The next Chair's Mentoring Program is scheduled to launch in early 2022 with the continued support of 2019–20 partner Allens, and the assistance of leadership advisory partner Russell Reynolds.
Program principles
The program was founded on the belief that the best advocates would be those who wielded sufficient power and influence to actually make a difference. According to Jim Hazel FAICD, who has been a participant since the program's inception, the AICD has "hardened up the ask over the journey" in terms of bringing women into male-dominated networks. "You can have all the fireside chats you want, but really, what these incredibly talented women needed was to connect up with the decision-makers and people of influence," he says.
Mentoring and sponsorship have long been demonstrated to be critical pathways to progression by levelling the playing field, says Dr Terrance Fitzsimmons, a senior lecturer in leadership theory at the University of Queensland School of Business. Fitzsimmons led the Towards Board Parity: Lessons from the Past — Directions for the Future report by the UQ Business School with the support of the AICD and Australian Gender Equality Council. The project set out to better understand the factors that boosted the proportion of women on listed company boards over the past decade, and how broader changes may be initiated.
Still a way to go
Fitzsimmons points out that while the gains have been great, we are still far from achieving gender parity on the ASX 200, given that around a third of those companies have not yet reached 30 per cent women on their boards. Further, he notes, other measures of female representation have fallen short — the C-Suite is a case in point.
"The number of women CEOs in the ASX 200 has declined year on year since 2017," he says. "It hit a peak of 13 out of 200 and now it's back to 10."
Seize the time
Several mentors also commented upon women's relative reticence to seize opportunities, suggesting that there's still some work to do on shifting the '"imposter syndrome" common in women.
"One of my mentees was asked to go on the board of a very large company," says Gonski. "She felt young, inexperienced and wasn't sure she could provide what they wanted from her. We unpacked — what was this company's need for her? What did she want to get from that role? I watched her intelligently grapple with my questions and then say, 'I can do that'. I'm not sure a man in similar circumstances would have suffered from the same insecurity and would have asked the same questions as she did. But I could see that getting her to that position enriched her decision. She's on that board now, doing very well, and they're lucky to have her."
From mentee to mentor
Robin Low GAICD recalls her mentor Kevin McCann AO FAICDLife telling her to jump in with both feet during the most challenging events in an organisation's lifetime. "He said, 'You'll never learn more about being a director than by going through the initial public offering of a company'," says Low. "So I joined both [AI data company] Appen and [intellectual property firm] IPH when they were preparing for IPOs and I absolutely agree with him on that. Going through the due diligence, prospectuses and so on gave me a very good understanding of both those companies, fellow board members and the role."
Prior to joining the AICD's Chair's Mentoring Program in 2013, Low had worked with PwC for 28 years and been on several NFP boards. The shift towards commercial boards came with her appointment to the board of AUB Group, an equity- based insurance advice network, in 2014.
"By the time I was finishing up the program, I was on my way," she says.
McCann's guidance encouraged her to set her sights high and, now that Low herself has become a mentor, it is wisdom she's imparting to others. "Don't necessarily seek to do something small and then do something bigger later," she says. "If you think you can do something big, do it now."
Melinda Conrad FAICD also joined the program as a mentee in 2010, before switching chairs to become a mentor in 2019–20. Her current appointments include directorships of Stockland, Penten, the ASX and Ampol Australia. She had two mentors — Peter Mason AM FAICD and Linda Nicholls AO FAICDLife — and entered the program with the goal of securing a commercial board.
"Their guidance was instrumental in helping me get my first break onto the listed boards of the Reject Shop and David Jones," she says.
Conrad adds that the program helped her understand what was required to develop a portfolio and "to understand that it wasn't going to happen by chance". She acknowledges that there is still considerable serendipity involved in the roles that present, and says the diversification across different businesses "provides a richness to your perspective that you can bring to your board" that was particularly valuable during the pandemic.
Women often leave executive roles and seek portfolio careers earlier and they're bringing a younger age profile into the boardroom as well.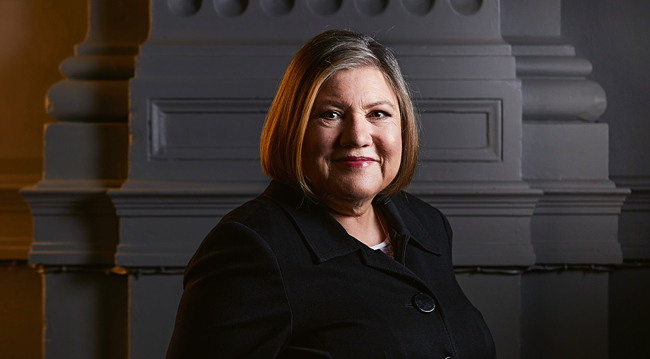 Robin Low GAICD
Mining for rare gems
As one of the few female Asian geologists in any personal or professional circle to which she belongs, Malaysian-born mining consultant Ivy Chen GAICD is aware that she stands out. During her six years with the Australian Securities and Investments Commission — engaged as an adviser on matters relating to minerals and energy in relation to fundraising, corporate governance and appropriate public disclosure — she was the only geologist in a national organisation of around 1800 people. "I used to joke that I was the blue-spotted rhinoceros — in that there was only the one of me," says Chen.
Completing her education in Western Australia, Chen was successful on her second application for the Chair's Mentoring Program — commencing in 2017 with mentor David Flanagan AM FAICD, currently chair of Australian Remote Operations for Space and Earth. "Getting him for my mentor was kind of like Christmas," says Chen.
The mentorship led to Chen's first junior sector board with Battery Minerals, but she has not yet achieved her goal of joining one of the larger boards based on the east coast.
"It's still quite tough for anyone, whether male or female, to break into boardrooms over east simply because of separation — we're 5000km and two to three hours in time zones away," she says.
Chen retains other roles as a non-executive director on Horizon Power, Football West, the AusIMM and Multicultural Futures.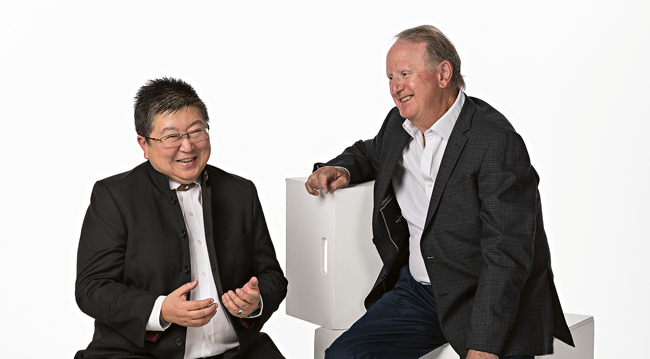 Ivy Chen GAICD and Peter Mansell
10 lessons from a decade of mentoring
Clarify expectations. Mentees enter the mentoring program with vastly different needs and expectations. Clarifying these upfront is crucial, says serial mentor Charles Macek FAICD. The program positions mentors as personal and professional advisers. While many mentors have also become sponsors, by opening their contact books, speaking on the mentee's behalf, and making referrals, this is never an expectation.
Commitment to the process is another essential ingredient. Peter Mansell recommends that "if you're going to do it by half measures, don't do it".
Reverse mentoring is a natural outgrowth of the program. AICD analysis reveals that its high-calibre mentors often reflect that they also learn a lot by way of cross-organisation connections.
Broaden the pool. Although the program commenced with the overt goal of helping mentees to listed boards, this is not the only measure of success. The more expansive goal has evolved over time and now involves broadening the general pool of talent in the director community.
The tipping point that propels women to enter non-executive life is different. They often leave executive roles and seek portfolio careers earlier, says Jim Hazel FAICD. "They're bringing a younger age profile into the boardroom, as well."
It takes time. High achievers can underestimate the amount of time it takes to establish a non-executive career. Robin Low GAICD spent a lot of time networking. "After quite a bit of shoe leather and coffees, it started to take shape," she says. The encouragement obtained from her mentor and mentee cohort buoyed her through the process.
Do due diligence. Melinda Conrad FAICD says women need to learn to be judicious about the selection of board positions they accept and conduct sufficient due diligence to determine whether something is a "danger zone" or an "opportunity".
Shared learning. Mentees highly value other aspects of the program. Jacqueline Chow GAICD rates the faculty teaching, lecturing and tutoring elements. "We were exposed to external speakers and panellists, we were introduced to best- practice tools, and there was a lot of reading that was shared."
Deepening ties. Networking with other women in the program was also rated highly. "We continue to meet and support one another today, and share opportunities rather than compete for them," says Ivy Chen GAICD.
Connections count. Although the program runs for 12 months, connections between mentors and mentees often extend beyond that.
The power of the program
Jacqueline and David
Jacqueline Chow GAICD had long been clear that she wanted a two-part career. She had worked in senior executive roles at the Campbell Arnott's Group before joining Fonterra as chief operating officer, responsible for its $6b consumer and foodservice business across 80 countries. "From very early on, I had engaged my chair and my CEO that this would be the last [executive role]," she says.
When Chow started at Fonterra in 2013, the company sponsored her first board role with Dairy Partners Americas — a joint venture with Nestlé and South America's largest dairy company. In 2016, she joined the board of Fisher & Paykel Appliances.
Despite her existing board roles, Chow joined the Chair's Mentoring Program in 2018 because she found the portfolio building process too opaque and much of the advice she'd previously received had accumulated "like clutter in my mind". Before her first meeting with mentor David Gonski AC FAICDLife, Chow prepared assiduously, listing her objectives for the program.
"But in his distinctive fashion, he debunked all my assumptions," she says. "Everything I had planned to talk about in my first meeting, I ended up dumping. David stripped it all back with his signature compelling, yet plain speak, which was: 'What are you passionate about? What matters most to you? It doesn't matter what everyone else says'. I was framing the problem as: 'How does this process work?' but it was more of a journey into myself to figure out [the next step] in my career."
Chow says it took her three or four sessions before she was able to answer questions about what really mattered to her, and to match that with her existing skills and experience. "David helped me work through that process and that's probably his finest legacy, giving me that clarity and conviction."
Gonski recalls his first meeting with the "incredibly intelligent" Chow a little differently.
"It was just wonderful watching the questions she was asking and saying to her, 'But shouldn't you perhaps ask this?' — which I think she wanted to, but just wasn't sure whether it was appropriate to ask," he says. As we questioned further, I could see she had the answers. My job was actually quite easy."
Chow has since taken on several more board roles with listed companies including Coles Group, nib Health Funds and Charter Hall.
Gonski says the value of mentoring could not be understated. "Everybody needs not just one mentor, but probably a number during their lifetime," he says. One of his own mentors was the late Kim Santow, a partner at Freehill Hollingdale & Page from 1965–93, where he recruited and mentored Gonski. "He was an incredible nurturer... and my law days were rich and incredibly rewarding working with him," says Gonski.
Gonski has mentored seven fledgling directors since the program commenced in 2010 and has observed a shift in the stature of mentees, from those who have little to no board experience a decade ago, to those who have several existing board positions. "[They] are the crème de la crème of the new generation of female directors coming through — they're trailblazers," he says.
Caroline and Eileen
Caroline Waldron GAICD is a non-executive director of Resimac and Southern Cross Care, and was a Chair's Mentoring Program participant. She was mentored by Eileen Doyle FAICD.
"I chose this career because I noticed there weren't enough people who think like me, represented in boardrooms. I knew that the combination of my life and career experience from inside and outside Australia were relevant to the changing Australian demography, but our voices were not heard enough. To stay ahead of the curve we needed to talk about the future boardroom differently, not just settle for more of the same.
"Gender diversity is such an important step forward and we've done fantastic things in that space, but now's the time to capitalise on the rich intersectionality of our people, which brings with it innovation and creativity. Now's the time to look again at history, and at the same time, keep checking the pulse on where our demography is moving.
"These things don't happen overnight because it's changing not just what we do and say in the boardroom, but what we do and say in our lives generally, and if necessary, resetting personal values.
The conversations need to start at home. There's no point coming into the boardroom and saying, 'We need diversity and to hear other people's voices' if we're only doing so to tick a reporting box.
"Stakeholder expectations of directors are high, so we've got to learn to be genuinely open-minded, to interrogate privileges and embrace change with courage. Many of the young adults in our midst are ahead of the game in these matters. We need to listen more to them, especially when they call out our biases or are impatient for digitalisation or action on climate change.
"My boardroom journey has been rooted in continuous learning and reinvention. I grew up in Malaysia, qualified as a barrister in London, then practised law in Malaysia and New Zealand before moving to Australia in 1999 to join an ASX-listed technology company.
"A few years into my general counsel role, I was given the opportunity to also lead HR. This gave me the idea to map my career more purposefully to take on risk, audit, marketing and CEO roles. It has been an excellent base for my transition into the advisory and non-executive world.
"Initially, the breadth of my experience made it hard to put my skills into one or two categories, but my mentor helped me frame my value proposition carefully. This resulted in me focusing on consumer- regulated businesses, particularly those with a technology or transformation focus, which are basically the type of boards I've been involved in.
"My message to future directors and Chair's Mentoring Program participants is to get as much experience as you can outside the areas where you're traditionally comfortable. I was lucky to be able to reinvent my career multiple times, even though I didn't know it at the time. But I look back and am so grateful it happened. It was a bit of chance, a lot of advice from my mentor and a few measured risks, but it has come together nicely."
Dr Eileen Doyle FAICD — a director of NEXTDC, Boral, Oil Search and AirServices Australia — has had a diverse 40-year career in business, the boardroom, as an angel investor, and mentor.
"I've formally mentored six wonderful women on the program [Ros Dubbs FAICD, Maria Halasz GAICD, Gai McGrath GAICD, Amy Beck GAICD, Frances-Anne Keeler GAICD and Waldron] and have informally mentored many women and men.
"The role is to help your mentee understand the obligations of a director, decide if that is what they want, think about how to best present themselves and in what areas they would add the greatest value. I've had many mentors during my career. They've all made a contribution to my career and I thank them for that.
"Senior directors can give a seasoned, balanced view of the NED role. Our mentees are accomplished people and we learn a lot from them — it's a mutually beneficial relationship. This program can have an impact along with all the other activities in place to diversify boards. We need to keep looking for unconscious bias in the board selection process and to widen the feeder groups for NED roles."
AICD Mentoring Program
Founded 2010
11 years
153 mentors
343 mentees
16 mentees turned mentors
45 serial mentors (three or more mentees)
Source: AICD
Top serial mentors
Kevin McCann AO FAICDLife (8)
David Gonski AC FAICDLife (7)
Peter Mansell (7)
Dr Eileen Doyle FAICD (6)
Richard Lee AM FAICD (6)
Photography Graham Jepson and Will Russell

This is of of your complimentary pieces of content
Already a member?
Login to view this content