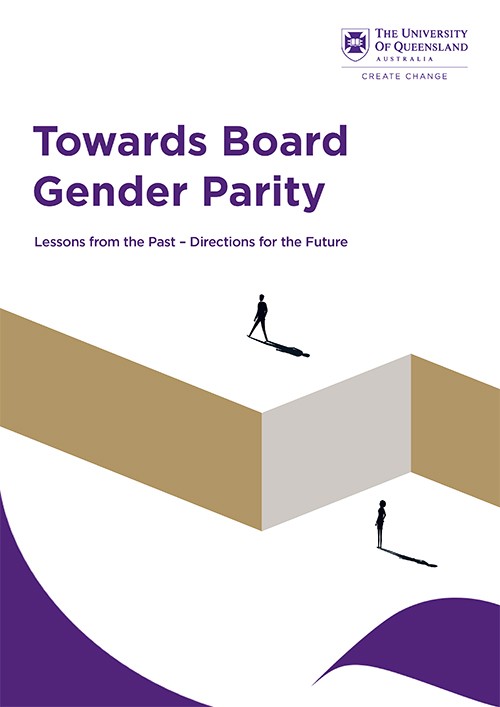 New research by the University of Queensland Business School reveals how Australia became one of only three countries to have reached 30 per cent women on its top-listed company boards without legislated quotas.
Between 2009 and 2019, the rate of women joining ASX 200 boards grew at an almost linear trajectory of two per cent per annum. The story of what drove this corporate-led change in Australia's leading companies is the focus of new research Towards Parity: Lessons from the Past – Directions for the Future. 
The University of Queensland report, supported by the AICD and the Australian Gender Equality Council, examines what led to the marked increase, whether the current trajectory will continue towards board gender parity, and potential inhibitors to future progress.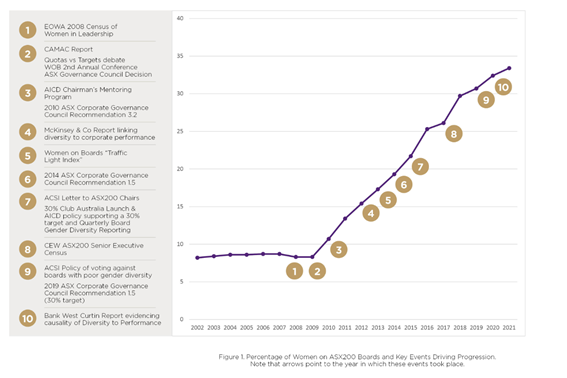 Key levers identified in the report as underpinning the change include:
ASX Corporate Governance Council Recommendations;
Mentoring of senior women including the AICD Chair's Mentoring Program;
Data and research to dispel myths and track progress;
Targets and reporting including 'naming and shaming' and the role of media;
Advocacy including senior chairs and directors and the 30% Club Australia;
Campaigning by institutional investors and industry superannuation funds;
Contributions of over thirty national bodies across Australia, including Chief Executive Women and the Champions of Change Coalition, and
State and Federal Government targets for women on government boards.
The report considers the strategies that have driven improvement, what is needed to sustain this momentum, and what may prevent future progress towards board gender parity. It reveals a broad consensus that the involvement of government, society and business is necessary to address the systematic barriers that inhibit progression and the embedding of gender diversity on corporate Australian boards. 
Towards continued progress 
A national workplace gender equality strategy and dialogue by a formal grouping of influencers is recommended as the best means for achieving continued progress. 
Adoption of a 40:40:20 target for board gender parity, a review of the current board skills matrices, as well as the continued prioritisation and renewal of board readiness and mentoring programs to bring more women to listed board roles are also recommended. A deeper engagement with the media was also seen as being an essential component in commencing this dialogue.
Chair's Mentoring Program recognised 
The report notes the key role of the AICD Chair's Mentoring Program in increasing the visibility and readiness of women to undertake board roles, also noting it is the first of its kind globally and the catalyst for similar programs in many countries. 
The program matches ASX 200 chairs and directors with high-performing, board-ready women to support them in building their non-executive board careers. Since its launch in 2010, 343 mentees have participated in the program, many of whom now sit on Australia's most prominent boards. Mentees have been supported by more than 150 senior ASX 200 chairs and directors who have volunteered their time as mentors.
The AICD is committed to ensuring the program remains future-fit and contributes to an even playing field for future cohorts of accomplished women. 
This is of of your complimentary pieces of content
Already a member?
Login to view this content