We are committed to providing professional development for not-for-profit (NFP) directors of all levels of experience.
Education
We are committed to providing professional development for not-for-profit (NFP) directors of all levels of experience. As part of our suite of education programs we offer a number of tailored NFP programs including:
Governance Foundations for Not-for-Profit Directors - this first step in the NFP director journey allows participants to gain insight into the world of NFP directorship and establish foundational knowledge and skills that will prepare them to become effective governance practitioners.
Advanced Not-for-Profit Governance - this second step in the NFP director journey is an advanced offering providing participants with the unique opportunity to focus on key considerations to drive sustainability of the NFP organisation. The program focuses on boosting organisational and board performance and establishing functional NFP boards.
NFP learning pathway
NFP directors may choose to develop skills following the NFP learning pathway or mix their development with a selection of programs from either side of the NFP learning pathway.
It is recommended that directors complete one of the programs within the STARTING level of the NFP learning pathway. It is then possible for directors to complete both programs within the STRENGTHENING and MASTERING levels of the NFP learning pathway.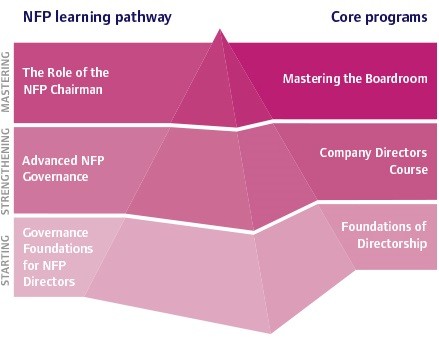 In addition to these programs we offer a range of other courses and programs which may assist the needs of directors:
In-Boardroom - we recognise that the NFP sector encompasses a wide range of organisational structures, visions and activities with differing sizes and complexity. To cater for this our In-Boardroom service tailors delivery to suit the diversity of the NFP sector.
Webinars - our popular series of live and recorded webinars explore issues all NFP directors should consider. A number of our webinars are provided free to members and allow participants to ask questions and provide comments through an interactive chat function.
Briefings and events
Our suite of NFP events are designed to help members make connections and gather insights. Our range of speakers and topics cover the spectrum of issues for directors working in the NFP sector. Events tailored to specifically meet the needs of NFP directors have included:
The role of the NFP director
Reform agenda updates
Financial governance
Managing NFPs in a downturn
Fundraising
The lifecycle of the NFP board
Developing a strategy
Compliance
Succession planning
Risk management
Networking
Raising the organisation profile through strategic marketing
Briefings and events are held in both metropolitan and regional centres to reflect the geographic diversity of the NFP sector.
Essential Director Update
In addition to our NFP events, our Essential Director Update is an annual seminar, held nationally and is complimentary to our members. The seminar provides an informative update on legislative and regulatory changes affecting directors and is followed by an interactive Q&A discussion. A recording of seminar material is also available via webinar and is free of charge to our members.
This is of of your complimentary pieces of content
Already a member?
Login to view this content