AICD chief economist Mark Thirlwell says almost one in two directors judge the Australian economy as weak and outlines how confidence will be vital for 2020.
AICD's 2019 Director Sentiment Index (DSI) from a poll held in mid-September offers an interesting perspective on directors' expectations for the economy during the year ahead. However, before digging into the new numbers, it's useful to remember where we've come from. In the similar poll in 2018, the overall index had fallen to a neutral reading, with a value of 4.2. Then, about 45 per cent of respondents put the health of the Australian economy as "OK", with the 39 per cent judging it as strong comfortably outweighing the 16 per cent who assessed it as "weak". When asked about the coming 12 months, directors were more cautious, 28 per cent saying the economy would weaken against 30 per cent thinking it would strengthen, and 42 per cent expecting it would remain OK.
More directors thought inflation, the Reserve Bank (RBA) cash rate and the level of wages growth would all be higher in 12 months' time than expected those variables to be lower; and more directors expected the unemployment rate to be lower than higher. Most of those views were broadly consistent with the RBA's August 2018 Statement on Monetary Policy forecasts.
Unfortunately, both directors and the RBA will have been disappointed by the actual outcomes. At the time of the 2018 DSI, annual real GDP growth was 3.4 per cent and both headline inflation and the rate of wage price inflation were running at 2.1 per cent. The cash rate was 1.5 per cent and the August 2018 unemployment rate was 5.3 per cent. By the time the current DSI survey was in field, growth had slowed to 1.4 per cent, headline inflation had fallen to 1.6 per cent and the cash rate was down at one per cent, with a further and widely expected interest rate cut imminent. Granted, the August 2019 unemployment rate was unchanged at 5.3 per cent and the rate of wage price inflation had nudged up slightly, to 2.3 per cent. But overall, outcomes had undershot expectations as activity was dragged down by the housing downturn, subdued households and cautious businesses.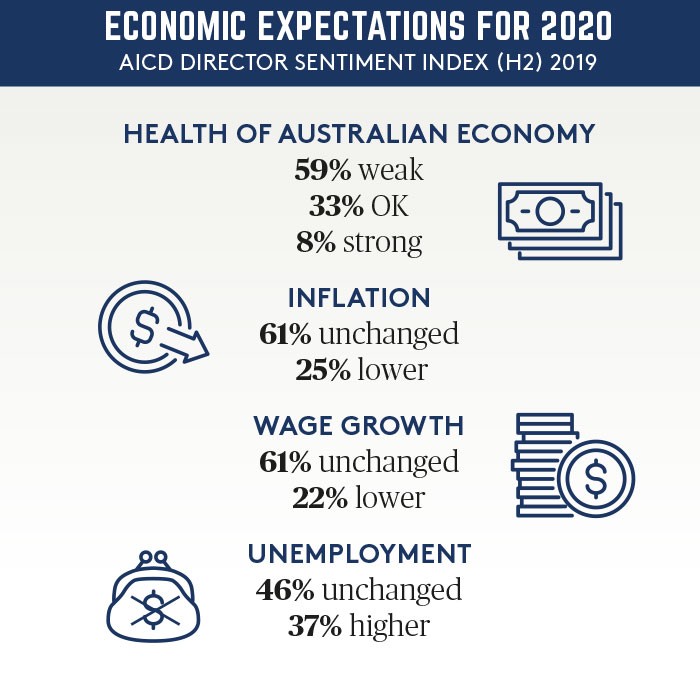 A loss of confidence
So, what does the September 2019 DSI tell us about how directors see the year ahead? Well, directors are now markedly less confident, with the overall DSI index having moved deeper into negative territory, sliding from minus 16.9 in the first half of 2019 to minus 21.1 in the second, the weakest reading since September 2016. Likewise, roughly 49 per cent of respondents judge the current health of the Australian economy as weak versus just 11 per cent who think it strong (the remaining 40 per cent think the economy is OK). Views become even more cautious when directors are asked about their assessment for the next 12 months, with the share of respondents expecting the economy to be weak rising to 59 per cent, the share thinking it will be strong falling to eight per cent, and the share opting for OK dropping to 33 per cent.
That cautious perspective is reflected in views on likely trends in economic indicators for the next 12 months. As well as expecting a fall in the cash rate (duly delivered on 1 October), most respondents now anticipate that inflation will either stay the same (61 per cent) or fall (25 per cent), that wage growth will either be lower (22 per cent) or unchanged (61 per cent), and that unemployment will either be higher (37 per cent) or unchanged (46 per cent).
Our latest DSI suggests, therefore, that many directors are yet to detect the "gentle turning point" for the economy that the RBA now sees in the data. Still, with the latter's current focus on labour market conditions as a key input into the rate-setting equation, directors' expectations with regard to wage growth and unemployment (not to mention inflation overall) do seem to be quite consistent with the central bank's mantra that it would be "reasonable to expect that an extended period of low interest rates would be required in Australia to reach full employment and achieve the inflation target".
This is of of your complimentary pieces of content
Already a member?
Login to view this content