Our latest read on AICD members' views on the state of the economy shows that directors have grown more pessimistic about the outlook, with almost half of all respondents reporting that the current health of the Australian economy is either weak or very weak, and more than half of respondents making the same judgment when considering the next 12 months. Directors are particularly concerned by the level of global economic policy uncertainty but are also worried by the slow pace of Australian productivity growth.
The Director Sentiment Index (DSI) for H2:2019 reports the views of 1,489 AICD members who were polled between 12 September and 26 September 2019. To provide some context for the results, as the survey commenced, monetary policy was in temporary pause mode after the RBA had delivered two consecutive 25bp rate cuts in June and July, with the central bank opting to leave rates unchanged at its 3 September meeting. Markets, however, were confidently predicting a third rate cut before year-end (duly delivered at the October meeting).
The Q2 national accounts data had depicted Australia's annual pace of economic growth slowing to just 1.4 per cent, its weakest result since the September quarter of 2009. And overseas, the United States and China had each imposed additional tariffs on the other's exports before restarting trade negotiations, while in the UK Boris Johnson had just become the first British Prime Minister to lose his first parliamentary vote in more than a century as the House of Commons voted to head off a no-deal Brexit.
Directors get economic jitters
Against that backdrop, our latest read on AICD members' views on the economy shows that directors are increasingly concerned by both the domestic and international economic outlook. The overall DSI has moved further into negative sentiment territory, falling from minus 16.9 in the first half of the year to minus 21.2 in the second, which is the weakest reading since the second half of 2016. And respondents' views on the expected rate of inflation, the level of the RBA's cash rate, the pace of wage growth and the unemployment rate are all more pessimistic than was the case in the first half of the year.
All of which suggests that directors aren't yet ready to buy into the RBA's recent call that the economy has passed a 'gentle turning point' and should strengthen from here, but rather see a risk of further deterioration ahead.
Directors view the main economic challenge facing Australian business as the high level of global economic uncertainty, with the share of respondents nominating this factor up sharply to 37 per cent in the H2 DSI from 27 per cent in H1. Other critical economic challenges facing Australian businesses identified by directors include low productivity growth (23 per cent), China's outlook (21 per cent), climate change (21 per cent) and the drag from excessive regulation or 'red tape' (20 per cent).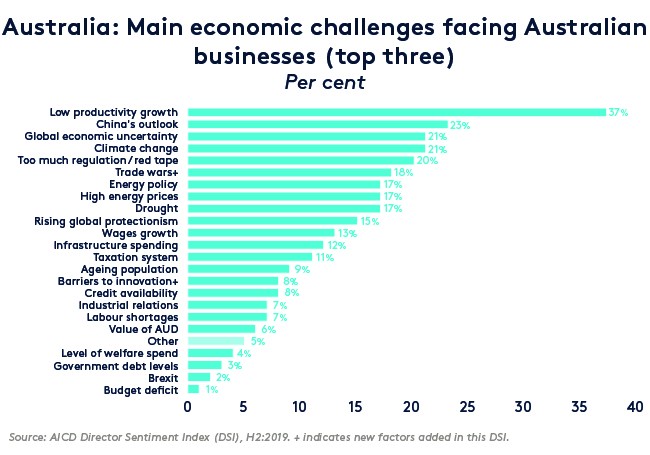 Top 3 fixes
The top three measures directors think could help lift Australia's national productivity performance are a reduced focus on short-termism (chosen by 39 per cent of respondents), more infrastructure spending (33 per cent) and a greater focus on fostering innovation (30 per cent).
In terms of government policy, survey respondents nominate the energy policy - climate change nexus as their key priorities for the federal government in both the short term and the long term, closely followed by infrastructure. Indeed, despite the increase in public investment in recent years, more than 70 per cent of respondents judge that the current level of infrastructure spending is still too low, with 42 per cent saying it is a little low and 32 per cent judging it is far too low. The top three priorities for infrastructure investment identified by directors are water supply (nominated by 53 per cent of respondents and up markedly from 40 per cent in the first half of 2019), renewable energy sources and regional infrastructure.
Taxes seen as too high
According to the DSI, directors retain their interest in further tax reform. Although the government's three-stage tax reform package was approved by Federal Parliament back in July, 71 per cent of respondents still think that the current level of personal taxation is too high (with 46 per cent judging it to be somewhat high and 25 per cent opting for far too high). In addition, 54 per cent of respondents reckon that corporate tax levels are too high (44 percent saying somewhat high and 10 per cent saying far too high). When asked about the relative priorities for reform, directors' top three choices are personal income tax (56 per cent), state-based taxes such as payroll tax (50 per cent) and company tax (46 per cent).
With the Treasurer announcing on 19 September that the federal budget had effectively returned to balance in 2018-19 for the first time since 2007-08 (technically, the underlying cash balance was just in deficit, but only to the tune of $690 million, which is equivalent to zero per cent of GDP), the federal budget and government debt are now ranked relatively low in terms of directors' priorities. That suggests that additional fiscal support for the economy – in the form of increased infrastructure investment and lower personal tax rates – could potentially offer an attractive policy package that could both support growth and improve productivity performance.
New investment allowance
This latest DSI also provides some support for the proposal for a new investment allowance to stimulate private business investment. Some 29 per cent of respondents said that providing investment incentives would encourage their business to increase investment levels over the coming year, about the same share as those who thought increased public infrastructure investment would encourage private capital expenditure and slightly ahead of the share of respondents nominating lower company tax rates (25 per cent). That said, more important factors identified by respondents were the overall economic outlook, the level of economic policy certainty, and an enhanced focus on long-term returns.
Finally, directors' continue to be dismayed by the quality of the public policy debate here in Australia, with 45 per cent assessing it as poor and 33 per cent as very poor.
This is of of your complimentary pieces of content
Already a member?
Login to view this content