ABS data shows how businesses have changed their operating models in response to COVID-19, says Andrew Stevens, chair of Innovation and Science Australia.
The global COVID-19 pandemic is a game changer. Many Australian businesses are suffering from the economic impact. Many have been forced to rethink how they deliver their products and services and many more are drastically reducing costs just to survive. The Australian Bureau of Statistics (ABS) Business Impacts of COVID-19 survey of Australian businesses, released on 7 April, reveals that two thirds of businesses are experiencing a reduction in turnover or cash flow and 64 per cent reported a reduction in demand for their products or services.
These statistics paint a bleak picture of the effect the pandemic is having on Australian businesses and many will face insolvency and potentially bankruptcy. However, in the midst of the crisis, opportunities can present themselves to rebalance, rebase, and reposition. At Innovation and Science Australia, what we also see businesses doing is shifting, changing, doing things differently — innovating.
The ABS survey revealed that 38 per cent of businesses have already altered their business models to change the method of delivery of products or services, including a shift to online services. Ten per cent of businesses reported having introduced new products. Those leaders who see an opportunity (and also those driven by necessity) are investing in non-R&D innovation. That is, they are shifting their business models, upskilling their staff to deliver against these new models, investing in technology and systems, and investing or changing their marketing and branding strategies.
This investment accords with the recent report from Innovation and Science Australia (ISA) on Stimulating Business Investment in Innovation. The report highlights the growth opportunities for Australian businesses that engage in — and invest in — innovation. The report reveals that innovation increasingly does not involve research and development (R&D). Investment in non-R&D innovation holds significant revenue and job growth opportunities for businesses of all sizes.
Non-R&D innovation could provide Australian businesses with an opportunity to exit the economic challenge more aggressively.
ISA analysis found that small and medium businesses (SMEs) that accelerated technology investment and adoption, perhaps the most significant form of non-R&D innovation, grew revenue 3.5ppt (percentage points) more quickly than other small and medium businesses. Similarly, small firms that adopted at least one software application, in areas such as finance, human resource management, or marketing and sales, increased their employment growth (in normal times) by 2.2ppt faster than those businesses that had not adopted software applications. For larger businesses, ASX 200 firms that invested more heavily in non-R&D innovation grew revenue 1.3ppt per year faster than the average ASX 200 firm, based on data from 2005–16.
This analysis suggests that non-R&D innovation could provide Australian businesses with an opportunity to exit the economic challenge presented by COVID-19 more aggressively and successfully. These findings paint a powerful picture of the potential for all Australian businesses. Innovative economies are more productive, resilient, adaptable and better able to support higher living standards. Conversely, the ISA findings show that if company directors focus only on traditional risks, rather than instilling a growth-through-innovation mindset in their businesses, these growth opportunities would be missed.
The AICD's Technology Governance and Innovation Panel, of which I am a member, published a significant report Driving Innovation: the boardroom gap, which highlighted that boards of Australian companies are struggling to prioritise innovation and disruption risks to the extent seen in overseas boardrooms. The report found that boards are too often focused on traditional risks, with a surprising 57 per cent of directors unaware of how much their organisations spent on R&D and innovation. With less than a third of Australian businesses spending on innovation, there is a significant need to increase the emphasis on innovation in the boardroom — now and beyond the pandemic.
In this challenging economic climate, if ever there was a time to reposition innovation within an organisation, it is now.
In this challenging economic climate, if ever there was a time to reposition innovation within an organisation, it is now. An innovation mindset followed by targeted investment prepares businesses for any future shock events, readying them to quickly pivot, survive and grow on the other side of such events as the current pandemic.
ISA and the AICD are discussing ways to work together to address these issues. ISA will also continue to work with the government to achieve greater support for non-R&D innovation investment with a view to driving revenue and jobs growth during and in the wake of COVID-19.
The Innovation and Science Australia report Stimulating Business Investment in Innovation was released in late February.
Good in a crisis
Organisations are stepping up and showing their community spirit.
Virtual communications in aged care
Technology investment in sectors such as aged care is being accelerated to help those who are locked down to communicate with nearest and dearest. Swift Networks has installed interactive software which allows residents to communicate with loved ones or watch a live stream of communal events in other parts of the facility.
Labour exchange
Employment platform Hatch created the COVID-19 Labour Exchange in a week, connecting employers needing to scale up with staff who have been stood down. It has helped the likes of Qantas, Woolworths and other companies.
In the tech community, Solve Squad was set up to help people with skills find those with problems that required solutions.
3D Printing
Everything from face shields to ventilator parts are being manufactured to help healthcare services meet overwhelming demand. For example, at the US Georgia Institute of Technology, students and professors, working with Atlanta hospitals, made thousands of rigid face shields for use by healthcare providers battling COVID-19 on the front lines.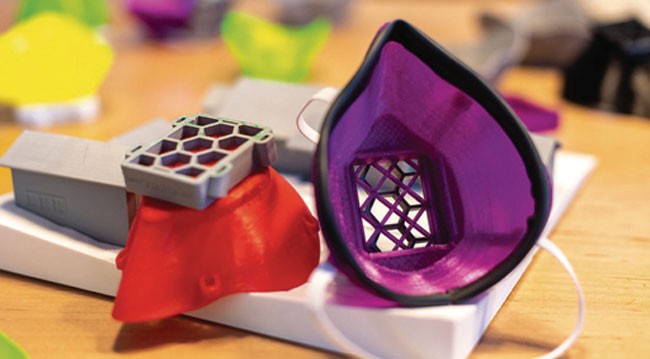 Virtual collaboration
The surge in demand for virtual-conference and team-collaboration tools saw companies large and small provide services and tools gratis to schools, businesses, government and NFPs. Collaboration efforts ranged from speeding up responses to vaccine development and health and safety, to collaboration platform Mindhive offering free tools for innovation competitions to find solutions.
Shine for Kids
Shine for Kids, a national charity that helps the children of people in prison, with volunteers taking children into prison to see their parents, pivoted fast once face-to-face visits were cancelled by Corrective Services. Volunteers moved their face-to-face visits to video calls while Shine staff are negotiating with government for more frequent phone calls between children and their parents in jail.
Solidarity
In Melbourne, Sikh Volunteers Australia stepped in to deliver free meals to those in need. Meanwhile, in Switzerland, Syrian refugees have been helping elderly residents stuck at home by doing shopping and deliveries.
Product switch
Luxury goods giant LVMH, parent company of Dior, Givenchy and Louis Vuitton, switched its perfume production to hand sanitiser. Manufacturers quickly repurposed production lines to make ventilators. For example, after the UK government handed over blueprints, Dyson built a new ventilator in 10 days to support efforts by the country's National Health Service to treat coronavirus patients.
Different tonic
Alcohol producers have switched their production to make hand sanitiser for chemists, doctor surgeries, women's shelters and community houses. Companies such as Abel Gin in Tasmania, Beenleigh Rum in Queensland, Illegal Tender Rum in WA and Earp Distilling in Newcastle began either supplying ethanol for hand sanitiser or making it themselves. Bundaberg Rum will donate 100,000 litres of ethanol to the Queensland government to distribute to other manufacturers to make half a million bottles of sanitiser.
Art first
Mutitjulu Indigenous artists at Uluru have been painting COVID-19 health messages in traditional dot painting style. The artists hope to use art to show their communities the seriousness of the virus.
Great ideas on the web
Global idea-sharing platform IdeaSpies has a list of COVID-coping ideas on their website.
Forty global thought leaders share ideas about developing priorities to help in response and recovery here. 
B2B to B2C
About 100 food suppliers to restaurants and hotels using wholesale online ordering platform Foodbomb faced huge losses until it flipped the business model to B2C. About 40 suppliers have now rehired staff to home-deliver produce.
This is of of your complimentary pieces of content
Already a member?
Login to view this content