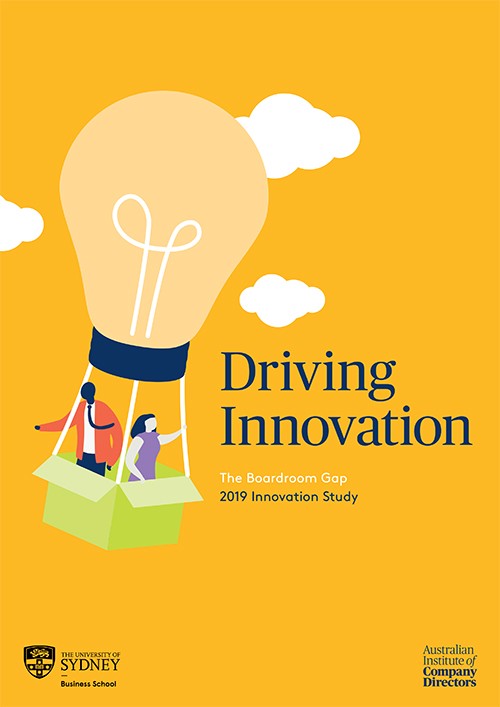 The study tells us that innovation is often missing from Australian boardroom agendas.
Innovation is both disrupting and creating opportunities for Australian businesses, Not-for-Profits, and governments. How boards lead their organisations in this environment is critical to the long- term success of the economy, and the health, wealth, and wellbeing of each Australian.
The AICD, in partnership with the University of Sydney Business School, completed Australia's first in-depth look into director practices on innovation. The Driving innovation: the boardroom gap study revealed a sobering picture of Australian boardrooms struggling to prioritise innovation and lagging their international counterparts.
The study found:
Finding 1: Australian directors recognise the importance of innovation, but more needs to be done to prioritise its delivery
Australian boards play a key role in fostering, driving, and monitoring innovation – but there remains a significant gap between strategy formulation and strategy implementation.
Comparatively, directors' responses indicated Australian boards are not prioritising innovation or disruption risks to the extent seen in overseas boardrooms, suggesting Australian boards under-estimate looming strategic risks.
Directors identified key barriers to innovation as: human talent shortages; limited financial resources; and a focus on short-term financial performance. Directors see Australia's regulatory environment as contributing to a risk-averse corporate culture.
Finding 2: Australian boardrooms have low innovation and digital literacy levels
Australian boards lack critical technical and innovation skills, and need to increase access specialist advice. More must be done to broaden the director talent pool to include individuals with science and technology backgrounds, as well as bringing in stronger international experience.
While boards can take steps to address these specialist skills gaps by, for example establishing a specialist committee or advisory panel, it remains each director's responsibility to understand how technology will impact their organisation.
Finding 3: Board-Executive collaboration leads to better performance
Boards that collaborate with their executive team to set and oversee an organisations innovation strategy are much more likely to realise their innovation objectives. This includes ensuring innovation features regularly on board agendas.
AICD CEO and Managing Director, Angus Armour, said this study comes at an important time with Australia experiencing low productivity growth.
"The study tells us that innovation is often missing from Australian boardroom agendas. It reveals that traditional risks are the focus rather than the risks – and opportunities - associated with innovation and disruption".
The research found that while Australian directors recognised the strategic importance of innovation, more needed to be done to prioritise its delivery.
"It is encouraging to see that directors are acknowledging the importance of innovation, but directors need to make sure that innovation is more than just a sporadic item on board agendas," Mr Armour said.
Recommendations for boards
The report outlines five key recommendations to ensure innovation is prioritised by boards:
Lift directors' technology and digital literacy.
Set clear expectations of management regarding calculated risk-taking to drive innovation.
Develop a shared language with management, and clear narrative for investors/members on innovation.
Ensure innovation features regularly on boardroom agendas.
Establish a budget and executive incentives for long-term innovation.
This is of of your complimentary pieces of content
Already a member?
Login to view this content