Highly publicised and potentially disastrous data breaches are becoming par for the course. So what practical cybersecurity steps can directors take to avoid being caught off guard?
Director sentiment has jumped since September 2020, the largest up or down movement in the history of the AICD's biannual survey. The 7.2-point bump in the DSI for the first half of 2021 is the highest since the first half of 2019. While the pandemic continues to impact elements of daily life, the Australian response in comparison to other countries has no doubt played a significant role in the overall result.
While the impact of COVID-19 continues to place within the top three issues that "keep directors awake at night" (with 24 per cent selecting this issue), it is no longer the standout issue, with sustainability and long-term growth prospects coming in as the leading issue at 26 per cent and cyber crime joint second with COVID-19 at 24 per cent.
The AICD attributes the recovery to an uplift in business conditions and a strengthening of domestic and global economic indicators. Expectations of the Asian, Chinese, European and US economies are all more positive than pre-COVID-19 conditions. However, despite the bump in outlook, the view for the European economy is currently still low.
Keeping the heat on climate change
Responding to climate risk is front of mind for directors. The survey results single it out as the main issue directors felt the federal government should address both in the long and short term.
Directors expressed their strong support for clear five-year emissions targets, increased spending on "green" R&D and more ambitious targets for renewable energy. Conversely, there was little support for introduction of a carbon tax. The majority of directors believe climate change is a material risk for their organisation.
Critically, directors believe the response of the business community is more advanced than that of their state or federal government.
"It is clear that directors understand climate change risk is not a niche issue only relevant to some sectors, with the challenge now a mainstream item on boardroom agendas," says AICD managing director and CEO Angus Armour FAICD.
Renewable energy sources remain the top priority for additional infrastructure investment.
Getting down to business
AICD chief economist Mark Thirlwell MAICD says the DSI results are consistent with other respected business indicators, which show an increasing level of optimism.
Directors are far more optimistic about the general business outlook as well as the environment for their organisation over the coming year. There's a significant increase in directors expecting their business to grow in the coming year, up from 42 per cent (last September) to 62 per cent. Some 50 per cent of directors feel optimistic, compared to 21 per cent in the previous DSI, and 12 per cent pessimistic (compared to 45 per cent).
Sentiment has shifted from negative to positive territory. To keep improving, directors are calling for less short-termism in order to lift national productivity (37 per cent), followed by fostering innovation (35 per cent) and a better focus on education (30 per cent). The majority of directors feel their board is trying to affect some culture change within their organisation, with only 12 per cent stating that their board is making no effort to do so. When it comes to issues "keeping directors awake at night", six per cent of directors nominated workplace sexual harassment.
A new fiscal era
Just eight months on, and the government has now delivered its second pandemic budget. The economic backdrop for Budget 2021–22 is better than expected. Growth is stronger, commodity prices higher and unemployment significantly lower than October projections. With monetary policy constrained, the Treasurer has reaffirmed his new version of fiscal forward guidance. Explore the AICD's analysis here.
Directors also continue to see a risk-averse decision-making culture on Australian boards, with net score of +62 agreeing with this statement. Excessive focus on compliance over performance remains the key reason (29 per cent).
About the survey
The Director Sentiment Index survey measures the opinions and future intentions of directors on a range of issues. This survey was conducted by Ipsos between 31 March–14 April 2021 and received 1589 responses.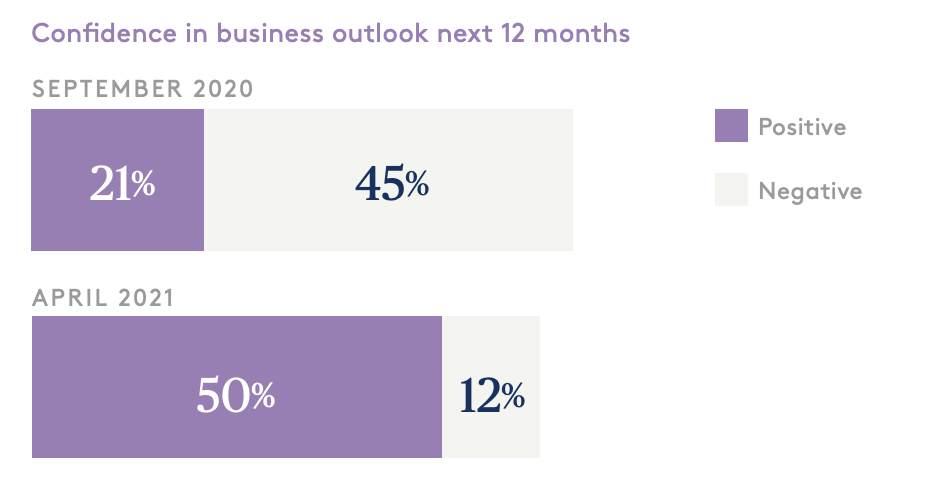 Proxies under the microscope
Treasury will consult on a slate of possible new requirements for proxy advisers.
On 30 April, the federal government announced moves to "increase the transparency and accountability of proxy advice". Treasury will undertake a consultation, requiring proxy advisers to: 
Obtain an Australian financial services licence for the provision of proxy advice.
Provide their research and voting recommendations to the company that is the subject of their report at least five business days before providing it to their clients
Notify their clients how to access the company's response to the report
If their client is a superannuation fund, be independent from their client.
Treasury is also considering requirements for superannuation funds to provide detailed information around their voting records, their vote records' relationship to proxy advice and the exercise of independent judgement when voting.
Reforms follow steps to regulate the industry in the US, UK and EU.
AICD position
The AICD welcomes the move by the government to consult on measures to help facilitate greater transparency.
Responding to the Treasurer's announcement AICD CEO and managing director Angus Armour says, "The AICD has long supported more robust regulation of proxy advisers. The current lack of minimum standards means a key market actor is largely unregulated. Given the important role of proxy advisers, it is vital that their advice is subject to appropriate safeguards to ensure it is fair and accurate.
This is of of your complimentary pieces of content
Already a member?
Login to view this content