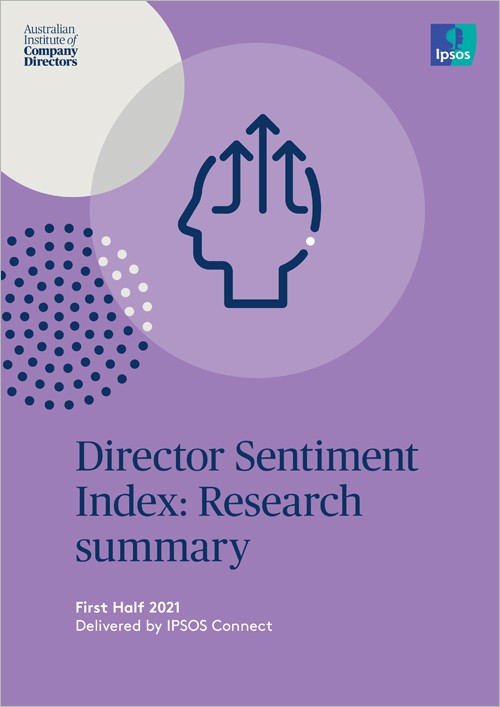 The latest Director Sentiment Index reveals sentiment at its highest point in three years, despite ongoing challenges facing Australian business as a result of COVID-19.
More than 1,500 directors were surveyed in April for our latest Director Sentiment Index (DSI), and while economic uncertainty and climate change remain key challenges, sentiment has soared into positive territory, climbing by more than 45 points since September last year to positive 7.2.
AICD Managing Director and CEO Angus Armour said, "Although the challenges of COVID-19 continue to impact our way of life, Australia's ability to control outbreaks, compared to other countries, is helping to bolster positive sentiment."
"Significantly, the jump between sentiment at the last index, taken in September last year, and now, represents the largest movement, up or down, in the history of the DSI," Mr Armour said.
Directors have once again nominated climate change as the number one priority the Federal Government should address in both the short and long-term.
Directors viewed the response to climate change of business and community organisations as stronger than that of State and Federal Governments.
Notably, 77 per cent were in support of establishing clear five-year emissions reductions targets to provide a clear pathway to the longer-term net zero goal.
As well, more than half of respondents consider climate change a material risk to their organisation.
Mr Armour said, "Directors clearly perceive that climate change risk is not a niche issue only relevant to some sectors, with the challenge now a mainstream item on boardroom agendas.
Other key findings include:
Directors across all states are more positive about both the current and future economic outlook.
Directors in Western Australia are most positive about the economic outlook of their state over the next 12 months, followed by NSW, Tasmania and Victoria. Only the Queensland and South Australian economies are viewed negatively over the next 12 months.
There is a significant increase in directors expecting their business to grow in the coming year, up to 62 per cent from 42 per cent (September 2020).
Confidence in business outlook has returned, with 50 per cent of directors feeling optimistic (compared to 21 per cent in September 2020), and only 12 per cent feeling pessimistic (compared to 45 per cent).
61 per cent of directors feel that government spending on infrastructure is too low.
A majority of directors say their board is trying to affect culture change, with only 12 per cent stating their board is making no effort to effect culture change within their organisation.
All results were compiled by research firm IPSOS
This is of of your complimentary pieces of content
Already a member?
Login to view this content