BOARD DIAGNOSTIC SUITE
Benchmark your board performance.
Based on the AICD's Company Directors Corporate Governance Framework™ and refined over more than 10 years, the Governance Analysis Tool™ (GAT) is an online, survey-based self-assessment, designed to help directors consider a broad range of governance topics relating to individual directors, the board, the organisation as a whole, and stakeholders. 
Whether used as an initial 'yardstick' for the board, or as a base for a more detailed and comprehensive review, the GAT is available in a variety of forms to meet sector-specific needs.

Participants are invited to assess their board against the 'good governance' standards based on the Company Directors' Corporate Governance Framework which covers:
Individual Directors: attributes of individual directors, including an understanding of role and duties, competence, leadership qualities and behaviours, and the responsibilities and style of the chair.
The Board: the qualities and operation of the board as a combined team of directors including use of committees, effectiveness of meetings, board dynamics, group competencies, the board's understanding of relevant legal standards, and the appropriateness of compliance arrangements relating to legal standards.
The Organisation: how the board's governance practices permeate the organisation in the context of regulatory compliance, executive and management personnel, resourcing, strategy, risk management and performance outcomes.
Stakeholders: the approach taken by the board concerning accountability to, and communication and engagement with, key stakeholders.
Depending on the needs of your board, a GAT assessment can cover the entire governance framework or specific aspects. This can be explored in a confidential discussion prior to commencement.
The outputs of the GAT provide a benchmarked, data-driven assessment of the maturity of your organisation's governance arrangements against the AICD's Company Directors Corporate Governance Framework. 
In addition to the visual outputs of a heat map and spider analysis, a detailed written report is provided which includes further analysis, anonymised verbatims (redacted where necessary) and participant suggestions for improvement and discussion.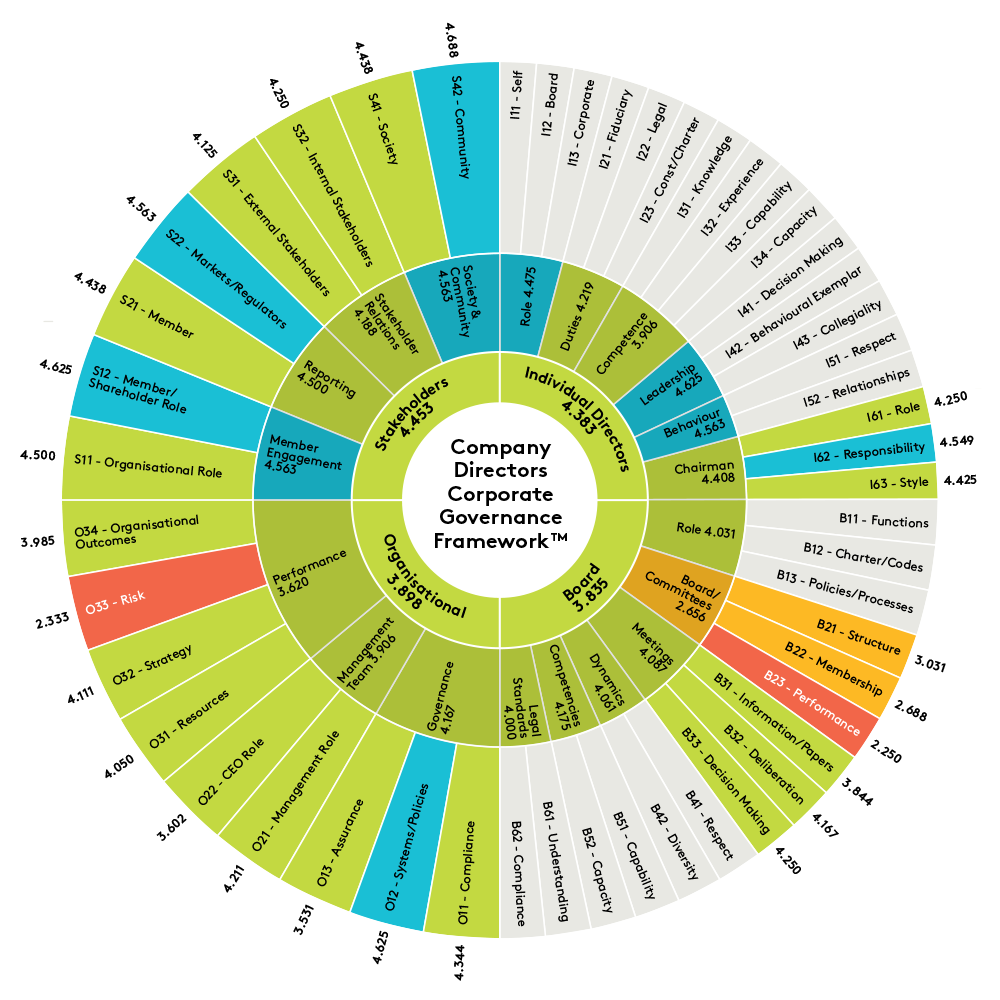 Figure 1. Heatmap highlighting areas of perceived governance strength and opportunities mapped against the Company Directors Corporate Governance Framework. Download PDF
Figure 2. Spider analysis pinpointing specific variances across the dimensions of the Company Directors Corporate Governance Framework. Download PDF
Your governing team of board members (and senior executives, at your discretion) are provided with a series of good governance statements via an online survey and invited to assess their organisation's governance attributes against these statements using a maturity scale.
Individual results are collated, analysed and provided to the board in a report which pinpoints areas of strength and opportunities for improvement. Boards then have the opportunity to undertake an AICD-facilitated workshop to explore the findings in greater detail.
Simple and straightforward, the engagement includes:
An initial discussion to understand your review and assessment needs.
A formal proposal outlining the GAT offering, including an indicative timetable and pricing based on the needs you have identified. 
Management of a secure and confidential online survey for each participant to complete. 
A written report, including a heatmap and spider analysis, designed to highlight your board's governance strengths and opportunities, and potential areas for board focus. 
A one-on-one discussion with the chair about reporting findings. 
An AICD-facilitated session (up to 90 minutes) with the board to foster discussion of review findings and prioritisation of desired actions.
Throughout the entire process you will be guided by an experienced member of the AICD's Board Advance Team. 
How Board Advance will work for you.
An experienced member of the Board Advance Team will guide you through a fully consultative process, working with specialist AICD facilitators and subject matter experts.
INVEST IN PERFORMANCE
Expert governance assessments and development programs tailored to suit your board.

INDEPENDENT PERSPECTIVE
Data-driven diagnostics and insights to evaluate your board performance, benchmarked against contemporary governance standards.
STRUCTURED IMPROVEMENT
Deliver better outcomes with ongoing assessment, identify emerging governance issues and measure improvement.

TARGETED INSIGHTS
Stay ahead of the curve on emerging governance topics to support your board in risk and opportunity management.

GOVERNANCE FOR PERFORMANCE
Your partner in performance improvement.
Board Advance specialises in equipping organisations with the understanding, insight and guidance required for boards to unlock their performance. Whether your board is well established or still in its infancy, we are the perfect partner for organisations seeking to improve in the key areas of governance, planning, insights, decision making and diversity of thought.
The AICD has amassed a wealth of mission-led research and is nationally renowned for its market leading efforts in both advocacy and governance education. When you partner with Board Advance, you are tapping into an unparalleled source of information, experience and governance knowledge.
Need help?
Contact us for any queries you have about AICD membership, services and advocacy work.
Find an Answer
Have a question? We can help.
View FAQ
This is of of your complimentary pieces of content
Already a member?
Login to view this content