Regulators will be watching for climate-related disclosures in the finance sector, write Travers McLeod and Sam Hurley from the Centre for Policy Development.
In late 2019, leaders from Australia's biggest banks, insurers, investors and superannuation funds, senior representatives from the Australian Securities and Investments Commission (ASIC), Australian Prudential Regulation Authority (APRA) and the Reserve Bank of Australia (RBA) participated in a roundtable discussion convened by the Centre for Policy Development (CPD). Among the attendees were former High Court Justice and Royal Commissioner Kenneth Hayne AC QC and Bank of England (BoE) executive director Sarah Breeden.
Reviewing relevant law, international opinion including the Financial Stability Board's Task Force on Climate-Related Financial Disclosures (TCFD), and the position of Australian regulators, Hayne said: "In Australia, a director acting in the best interests of the company must take account of, and the board must report publicly on, climate-related risks and issues relevant to the entity." Boards "must ask at least two questions: What is the potential financial impact of climate-related issues? What is now, and what will be, our strategic response?"
The key conclusions emerging from the business climate roundtable were stark and significant. First, the consequences of climate change are upon us now. The profound exposures of many Australian firms and industries demand rigorous application of new frameworks such as the TCFD.
Second, we need to make these risks more visible to pull our institutional and systemic responses forward. Among other things, this means providing information that is more decision-relevant through disclosure, data sharing and coordinated system-level scenario and stress-testing exercises.
Third, we need to improve collaboration across the public and private sectors to tackle climate risk and create an effective whole-of-economy response.
In this environment, boards will be under growing pressure to develop comprehensive, strategic responses — or, as Hayne warned, they will have responses thrust upon them.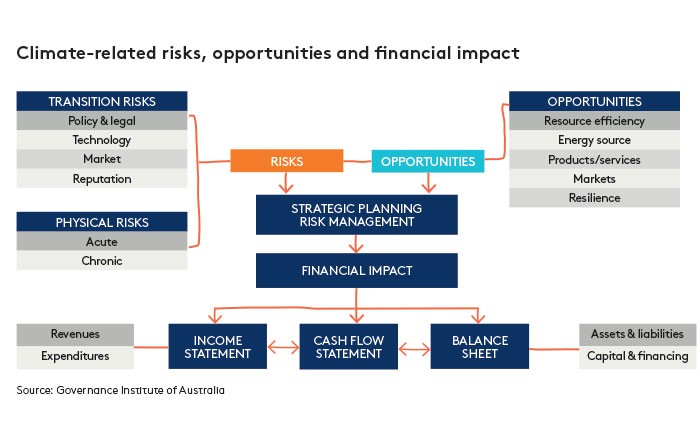 Regulators speak as one
While the consequences of climate change have been front of mind over the summer, this issue has not come out of the blue for boards and directors. Since the Hutley opinion was released in October 2016, APRA, ASIC and the RBA have repeatedly and pointedly endorsed its finding that directors are obliged to carefully consider and disclose climate-related risks.
APRA'S Geoff Summerhayes captured the impact of these interventions in June 2019 with this memorable observation: "When a central bank, a prudential regulator and a conduct regulator, with barely a hipster beard or hemp shirt between them, start warning that climate change is a financial risk, it's clear that position is now orthodox economic thinking."
2 degrees celsius
The climate may warm to 2°C depending on future Greenhouse gas emissions and mitigation measures taken globally.
Rising bar for directors
The 2016 Paris Agreement provided a clear, actionable global framework for climate-related targets and commitments, focusing global ambition around the net zero by 2050 trajectory needed to provide the best chance of keeping warming below 20C. The development of the business-led TCFD framework for comprehensive climate risk disclosure — and its widespread support and adoption by leading companies — has provided a clear roadmap for more comprehensive and consistent climate-related disclosures.
Major institutional investors around the world are reinforcing this push for more ambitious climate targets and demanding new, higher standards for climate risk governance from the firms they invest in. ASIC's John Price said of this trend in a June 2019 speech: "For some company stakeholders, the social and environmental impact of corporate activity is an increasingly acute criterion considered in deciding which company to invest in or transact with."
The question for directors is: "How do we identify the risks and opportunities presented by this new environment and respond in a manner consistent with the social contract under which we operate and nurturing of long-term business success?"
Companies need to be thinking carefully about climate-related performance, opportunities and exposures of suppliers, customers and clients. Even more urgently, they should be closely reviewing how they engage on climate policy — both directly and through membership industry and the peak groups who lobby in their name or on their behalf.
Customers, shareholders, regulators and, ultimately, courts are likely to take an increasingly dim view of firms that claim to support ambitious climate-related targets, but support lobbying efforts or groups that frustrate or oppose policies needed to achieve them, or obfuscate overwhelming evidence of physical, transition and liability risks.
Stress factor
The roundtable also discussed plans by international regulators, including the BoE, to stress test financial systems against different climate scenarios, and considered how similar efforts might take shape here. Australian regulators have now confirmed they will follow the example of the BoE and others by undertaking a "climate change financial risk vulnerability assessment" as part of scaled-up efforts to understand and manage climate risk. Drawing on climate-related scenario analyses being developed by the Network for Greening the Financial System, plus expertise from the Bureau of Meteorology and CSIRO, regulators will roll out this process in 2020–21, starting with the banking sector. According to APRA, the process will involve entities estimating both "the potential physical impacts of a changing climate, including extreme weather events, on their balance sheet, as well as the risks that may arise from the global transition to a low-carbon economy.
As this stress testing gathers pace, proactive and probative boards and directors should look for opportunities to collaborate in growing cross-sectoral efforts to better understand, manage and respond to climate-related risks and opportunities. Coordinated work across the public and private sector to deliver better climate-related financial analysis, scenarios and reporting frameworks and guidelines can help firms and regulators manage risks and deliver better outcomes across the system.
Mark Carney was governor of the BoE when it announced it would stress test the financial system against climate risk. He described how climate change "will affect the value of virtually every financial asset". No doubt he will continue to press this agenda as the new UN special envoy for climate action and finance.
A concerted government- and business-backed "mission" on climate can help to manage risks, orientate policy and effort towards the major benefits a zero-carbon transition and sustainable finance can yield. Opportunities await.
Travers McLeod is CEO, Sam Hurley policy director of the CPD. 
What the science says
Climate modelling by scientists shows continued emissions of greenhouse gases will cause further warming and changes in all components of the climate system with potentially catastrophic impacts, writes John Clarke, CSIRO team leader of regional projections.
Observations of the climate system, through direct measurements and satellites, have established a clear picture of how the Earth's climate has changed since the mid-19th century. Average air temperature has warmed globally by more than 1°C, and each of the past four decades has been warmer than the previous one.
For Australia, the climate has warmed by just over 1°C since 1910. Ocean temperatures have warmed by a similar amount during this time. Sea levels have been rising around Australia, heightening the risks of flooding. There has been a long-term increase in extreme fire weather, and in the length of the fire season.
Scientists have shown that the human influence on the climate system is clear. Our planet is warming mostly to the burning of fossil fuels and changes in land use, such as clearing forests for agricultural use, which drive up the concentrations of greenhouse gases in the atmosphere, leading to climate change.
All climate models agree continued greenhouse gas (GHG) emissions will cause further worldwide warming and changes in all components of the climate system.
The Intergovernmental Panel on Climate Change (IPCC) is the UN body responsible for objective assessment and reporting on the science of climate change. Their reports bring together the published scientific literature on climate change and its impacts.
The IPCC reported in 2019 that global warming is likely to reach 1.5°C above pre-industrial levels between 2030–52 if it continues to increase at the current rate.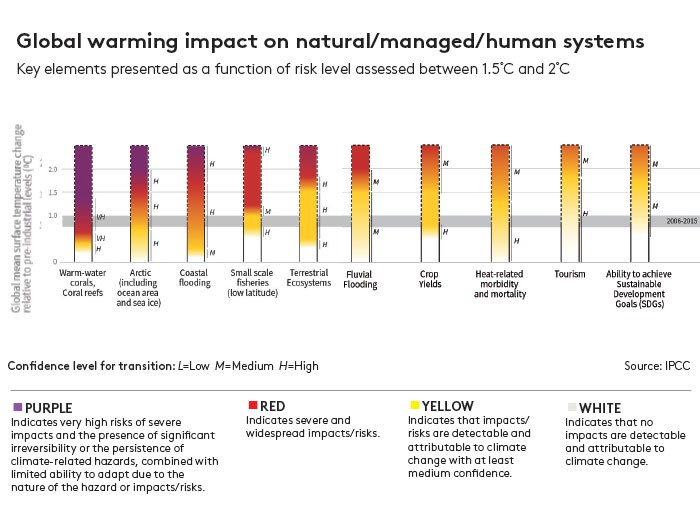 Three scenarios
At 1.5°C of global warming, our environment and human systems face significant risks, the level of which depends on geographic location, levels of development and vulnerability and what adaptation steps are taken.
How we get to 1.5°C also matters. If we overshoot 1.5°C, some species could be driven to extinction that would otherwise have been able to cope with a gradual progression to 1.5°C of warming.
As the climate warms to 2°C and then possibly to 3°C or 4°C — depending on future greenhouse gas emissions and mitigation measures taken globally — the differences from today's climate will become more stark. While half a degree change may seem small, even this amount of warming presents high risks for unique and threatened ecosystems, warm-water corals and the polar regions. On 9 February, Antarctica experienced its single hottest day on record, hitting 20.75°C.
Changes in the climate, particularly in weather and climate extremes, can also have a significant impact on our environment and wellbeing — ecosystems, the built environment, agriculture and food security. There will be far-reaching national and international economic impact.
The amount of climate change expected in the next decade or so is similar under all plausible global greenhouse gas emissions pathways, which range from a future with little curbing of emissions through to a pathway with ambitious mitigation. However, by the mid-21st century, higher ongoing emissions of greenhouse gases will lead to greater warming and associated impacts. Reducing emissions will lead to less warming and fewer associated impacts.
The CSIRO is supporting Australian corporations to understand their climate risk, explore adaptation options and identify transition opportunities through the Navigating Climate Change initiative.
This is of of your complimentary pieces of content
Already a member?
Login to view this content