If Australia's politicians are going to deliver the long-term reform the country needs, we need fixed four-year federal terms, according to a poll of AICD members.
Short-term policymaking is now a feature in modern government, with successive administrations focusing on re-election in a highly unpredictable climate. On average, Australia's last 15 federal governments served terms of only two and a half years.
This cycle can mean that three out of every 10 years are lost as governments respond to a shorter election time span. The Commonwealth parliament's short, variable terms places it in the minority across the globe and at home. Australian states and territories have all moved to four-year election cycles over recent decades. Most have fixed terms. The Commonwealth is now the only jurisdiction in Australia with such short terms.

In light of this reality that has inhibited the prospects of reform, an overwhelming majority of directors (88.2%) in an AICD Leaders' Pulse poll conducted earlier this month supported fixed federal elections every four years.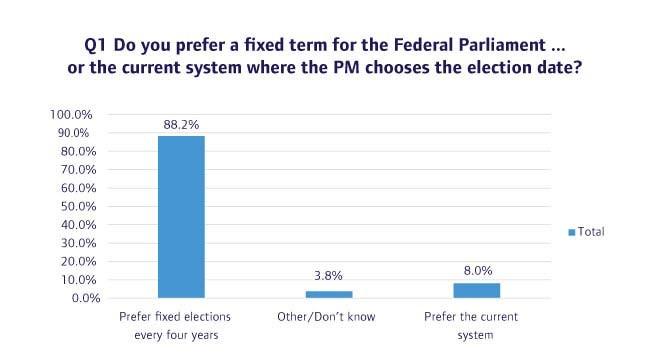 Leaders' Pulse is an online panel of 3,000 AICD members who are surveyed in short polls on important economic, social and political questions. The results of the polls then feed in to the AICD's research and advocacy agenda.
In the comments on the poll, participants highlighted the need for more long-term thinking in policy.

"Four-year terms are important to allow the elected government to work effectively and focus on a long-term policy agenda rather than a short term election cycle," said one participant.

"Two and a half years is simply not enough time to do the work required to keep our country competitive," agreed another.

One participant was concerned that a four-year term might leave in place a bad leader for too long, suggesting that if the system was implemented it involve "performance criteria and the ability for the Governor General to remove [the government]".

One difficulty in introducing four-year election cycles is that if the current system of half senate elections is maintained, the terms of senators would stretch out to eight years. On the question of extending the senate term, participants were more evenly split with 48.5% in support and 40.7% opposed.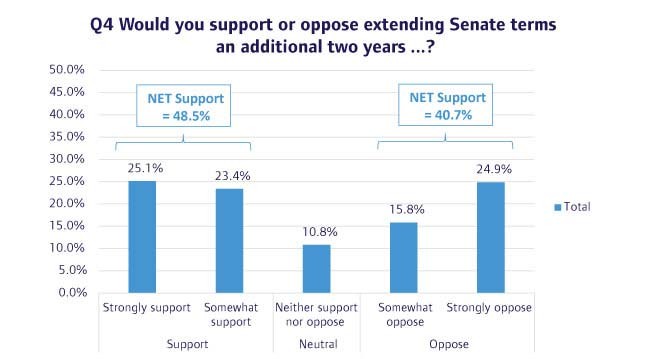 In the comments, several participants said their preferred system would also see the senate term fixed at four years, believing eight years is too long since it lessens accountability. "A dud senator given an eight year term would be unacceptable," said one participant of that view.
The AICD in its Blueprint for Growth called on all sides of politics to support a referendum, coinciding with the next federal election, to seek public support for a move to fixed four-year parliamentary terms.

If you would like to join the Leaders' Pulse panel and have your say on the AICD's advocacy agenda, email us your interest.

This is of of your complimentary pieces of content
Already a member?
Login to view this content