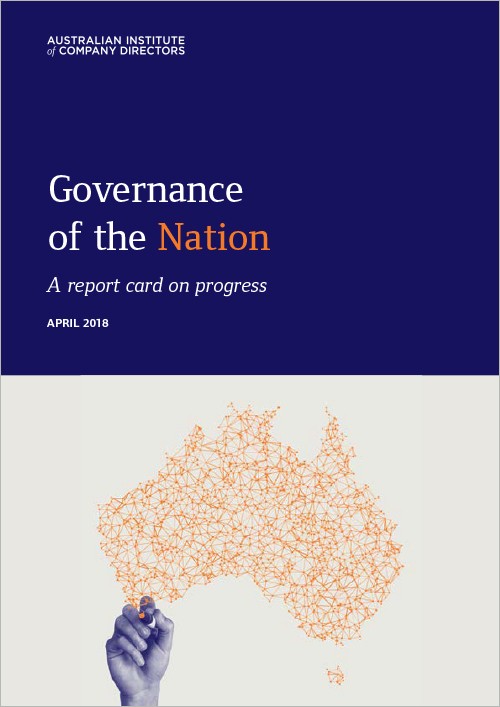 Last year, the Australian Institute of Company Directors (AICD) set out a plan to sustain and boost Australia's growth and prosperity with a clear case for national reform. One year on, the case for action is only stronger.
Bold action is needed to address Australia's poor productivity growth. Australia is running out of booms, so we need to focus on the factors that will trigger the next phase of growth in our economy. Australia has enjoyed 27 years without recession – a remarkable and unmatched achievement – but the drivers of our next phase of growth are not yet apparent.
The AICD believes the recommendations put forward in the 2017 Governance of the Nation: Blueprint for Growth, while not exhaustive, can deliver the marked growth and dividends Australia needs.
Rather than revisit those recommendations, the AICD is marking progress on these important initiatives by with the 'Governance of the Nation 2018 – A report card on progress' (the Report Card).
Unfortunately, the results can only be summarised as disappointing.
The recommendations covered a broad spectrum of policy objectives:
National governance: modernise systems of government to support longer-term policy decisions
Fiscal sustainability: address Australia's unsustainable fiscal and return the Commonwealth Budget to surplus, with bold policy on both spending and tax reform
Innovation and entrepreneurialism: foster innovation-led growth supported by regulatory reform to support appropriate corporate risk-taking is also needed
Human capital: adapt workplace regulations, education and participation to new demands
Partnerships with the not-for-profit sector: alleviate the challenges faced by an uncertain funding landscape
National infrastructure: improve infrastructure as it is critical to lifting productivity and economic growth.
In assessing progress against our recommendations the AICD has considered a range of factors, supported by analysis from our Chief Economist, Stephen Walters GAICD. We have sought to apply a governance lens to our performance as a nation and our rationale for each grading is spelt out in the report.
The policy prescriptions in the Blueprint will not represent the views of all members, and our list of issues is not exhaustive. Please share your feedback via our LinkedIn Member Group or directly by emailing us at nationalreform@aicd.com.au.
This is of of your complimentary pieces of content
Already a member?
Login to view this content