Liz Ellis AO, former captain of the Diamonds netball team, shares how her leadership skills on the netball court have lead to a distinction in governance.
In sports-mad Australia, the role of captain of any of our national teams is a significant honour. For Liz Ellis AO, the opportunity to captain the Australian Diamonds netball team (2004–2007) was the culmination of a career in which she demonstrated dedication to her sport and exerted significant influence on its direction in this country.
Retiring from netball after leading the Diamonds to World Championship glory in 2007, Ellis seamlessly transitioned into life off the court thanks to more than a decade of corporate experience. Having earned a law degree from Macquarie University, she practised as a solicitor at mid-tier firm Corrs Chambers Westgarth from 1996 to 2000. During this period, she honed her professional skills and garnered the attention of government entities that sounded her out about bringing a fresh voice to their boards.
Ellis has mainly been involved with government boards. In 1995, she joined the board of the now defunct NSW State Sports Centre Trust, beginning a career in which she has juggled duties as a professional athlete, media personality and director. This introduction to corporate governance enabled her to combine a love of sport with shaping the strategic direction of the government agency.
"The State Sports Centre Trust was looking for equality, to ensure women were represented on the board," says Ellis. "With my legal background and sporting achievements, I was a natural fit. I then spent time on the board of the Australian Sports Anti-Doping Authority [then the Australian Sports Drug Agency] and the Australian Sports Commission [now Sport Australia]."
Ellis was also on the board of the Sydney Olympic Park Authority. "I love that level of work and being involved in the strategic direction of the organisation and helping management get there," she says. "I don't get the chance to work at an operational level, and I can't work five days a week in an administrative or management role, so to be involved strategically is something I really enjoy."
Having honed her strategic skills at the State Sports Centre Trust, Ellis was confident she could bring expertise in audit and risk assessment to the Sydney Olympic Park Authority. She's been on the audit and risk committee of every board she's been involved with.
"My legal background comes in handy," she says. "There were a lot of impressive, experienced people on the Olympic Park Authority board. Because I had been on the board of the State Sports Centre Trust, I had a good sense of where the precinct had been and where it should be going; ensuring legacy sports from the 2000 Olympics were looked after. We didn't want the precinct to become full of high-rise, but rather a major event centre that also caters for minor sports.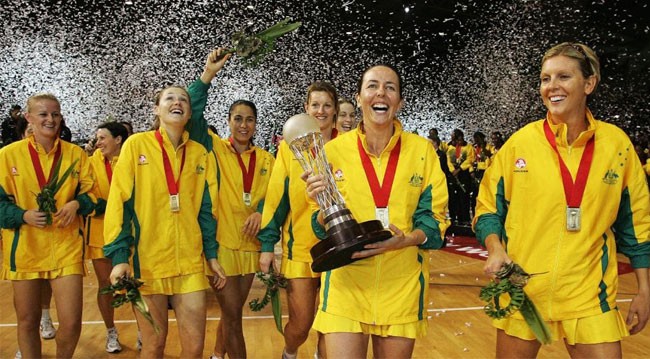 "Every board has governance challenges. Risk to me is something boards have to make sure they are up to date with. The audit and risk committee is such an important part of good governance and it's a role I take very seriously. If you get it wrong, there can be all sorts of legal issues. I enjoy looking at the risk matrix and making sure you've minimised everything and are protecting the organisation."
When you're involved in an organisational team where there are people more experienced than you, the best thing you can open up is your ears, rather than your mouth.
Evolution of leadership
Despite captaining Australia in netball, Ellis says leadership is a skill she has fashioned over time rather than it coming naturally. "I have some natural leadership skills, but I've also had to work at it," she says. "My legal training taught me how to think and see things from every angle, which absolutely helps with my leadership. You don't have to be a natural leader to be a good leader. You need to understand why you're leading and how you lead. My leadership style in the Diamonds certainly evolved; I had to learn to be good at it and to do that you have to think very deeply about what you want to achieve with it.
"I try to bring that point of view when sitting on boards. I spend a lot of time reflecting on that, while listening and learning. When you're involved in an organisational team where there are people more experienced than you, the best thing you can open up is your ears, rather than your mouth. I have sat on boards where I haven't talked for the first six months because I'm listening to what the established board members have to say."
Ellis emphasises you must understand why you are in the role. "If you're there to line your own pockets, you won't do a good job. If you're there to help the organisation, have the confidence to challenge fellow board members. When boards feature a lot of the same thinking, certain things can get missed or not be talked about. Sure, you're there to learn from them, but you must also have confidence in your own ability."
Calling time
One question board directors face is: when is the right time to pull the plug and walk away?
For Ellis, the decision to move on from her previous board roles varied from a change of government to the feeling that her contribution had run its course. However, on one occasion, self-preservation was the genesis for stepping down. "I felt exposed and there was not enough attention being paid to certain risks by the board and management, so I left," she says. "When you sit on a board, you need to be aware of whether you're still making a contribution and whether your voice is being heard. If not, it's time to go. The State Sports Centre Trust got wound up [in 2009] and rolled into the Olympic Park Authority. If you're on a board appointed by the government, the simple fact is that governments change, so they want change within the boards they appoint."
You don't have to be a natural leader to be a good leader. You need to understand why you're leading and how you lead.
Present and future
With her experience in the boardrooms of government enterprises, the time came for Ellis to dip a toe into the pool of private companies operating in the digital space. She is currently a director of digital education company Inspirity — formerly Skoolbo — and on the board of PlayersVoice, an online media platform launched in 2017, where athletes convey stories in their own words.
"My board career has morphed from government entities to private businesses with issues around fundraising and satisfying shareholders, which is different for me," says Ellis. She is loving the new challenges being thrown up by her role at PlayersVoice, the sport storytelling platform for which she was headhunted by Kerry McCabe, the media platform's founder.
"Being involved strategically and working with really high achievers at PlayersVoice has been very rewarding, especially having been approached by Kerry to be part of the advisory board at its inception," says Ellis. "Once he discovered my legal and board background, I was invited onto the board. I'm proud that articles appearing on PlayersVoice can set the agenda in this country. The athletes can speak openly and directly to their fans because there's no interpretation, no spin and no clickbait. We're also championing female athletes, resulting in a huge female readership. That's what advertisers want and it's been nice to strategically push for that — and to see positive outcomes."
AICD's Sports Governance program helps directors navigate the unique challenges of the sector. 
Independence day
The explosion of women's sport in Australia in recent years has opened an unprecedented number of pathways for aspiring professional athletes. The introduction of professional women's leagues such as AFLW (AFL Women's), NRL Women's, cricket's WBBL (Women's Big Bash League) and soccer's W-League has created a congested landscape where rival codes are jostling for the best talent and sponsorship dollars.
Addressing the challenges ahead, Netball Australia has established an independent commission, chaired by Marina Go MAICD, to deliver expertise and leadership to the Suncorp Super Netball league, future-proofing the competition's long-term sustainability.
While not a member of the commission due to her media commitments as host broadcaster of the league, Ellis was approached during its formation and is a firm believer it will set a platform to continue netball's position as the number-one team sport for women and girls in Australia.
Does netball get enough credit for its sound governance?
"Years ago, I sat next to Sir Angus Houston when he was chief of the Defence Force. He said the women who run netball associations could easily run the army because, logistically, they are fantastic. That stuck in my mind — we don't pat ourselves on the back enough as a sport. We run a really good show and need to empower as many women as possible to have leadership roles."
Why is the Super Netball Commission good for the sport?
"Like every sporting organisation, Netball Australia has the monumental task of satisfying grass roots, the elite level and broadcasters, all the pathways, and high-performance groups through to the Australian Diamonds. There were competing priorities for directors with the formation of Suncorp Super Netball and their duty to the Diamonds, so having an independent commission make decisions is a smart way to go."
Why did you turn down a role on the Netball Commission?
"My role in the media makes it hard to play both roles. It's far better for me to be outside the tent, with the freedom to make comments and create publicity, as opposed to being inside and not being able to say certain things."
With the rise of women's professional codes, is netball facing competition like never before?
"Those challenges will be good for us because competition makes you sharpen your offering to the market. Netball is still the best women's sport in terms of looking after its grass roots. Other sports have had bubbles that burst, but we've always been a sport that manages itself conservatively so netball will rise to meet these current challenges and is well placed to withstand the competition."
This is of of your complimentary pieces of content
Already a member?
Login to view this content