Retired NRL Cowboys captain Johnathan Thurston reflects on his move from footy field to the boardroom.
Johnathan Thurston attracted huge audiences and honours on and off the field as a rugby league footballer. Yet at heart he's a humble guy. "Is anyone going to read this?', he asked co-author James Phelps at their first interview for his autobiography, published last year. "Why would anyone buy a book about me?"
Three years since he posed that question, Johnathan Thurston: The Autobiography is flying off the shelves following his retirement from the North Queensland Cowboys NRL club in September. His life story became Australia's highest-selling autobiography in 2018.
Thurston has also set himself a new challenge as he builds a new life in business, the media and a Queensland government boardroom.
"It's going to be difficult," he told Company Director at an AICD dinner in Townsville, where he was guest speaker. "Pretty much ever since I left school, rugby league is all I've known."
What lies ahead is "exciting" — a new role on the Queensland Tourism and Events Board; a Channel Nine sports commentary contract; work at his job placement website, the Johnathan Thurston Academy; and a role as co-owner of the Cairns-based Skytrans aviation company.
"It's all learning curves for me," says Thurston. "I don't have a uni degree — I feel like I'm a small fish in a big pond. But with rugby league, I was always willing to learn and listen to those around me. I learned from the best."
Working in his favour is the steely determination and work ethic he applied since joining the Canterbury-Bankstown Bulldogs club in 2002 at the age of 18. "I worked extremely hard," he says when asked the key to his success. "I always wanted to win."
And Thurston, now 35, knows exactly where he will channel that relentless on-field charge: "Into my businesses."
I had a platform with rugby league to do some good in my life. That's where I wanted to put all my energy.
Tourism focus
In August 2018, Thurston joined the Queensland Tourism and Events board after an approach from Queensland Innovation and Tourism Industry Development Minister Kate Jones. "I didn't take much convincing," he recalls. "It was a good opportunity to learn how boards operate."
Queensland Premier Annastacia Palaszczuk describes Thurston as an influencer and leader who can offer advice and insights into how the state can grow an industry vital to regional communities. With tourism employing 220,000 people in Queensland, it's a $25b driver for the Queensland economy.
Thurston has attended board meetings on North Stradbroke Island and in Cairns, touring Mossman Gorge and discussing how to improve authentic Indigenous tourism. "That's something we want to drive," he says. "Tourists want to be able to see, feel and engage with local Indigenous people and their culture in Australia — it's something we can do better." The state government board is diverse, with nine members from aviation, travel, sport, marketing and the media, plus Nancy Bamaga, founder of Indigenous consultancy Black Drum Productions.
"JT is such a knowledgeable and passionate ambassador for the region," says Townsville Enterprise board CEO Patricia O'Callaghan GAICD. Thurston "gives us a voice around the table", adds O'Callaghan. "We already have a very strong relationship with Queensland Tourism, but having someone at board level, where the key decisions are made, can only prove valuable for us." Thurston is already aware of the considerable power boards wield in the world of sport. Good sports culture starts at the top and trickles through, he says. "In sporting organisations, you see that if the board is strong at that level it will filter through to the rest of the clubs. Certainly, I believe [good] culture is driven from the top and you can see those consistencies within sporting organisations… those teams are the better ones. They perform at a better level."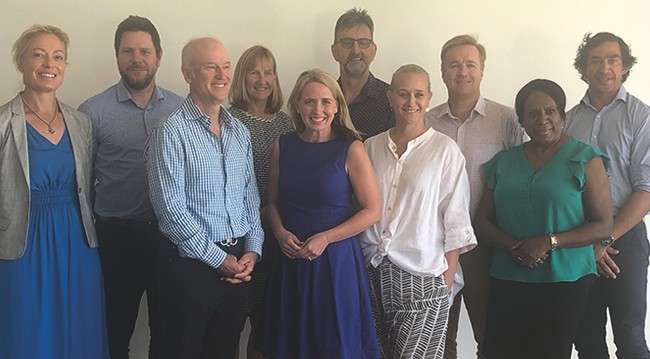 Aviation entrepreneur
In 2015, Thurston invested in an aviation business that services Indigenous communities in Cape York and the Torres Strait Islands. He is co-owner of and a shareholder in Skytrans, bought in 2015 by Collings Aviation Holdings, which also operates West Wing Aviation. Townsville aviation entrepreneur and pilot Peter Collings set up West Wing in 2000. The pair became friends after Thurston moved from Sydney to Townsville to join the Cowboys in 2005. "This was an opportunity for me to stay connected to the community of North Queensland, which has given me so much," Thurston explains.
A year after he invested, Thurston says staff numbers at Skytrans rose from seven to 136. He was there to celebrate the achievement at the firm's first birthday party, held in an aircraft hangar in Cairns. "People were coming up to shake my hand saying, 'Thank you, I now have a job,'" he recalls. "I get a lot of satisfaction out of that."
Thurston is actively involved in the airline business and has taken on the role of Skytrans Community Ambassador. As well as its Cairns HQ, Skytrans also has regional offices in Townsville and Horn Island, servicing thousands of passengers and transporting almost 300,000kg of freight each year. In 2015, the company set up its Brisbane base after securing a $25m contract to provide air services for natural gas producer QGC.
No easy ride
It wasn't an easy ride for a boy once seen as too small, too slow and too wild to succeed at sport. Thurston grew up in housing commission in the Brisbane suburb of Sunnybank Hills and admits to going off the rails as a teenager — breaking into cars, drinking too much and attracting the attention of police. He told the Townsville AICD dinner he regrets not finishing school and that this now motivates him to act as a role model to young people.
Thurston was captain and co-captain of the Cowboys and played as an Australian international, Queensland State of Origin and Indigenous All Stars representative. In 2015, he became the first four-time Dally M medallist as the NRL season's best player, the first three-time winner of the Golden Boot Award for world's best player, and took out the Clive Churchill Medal for his performance in the 2015 NRL grand final. In 2017, Thurston won the Australian Human Rights Commission Medal for his work in Queensland Indigenous communities and was named Queensland's Australian of the Year. Last year, at the Townsville North Queensland Tourism and Events Awards, he also won the Richard Power Award for Outstanding Contribution by an Individual for his work promoting North Queensland as a destination.
Supporting Thurston throughout has been his wife, Samantha, who gave birth to their fourth child, a daughter, in February. A former marketing sponsorship manager for the Cowboys, she handles his personal publicity and has helped shape Brand Thurston.
The JT Academy
Thurston is keen to help improve the lives of young people. His jobs website, the Johnathan Thurston Academy, backed by Accor and Lendlease, placed 250 young people in work in 2018. This year, the academy launched the JTWomenToLead program as part of its schools program, to inspire young women to become role models and future leaders. "This is something I'm extremely proud of," he says. As managing director, Thurston visits schools and urges kids to stay at school. "Education is the key and that's what I'm passionate about," he says.
Equally passionate about his Aboriginal culture, Thurston had grown up knowing he was Aboriginal, but little else. "Dad is a Kiwi, but I didn't know too much about our family history or where Mum was from," he says, describing the "pivotal moment" when he reconnected to his culture at his first Indigenous All Stars game in 2010. "That made me start to think about what I was missing in my life," he says.
So he hired a bus with some relatives and travelled to Mitchell, west of Roma in Queensland — his mother's country. Thurston says this had a calming influence on him. "I remember driving away thinking to myself that I had a platform with rugby league to do some good in my life. That's where I wanted to put all my energy from that point forward."
In 2017, Thurston helped found the Cowboys House for disadvantaged youth in remote communities in Far North Queensland. It now has 50 students studying full-time. "A lot of those kids came to the house with below-average marks on their report cards and within a year they were all above average," he says. "That is what it was designed to do: get their grades up to satisfactory levels." A Girls Campus opened in January.
Thurston plans to continue at the Cowboys as both mentor and ambassador, and is looking forward to the opening of the new North Queensland Stadium in 2020, where the Cowboys will play.
"It's given the region a bit of confidence. They've really done it tough here economically in the past few years," he says. "The Cowboys are such a big force within the community and finally they're starting to see the stadium come out of the ground. Hopefully people can see that and start investing in Townsville and North Queensland."
This is of of your complimentary pieces of content
Already a member?
Login to view this content