In a first, Vicdeaf and the Australian Institute of Company Directors collaborate to deliver the Company Directors Course™ to three of the organisation's deaf leaders as they prepare to take on the biggest change to the welfare state seen since the introduction of Medicare.
The National Disability Insurance Scheme (NDIS) is meant to revolutionise the way that Australians with a disability receive government support for the care they need. It is radically transforming a sector which to date has largely been state-based.
Unsurprisingly, the implementation of the NDIS is a challenging disruption for those who work in the disability support sector. Organisations, whether charitable, government, not-for-profit or advocacy-based are having to adapt their processes and strategies to make the most of the scheme and to provide the most value to their clients. The change has been incremental; the NDIS commenced in 2014 and is being rolled-out in stages and on a geographical basis throughout the country. Nearly half a million Australians will be covered by the scheme when it is fully operational in 2019.

Vicdeaf and the NDIS
Vicdeaf, Victoria's leading advocate and support provider for deaf and hard of hearing people, is one such organisation preparing for the full impact of the scheme. Its mission is to support deaf and hard of hearing children, adults and their families through a range of initiatives, including training and awareness building and promoting inclusion.
According to Brent Phillips GAICD, Director of Language, Partnerships and Innovation, and newest member of Vicdeaf's executive leadership team, the most significant change that the organisation has faced has been in relation to funding – as the block Government funding model is replaced by individual-centred funding approach under the NDIS.

Vicdeaf's mission is to support deaf and hard of hearing children, adults and their families through a range of initiatives including training and awareness building and promoting inclusion.
It presents an organisational and governance challenge to Vicdeaf as it seeks to continue to carry out its mission to communities in Victoria and Tasmania in the new policy environment. Accordingly, Vicdeaf is committed to developing and strengthening deaf leadership, particularly within its own ranks, and a key priority of its strategic plan lies in upskilling and governance training.
Governance training for Vicdeaf leadership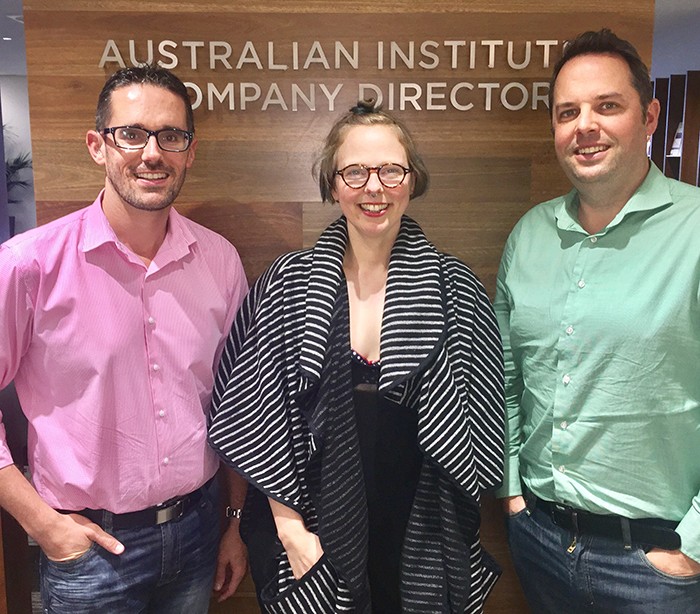 From L-R: Brent Phillips GAICD, Hilary Fisher GAICD and Gavin Balharrie GAICD
In October 2016, Phillips, and two of Vicdeaf's directors, Hilary Fisher GAICD and Gavin Balharrie GAICD, completed the Company Directors Course and successfully graduated in May 2017. As an organisation which exists to serve deaf and hard of hearing people and to promote an inclusive society, Vicdeaf's board and leadership team includes those who have a lived experience of being deaf or hard of hearing: a reflection of the organisation's diverse client base. The AICD worked closely with Vicdeaf to adapt the Company Directors Course so that deaf participants could actively take part in the program.

The AICD engaged Auslan interpreters via Auslan Connections, a not-for-profit language service provider. The interpreters were given access to the course materials ahead of time so that they were familiar with the complex issues before they first attended the course. They then worked side by side with those from Vicdeaf and the 23 other course participants. The Vicdeaf participants were involved in every element of the course through their interpreters – in robust group discussions, case study work and in preparation for the assessment.

The Company Directors Course provides all participants with critical tools needed to improve boardroom performance and decision-making, and provided participants from Vicdeaf with valuable lessons they have taken back to their important organisation. Hilary Fisher, who is Vice-President of Vicdeaf and attended the course off the back of a Victorian State Government Women's Governance Scholarship, said that the Company Directors Course "enhanced my knowledge in managing risk, sustainability, strategy and ethics at a board-level" as it navigates a challenging external environment.

To Gavin Balharrie, the Company Directors Course drove home the distinction between strategy and operations, and how each is the unique province of the board and management, respectively. In Mr Balharrie's view, the course showed him how to ensure "that strategy and operations are working as a well-oiled machine."

Vicdeaf will continue to benefit from participation in the Company Directors Course, which was delivered in a way it has never been delivered before. As Vicdeaf confronts the beginning of a new chapter in its history under the NDIS, it is equipped to strategise and govern for the benefit of the community.

This is an edited extract of an article that appeared in the April 2016 edition of Company Director magazine. 

This is of of your complimentary pieces of content
Already a member?
Login to view this content