Professional development priorities for directors and governance leaders in the year ahead.
Director competencies are generally categorised in two ways: technical and behavioural. Technical competencies comprise a director's skill and experience set in areas such as accounting, legal, industry knowledge or strategic planning.
Behavioural competencies are a director's capabilities and personal attributes and cover, for example, an ability to positively include people and situations, an ability to assimilate and synthesise complex information, time availability, honesty and integrity, and high ethical standards.
Professional development provides directors with the opportunity to reflect on both of these competencies. Use the new year to ask yourself what your specific strengths and weaknesses are. How do you compare with your peers and what skills and capabilities should you be developing to make 2018 a success? Answering these questions is essential to a director who wants to keep pace with progress, reinforce strengths and overcome technical or behavioural shortcomings.
Technology has become indivisible from how people, enterprises and governments operate...[with] profound implications for every aspect of business.
Benchmark your skills
An important first step towards maximising the investment you make in your professional development is benchmarking current capabilities so that you understand exactly where you can make the most progress in the most efficient manner. Benchmarking is not only vital to ensuring a director's knowledge about where their company sits in the market is up to date and relevant, it also provides an evidence base for assessing and monitoring performance within an organisation in an accountable way, laying the foundation for a culture of constant improvement.
AICD provides members with a complimentary self-assessment tool (SAT) that helps analyse their strengths and identify areas for development. Once completed, the assessment provides a real-time, customised report that presents a comprehensive learning pathway. The SAT is unique in allowing members to benchmark their capabilities against peers in the director community, highlighting exactly those areas where they would gain the most from actively pursuing development opportunities.
For boards, the Governance Analysis Tool™ allows organisations to assess their governance performance against best practice, based on AICD's expertise and experience. Comprehensiveness ranges from the succinct and effective Board Review to the in-depth Peer-to-Peer Review.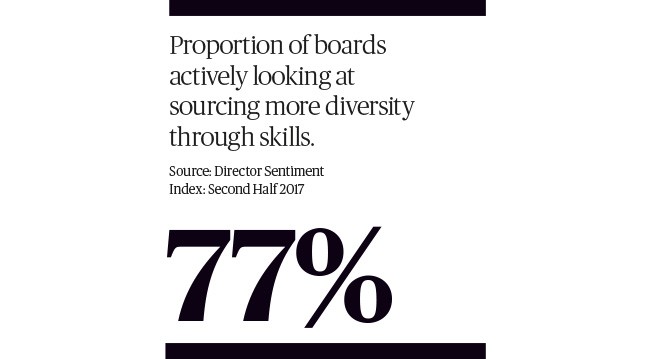 Need to know
Good governance relies on staying up to date with the critical changes to the governance, business and regulatory landscape. These changes can have significant impacts on director duties and responsibilities.
The AICD's Advocacy team summarise the trends and changes that directors need to be aware of this year:
Legal and regulatory updates
Foreign bribery
The debate on independent directors, including the independence of super-fund trustee boards
Whistleblowing reform
Insolvent trading safe-harbour developments
Phoenixing activity
Director liability changes
Enhanced auditor reporting
ASIC and new crowdfunding legislation
ACCC update and changes to Section 46
AASB update and changes to standards
ACNC update and fundraising reform
The political and economic landscape
Levels of trust in business
China-Australia relations
The rise and evolution of Asian economies
Climate change
Gender diversity and progress towards the 30 per cent goal by 2018
Cybersecurity developments
Governance and board trends
The board's role in strategy
Corporate culture
Shareholder activism
Executive remuneration
Technology trends and the future of work
This is of of your complimentary pieces of content
Already a member?
Login to view this content