Read the latest insights from keynote speakers, experts and thought leaders at the AICD's annual Summit.
Thank you to all who attended and participated at the 2020 Australian Governance Summit.
We look forward to welcoming you back to Sydney on 1 and 2 March 2021.
2:55pm - Keynote presentation
Richard Goyder AO FAICD, Chair of Woodside Petroleum, Qantas, and the AFL Commission shares his leadership lessons.
Risk: calculated risk is what drives growth, innovation and reward. But risk is at risk of becoming a dirty word and being stifled by regulation.
Without risk, Woodside would not have been supplying natural gas to the world for 35 years, Qantas would not be flying direct to London or celebrating its centenary, and women would still be AFL spectators not players.
Hunkering down and being risk averse does not deliver the best outcomes for companies.
To drive appropriate risk, directors need a good understanding of the business and its risk appetite and they need to ensure the right processes and culture are in place that support innovation and creativity. The board needs to be committed to the long-term and make decisions that sometimes take a short-term hit.
Directors should be enabling management to do things rather than stopping them.
There will be failures.
However when done properly, reputation follows. The foundation for a strong reputation is sustainable financial performance.
Climate risk is one of the key risks now featuring prominently on board agendas. We have a responsibility to engage on this but understand that we do not have all the answers.
Business in the community: the best organisations support their communities in areas that go well beyond their core business. To prosper over time, organisations must show they can make a positive contribution to society. Bunnings does this very well.
The role of boards: technology means the way boards operate can and will change. Boards will need new perspectives, directors will need new skills, diversity is incredibly important.
Leadership: leaders must lead and accept that there are consequences from making decisions. Leaders are doers, they do not sit on the sidelines.
COVID-19 represents all the things business does not like – uncertainty, unpredictability and adverse economic consequences.
Lastly, don't run out of cash. Have a balance sheet that is able to withstand shocks, and look for the opportunities that arise.
2:30pm - Dealing with climate risks – understanding the communities' expectations
Climate change is at a tipping point and directors can no longer claim they weren't aware of how it will affect their organisation, the Australian Governance Summit heard at today's session.
Professor in Climate Science at the Australian National University Nerilie Abram told the audience that the global average temperate is already 1 degree warmer than pre-industrial levels and from this point there are two pathways:
1.Taking action on climate change can limit temperature rises to 1.5 to 2 degrees, or
2. Doing nothing will see the average temperature rise by 4 degrees by the end of the century
Kathleen Conlon FAICD, a Director of REA Group, Aristocrat Leisure and Lynas, said boards have improved their risk management practices, which is helping them to deal with climate change.
There are three questions directors need to ask. Firstly, is there a strategic opportunity that comes out of climate change, such as for Lynas, whose batteries' raw materials are central to renewable energy? Secondly, will there be a fundamental change to the way the company operates?
Finally, there is the question of where is the disruption or significant liability going to occur? "If I'm designing capital now, what am I doing about making sure it's resilient in that framework?" she said.
In terms of liability, she said: "We're at a tipping point. You can't say we don't know anymore."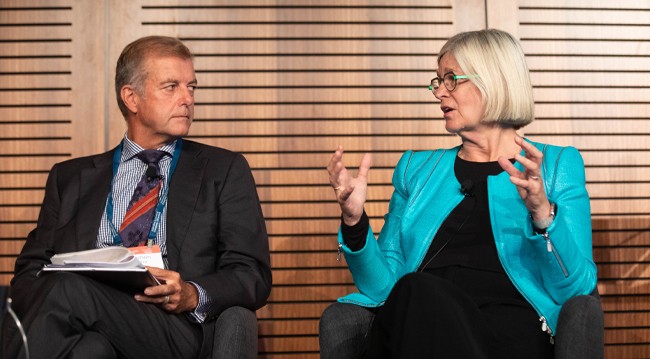 Stephen Dunne FAICD, a Director of superannuation fund Cbus, renewable energy company Evergen and investor QIC, said directors need to get a frame around the time horizon of climate change because it is such a long-term issue.
Taking a long-term view can lead to a "better, richer boardroom discussion around the board table than what's happening next year or even the next five years", he said.
We're at a tipping point. You can't say we don't know anymore.
2:15pm - Tackling social purpose: What is your board doing?
A properly clarified purpose is a powerful lens for strategy development, according to participants in the Tackling your social purpose panel discussion.
Geoff Brunsdon FAICD, Chair of Sims Metal Management described how board and management worked together in 2017 in its centenary year to align purpose and strategy.
Framing the work around 30-year megatrends, businesses and milestones, its purpose became "to create a world without waste to preserve our planet". The words came entirely from its employees.
"Clarity of purpose is a powerful mechanism to drive strategy so long as board and management are clear on the purpose and they own it," Brunsdon said.
Richard Boele, Global Leader Business and Human Rights Services at KPMG and Chair of inclusive sport organisation Boccia Australia, said being able to paint a larger picture about societal change and what the organisation is doing to contribute to that helps alignment.
He warned directors that organisations needed to go the distance. "Don't start on articulating a purpose if you are not going to live it – it's better not to have a purpose."
So where should directors start?
Boele said directors should start by listening to its most vulnerable stakeholders. Jess Bulger, a Non-executive Director of Outward Bound and Director of Engagement at CareerTrackers Indigenous internship program, agreed that it needed to be an authentic process.
Moderator Naseema Sparks AM FAICD, Chair of Homart Pharmaceuticals, asked how boards should take Indigenous history and wisdom into account.
Bulger said it was a missed opportunity. "The first thing to do is understand where you are, whose country you are on, who the elders are. What's important to those people and if there's an opportunity to learn and work together."
Boele warned there is a dark side to purpose.
"Sometimes we can allow behaviours that aren't ok because the purpose, the end goal, becomes so important it doesn't matter how you get there. The important role of a board is to test, probe and question. We spend a lot of time talking about the positive side but as a board it is important we think about both."
2:05pm - Sports Governance in the spotlight
Board composition, working with volunteers, the pros and cons of federated structures, budgets and improving culture and diversity were among key governance issues discussed with at the AGS session involving three directors of Australian sports boards.
Marina Go MAICD, Chair of the Super Netball Commission, said the biggest challenge for sports boards is getting the composition right.  She said that diversity is an issue for sports boards and boosting this often requires the challenge of changing an organisation's constitution.
She recommended developing a skills matrix and encouraging people, often volunteers, who have the skills required to apply.
"The most important thing for board members is to understand their role and their legal obligations," she said. "As chair it is my responsibility to remind people of that."
Gabrielle Trainor AO FAICD, who sits on the AFL Commission, said Australia has 75,000 sports boards and 1.8 million sporting volunteers.
"Passion is an incredibly important ingredient in anyone who gets involved with sport," Trainor said. "But you need to be aware of your responsibilities."
David Reid, Deputy Chair of Basketball Australia, said sports boards were often caught up with "putting out fires" and should ensure they make time to deal with strategy. He said the value of grassroots volunteers could not be overestimated and that it was essential that board members, who were often volunteers themselves, accept "we're all in it together".
The most important thing for board members is to understand their role and their legal obligations.
1:45pm - How can you stay close to your customers?
Customer centricity was an important part of the launch of a new digital bank called 86 400 last year, attendees heard at this latest AGS 2020 session.
The bank involved customers in the design of their products. "Before we launched, we went to our customers to find out what they wanted," Akiko Jackson GAICD, Director 86 400 said. "It was very easy to get three answers:
They wanted to see all money in one place
They wanted the bank to help them pay their bill
They wanted banks to help them not make financial mistakes
The first thing the bank did was to create an app. Every few weeks, customers checked the design of the app so it could be improved, so customers were involved in the design process along the way."
It was also important for the board to ask questions of the management team such as how to involve customers in designing products and services, how well they use the data they have and how to incorporate customer centricity in the daily operational rhythm of the bank.
Louise Mcelvogue FAICD, a Director at WhiteHawk Inc in the US and Healthdirect Australia, says it is important to step back from data to ask what the overriding strategy is. "I think the real danger is that boards think technology or AI is the answer. These are just tools and you need to figure out insights."
A company like Netflix is built completely on data. Last year, they spent $US15 billion on content and served customers well using data.
However, some companies like Australia Post were conducting too many surveys. "We completely survey people too much. This is often how to really upset customers more. So, you need to take a step back and say this is not a piece of data – it is a real person," McElvogue said. "Customer empathy is important, and it is vital to step into the customer's shoes", she said.
You need to take a step back and say this is not a piece of data – it is a real person.
Amanda Hicks, National Manager Brand and Marketing KPMG, said in the KPMG customer experience survey last year, that Singapore Airlines was the top company exemplifying customer centricity. "They embed customers insights into all parts of the travel experience. There are so many touchpoints to their data."
Many insurers have also "headed up the ladder" in terms of customer experience as well, she said.
12:30pm - Future trends: shifts we are seeing globally
Artificial intelligence (AI), climate change, improving how we listen to diverse ideas and 5G were discussed as key trends challenging boards and organisations in the Future trends: shifts we are seeing globally session of the AGS today.
You ain't seen nothing yet.
A poll of the audience found 53 per cent of people believed their boards were least prepared for AI. Some 7 per cent were at least prepared for 5G, 24 per cent for climate change and 16 per cent for really listening to diverse views.
Dr Stefan Hajkowicz, Senior Principal Scientist at CSIRO's Data 61, said when it came to the capabilities and applications of AI, "you ain't seen nothing yet".
He said AI would improve every organisation including banking, aged care, health diagnosis, and the justice system. Hajkowicz added that while data privacy is "not a simple challenge", AI is "a boon for human justice" and "doing things more ethically".
The least diverse voice we have in organisations is middle management.
Deborah Yates, National Managing Partner, People and Corporate Affairs at KPMG, said the future of work requires skilful, capable and inclusive leaders. "It's the difference between genuinely listening to ideas from people like you to genuinely listen to ideas from people who are different to you," Yates said in a lively panel session moderated by Leonie Valentine GAICD, Managing Director, Sales and Operations, at Google in Hong Kong.
Yates said boards need people who are "genuinely active listeners" who "have a real awareness of their biases". She warned that board moves to boost diversity could be wasted if different ideas weren't encouraged and "really heard".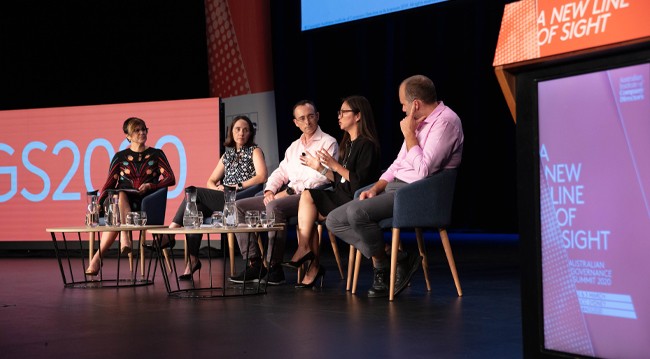 "The least diverse voice we have in organisations is middle management," she said.
James Mabbott, Partner in Charge for KPMG Innovate, said viewing climate as a key defining regulator, the rise of the circular economy and more investment in renewables, were key trends directors should be across.
Anny Havercroft, Director Brand and Marketing at Verizon Media ANZ, outlined some of the applications of 5G, which she said would improve the customer experience in retail and improve safety in the sea when combined with drone technology.
"The opportunities and possibilities (of 5G) are endless," she said.
11:45am - Getting remuneration right – is it possible?
The gap between executive and worker pay is undermining the trust in business and directors need to ensure they understand how pay structures for all staff are driving behaviours, the Australian Governance Summit heard.
Kathleen Bailey-Lord FAICD, a Non-executive Director of the Bank of Queensland, QBD Insurance and Melbourne Water, noted there is increased consternation in the community about the gap between CEO and median employee salaries, and it's a factor undermining trust in the business sector.
To me, rem is at the end of the process.
She said that while it is impossible to satisfy all stakeholders with a remuneration structure, that doesn't mean boards shouldn't try to engage and explain what they are doing.
When considering the remuneration strategy, directors need to understand the context and think deeply about what success looks like.
"To me, rem is at the end of the process. It's a consequence of how we have set the performance management expectations both for the short- and long-term," she said. "It's very anchored in 'why do we exist?' - what is the business strategy to execute that and then what are the targets by which we will measure our performance?"
Sylvia Falzon FAICD, a Non-executive Director at the Suncorp Group, Premier Investments and aged care provider Regis Healthcare, said it is incumbent on boards to understand how remuneration structures work throughout the organisation. Board can then identify if the way the majority of the workforce is paid is in line with the executives' incentive scheme.
"When we think about the masses, we have not, in the past, turned our minds enough to 'how does that work?'" she said.
11:45am
Our congratulations go to Alan Cameron, AO and Carolyn Hewson, AO, who were recognised as FAICDLife members for their long-term contributions to governance and the director community.
These recognitions were part of the AGS 2020 welcome dinner last night (2 March 2020).
Alan Cameron is Chair of the NSW Law Reform Commission and instigated the AICD's highly popular Essential Director Update. He is a former Commonwealth Ombudsman, Chair of the ASX Corporate Governance Council and Chair of the Australian Securities Commission, the forerunner of ASIC.
Carolyn Hewson is a Non-executive Director of CSL and Infrastructure SA. A former investment banker, she has been a non-executive director of a number of listed boards including BHP, Stockland, CSR, AMP and South Australian Water and the Economic Development Board of South Australia.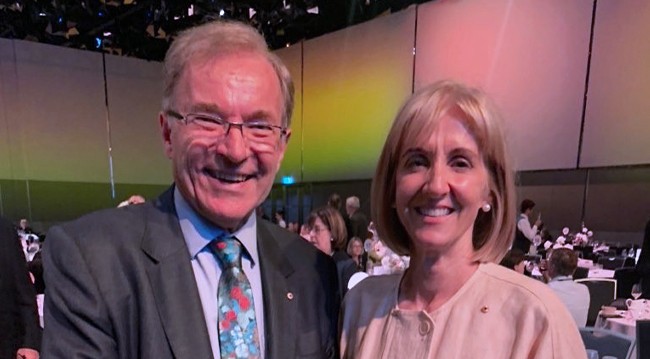 11:30am - Shifting culture in an established organisation
Directors need to be mindful that the culture of the board itself plays a vital role in supporting successful cultural transformation. Its role is to lead by example, according to panellists in the Shifting culture in an established organisation session.
Culture was likened to an ecosystem and even an immune system which would accept or reject change, the panel said.
"Culture is like a very finely tended garden that takes a long time to build, but weeds can grow very quickly," said Kathleen Condon FAICD, a Non-executive Director of REA Group, Aristocrat Leisure and Linus Corporation.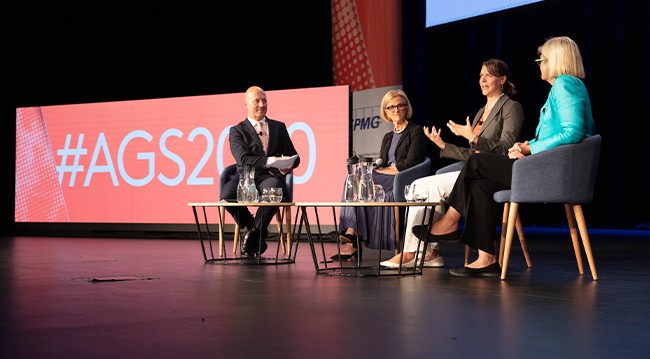 Melinda Conrad, Non-executive Director of ASX, Stockland and Caltex said that organisations she was involved with found board reviews helpful, including getting feedback from executives, and sometimes that feedback requires directors to look in the mirror.
"Before you get to metrics you have to start with the people... It's human beings who run and drive these organisations day to day," she said.
As for metrics, "it's key that you don't get hung up with the measure but with the trend over time," she said.
Kerstin Oberpreiler, CEO of Pentaquest, who studies organisation behaviour, said the most important step is "be honest about what is your culture".
Session moderator, Kyle Loades FAICD, Chair of LGA Super and former Chair of National Roads and Motorists Association (NRMA) referred to Kodak's failure to embrace digital technology and asked how boards were adjusting their risk appetite to support transformation. Kodak… "misunderstood the difference between short-term profit and long-term profit - and we are having the same problem today with climate change," Conlon said.
11:15am - Setting culture in a growing business
Setting a good corporate culture is not expensive and it makes good business sense - this was the message from a group of emerging company leaders and directors.  
"We say no to 70 per cent of the work that we get asked to pitch for, but we win 90 per cent of the work that we do go for", said Natalie Walker MAICD, Founder and Managing Director of Inside Policy.  
"And that's because everything we do aligns with our purpose and our culture. We truly believe we are going to win the work we go for and we put everything into it," she added.  
Christopher Murphy GAICD, CEO of Provum Healthcare, agreed – sharing his focus on low cost and practical steps to set culture. Examples ranged from establishing employee rituals for sharing best practice that ensure culture is not a meaningless metric, to simply having tough conversations on behaviour early and being prepared to let people go when they don't fit the desired culture.  
Measuring and managing culture can be particularly challenging in established and geographically spread workforces such as mining, said Keren Paterson MAICD, CEO of Trigg Mining and Non-executive Director of JSW Australia.  
Karen has built successful mining companies by aligning them with a social purpose and adopting a culture of innovation – one that delivers a more diverse workforce and new revenue lines with better environmental outcomes.   
11:00am - Not-for-Profit Governance in the Spotlight
Some not-for-profit (NFP) boards are now facing "a whole new level of risk management" and change to a commercial mindset when they expand their operations, which raises implications for governing for vulnerable people, the AGS was told today.
In the case of the Cerebral Palsy Alliance, its level of revenue has risen from $60 million in recent years to $220 million, and the number of clients it serves has risen from 2,000 to 6,000, CEO of the Cerebral Palsy Alliance, Paul Masi MAICD, told the aucience.
"There's a whole new level of risk management," he says. "We are working very hard on the risk management piece to protect vulnerable people while providing services."
With expansion has come the change to a more commercial mindset.
"We are now processing over 25,000 transactions a month. We had to take on the whole flavour of a commercial organisation with an accounting system, back-end IT and client management systems. All this had to be done from the starting point of a simple NFP."
In general, the lines between NFPs and commercial organisations is blurring, according to John Bisset GAICD, CEO Community Broadcasting Association. "The corporate world is needing to shift in its social and community thinking towards where NFPs are thinking," he told the AGS session.
"And NFPs also need to think about their commercial acumen. I think there is a blurring between the two sectors."
Fiona Payne GAICD, who sits on the Therapy Focus and other NFP boards, said she thinks there has been a definite fundamental shift towards a more commercial mindset in the disability sector, but that has not been well supported.
"I don't think people who use our services have been supported to transition to the new environment. In primary health and disability we are struggling with the way the business is changing but we have very few resources to do that."
The challenge with expansion in not-for-profits is to retain and hire the right people who have a heart to come along for the mission, she says. It really helps in not-for-profits to engage staff and educate them on the commercial purpose of the organisation so they can work with the organisation on solutions.
A rebrand is occurring in one of her organisations. In a bid to get staff on board, the rebrand was first sent to employees to get their ideas before being sent out to professional marketers.
"In a real sense, it involves staff much more in determining what their workday will look like when they understand the commercial parameters."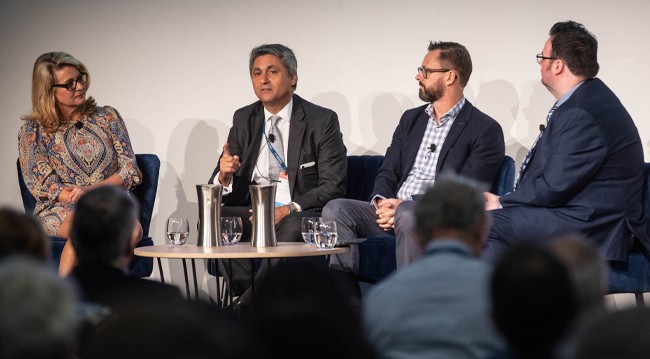 10:05am - An update on the regulatory environment
In governance terms, the new word of the year for 2020 is "purpose", Professor Pamela Hanrahan, Deputy head, School of Taxation and Business Law, UNSW Business School, told the AGS today in her regulatory update session.
"Last year's word for me was culture, but I think this year the word has changed to purpose," she said on day two of the Summit. The shift in the definition of the purpose of the corporation (by US Business Roundtable), away from just shareholders to all stakeholders shows that the narrative around purpose is changing, she says.
"Lawyers are asking if this has legal implications," she says. "Does that mean we are legally required to do something different? I don't think that the roundtable represents much of a change in the law. In Australia we have always served the best interests of the company and it is really about authenticity of purpose. If you stick to articulating the purpose of the company all stakeholders are always at the heart of director duties."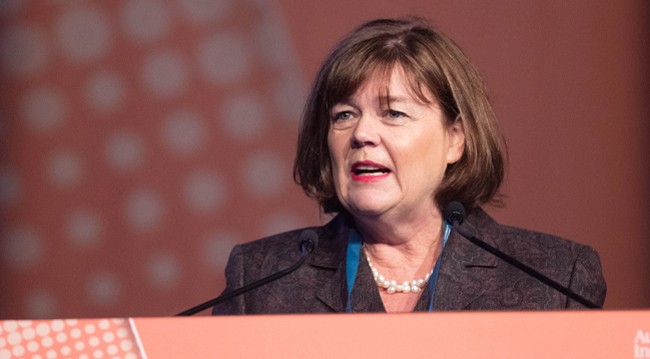 She does not see that this has legal as well as governance implications or that we are legally required or permitted to do (or not do) something different. However, the question of purpose is a debate that should be addressed by the law and by regulators, she says.
Top issues for directors this year
This year, directors must keep an eye on the following issues, Hanrahan says:
Climate change standardised reporting – is it an ESG issue or a financial issue? (Based on Task Force on Climate-related Financial Disclosures (TCFD) recommendations
Legislative program from the Hayne Royal Commission, which is having flow-on implications (including the Financial Accountability Regime)
Corporate criminal responsibility reference by the Australian Law Reform Commission (ALRC)
Enforcement – where's the risk?
Directors need to think very carefully about climate change reporting and risk.
Post-Hayne legislative agenda:
Predictably, there is a raft of sector specific legislative reform
But the big picture issue is the process and quality of that reform. How do we get better, not just more, law?
Commissioner Hayne talked about the difficulties of simplification, but he said, 'the very size of the task shows why it must be tackled'
What is the 'downside' of certainty and safe harbours?
Treasury's FAR proposal paper floated three things that should be watched very closely by all directors and executives, she adds. Turning accountability obligations into civil penalties, allowing regulators to decide who it will apply to and allowing the Minister to extend it to other financial services entities without going back to Parliament.
Key issues to watch after the ALRC inquiry are:
When a corporation is liable for something done by a person associated with it (the attribution issue)
When an executive is responsible for an offence committed by the corporation (the personal liability issue)
The burden of proof point – like s 8Y of the Taxation Administration Act
"Directors need to think very carefully about climate change reporting and risk. I know that is an issue for a lot of people at the moment," Hanrahan told the AGS.
9:40am - Governing in slow growth times
In dealing with the challenges posed by the COVID-19 virus, governments have less firepower and ability to cope than they had with the global financial crisis.
Andrew Charlton, a Director at Alpha Beta Advisors, said: "We have less firepower from the monetary and fiscal perspective, and it is much less clear if it will be effective. We don't really have a map for this crisis."
The current shock is first and foremost a public health crisis but also has consequential economic shock which will be very different from what we have dealt with in the past, he said during an interview with AICD Chief Economist Mark Thirwlell MAICD.
"This time it is more like governments are slower to get to grips with it through lack of experience and they are not sure how to interact with other underlying issues in the economy such as low growth underlying weaknesses."
We don't really have a map for this crisis.
This time there is also the problem of low interest rates, Australian currency which has hit an 11-year low and no Budget surplus.
"Australia is going into this crisis much weaker than it did in the GFC."
Australian companies that did well after the Global Financial Crisis (GFC) took measures to stabilise their balance sheets immediately and all companies should now do the same.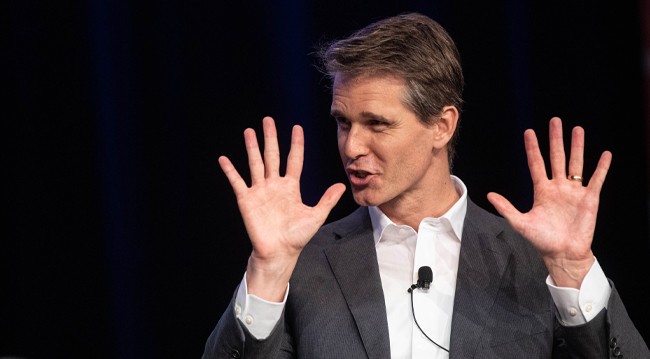 There are also different geopolitical considerations. One danger could be a lack of coordinated international action. The spirit of the international response to the GFC was one of global cooperation on agreements on stimulus, avoiding protectionism, and enhancing the role of institutions.
"But that was then, and this is now. Then we had US President Barack Obama and now we have Trump. Then we had a global move to support globalisation and now there is a significant trend to nationalism. I worry that this crisis could play into that geopolitical dynamic and may take away some of collaboration tools that the international community used to fight the last crisis."
It's all about trade protection now and closing national borders with a distrust of national institutions. I think if we get that fear of global pandemic it could lead to an acceleration of these geopolitical trends and I am not sure that is a good thing for the world."
9:00am - Lifting the Bar – Learning from Recent Royal Commissions
In the wake of recent Royal Commissions, there are steps that directors can take to humanise their governance of organisations which are now affected by greater compliance and legislation as a result of these government inquiries.
Your sense of governance is not just about two- dimensional board packs.
Boards can ensure that they have the right committees to address certain areas of the business in detail and directors can also walk the floor of their businesses and make contact with customers, George Savvides AM FAICD, told the AGS session Lifting the Bar – Learning from Recent Royal Commissions. (Savvides sits on the boards of Rymans Healthcare, biotech Next Science, IAG, and is the former deputy chair of SBS.)
"All of our Ryman directors are asked to visit one of the 36 aged care residences," he said.
Directors can pop in and have a chat and feel the pulse of the place. "If you meet a lot of grumpy residents you may need to share that with management. I would never want to be in front of a judge and say have you ever spoken with one of your aged care residents? To have to say no would be a terrifying nightmare," he said.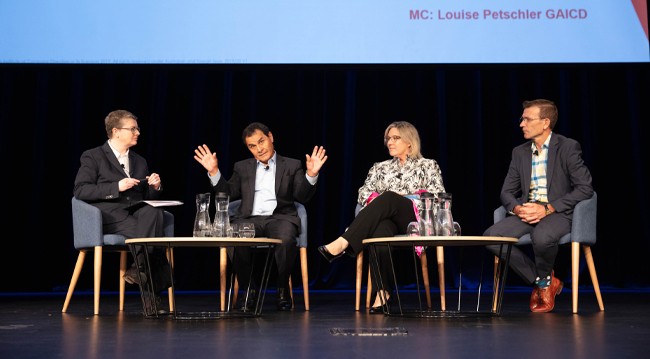 "Your sense of governance is not just about two- dimensional board packs." A committee to focus totally on the customer experience would be a good place to start, he said, adding that this is what occurs on his biotech board Next Science.
Shannon Finch, who chairs the Corporations Committee of the Law Council of Australia, told the AGS that there are more than 1,000 pieces of legislation going through parliament at the moment relating to the Royal Commissions. But this contradicts the recommendations of the Hayne Royal Commission – to simplify the governance process.
"Some of the things that come out of Royal Commissions can be problematic," she said. "They can be traumatic processes. Part of their job is to highlight the worst conduct in the sector, but the counterpoint must be to maintain focus on what represents best practice.
It would be best for organisations to focus not on what has gone wrong after the Royal Commissions but to focus on what to do right instead."
8:50am - COVID-19 – The board's response to novel coronavirus
Stan Grant speaks to Belinda Hutchinson, AM FAICD on the key actions that boards need to take for the COVID-19 crisis. Speaking about her own experience as a Non-executive Director of Qantas, and Chancellor of Sydney University, Hutchinson said having "the absolutely best management team" was key and that contingency planning was important.
Key actions:
review risks
create a risk register
scenario planning
delegating to the management team
ensure the management team have plans for each phase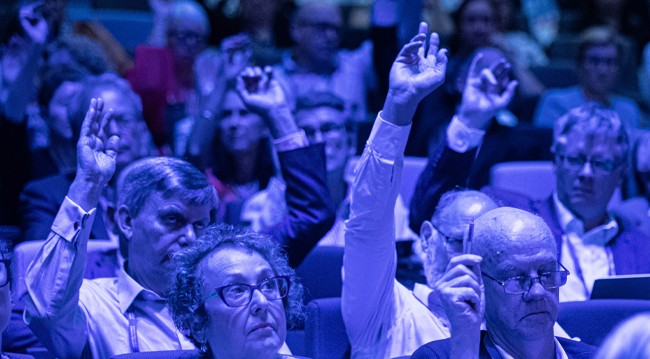 Hutchinson said the boards she was on had been "looking at a high probability for a pandemic from the beginning. Australia is such an exposed economy with 35 per cent of exports going to China and 25 per cent of manufacturing imports coming from China," Hutchinson said. "This is going to get a lot worse before it gets better."
Planning long before the crisis is upon us
"If the board hasn't already been taking steps, we've got a problem. The board's role is well in advance of the crisis." was the warning for attendees at the Australian Governance Summit.
For six years Sydney University has listed the institution's number one risk as revenue from international students and has had plans in place to diversify income. She said it wasn't just the tourism and education industries that would be affected but construction, given the impacts on supply chains.
Asked if there had been lessons from the 2008/09 global financial crisis, she said, "It's around the financial modelling of what are the scenarios you are planning for and what are the key assumptions you are making."
She advised companies to issue profit updates early. "The sooner you get those out, the better it is," she said.
Transparency was also key. "The key thing has been about communication," Hutchinson said. "It's about being very open and transparent with staff, customers and the community." A constant stream of communication had "built a sense of trust" at Qantas and Sydney University. "It's so much better to be upfront, to be honest, regardless of the fact that it may be negative," she said.
"You have to rely on your management team to be on top of things. The best thing the board can do is get out of their way." Hutchinson said staff at Qantas and the University of Sydney had "risen to the occasion". She saluted the Qantas crews who flew to China and Japan to bring Australians home.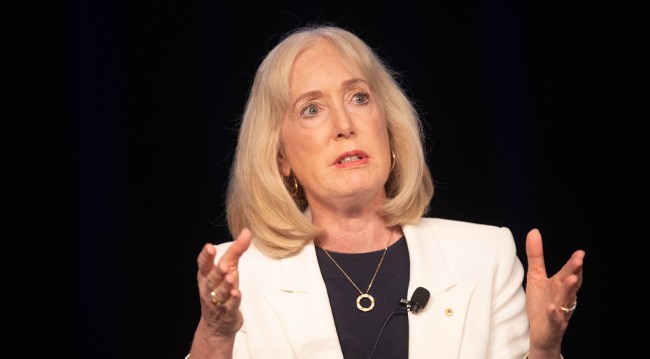 It's so much better to be upfront, to be honest, regardless of the fact that it may be negative.
Sydney University staff had put 1087 units of study online over three weeks and staff and students had sent many messages to students in China. "Those students in China know we support them," she said.
The number of deaths globally from the virus exceeds 3000 with more than 89,000 infected. The OECD has warned the world economy faces its "greatest danger" since the global financial crisis in 2008/09. The Australian Government has extended the temporary travel restrictions from mainland China to Australia to 7 March.
Hutchinson also sits on a number of not-for-profit boards, including Australian Philanthropic Services and St Vincent's Health Australia's NSW Advisory board. She is Chair of Future Generation Global Investment Company.
8:35am - Day two #AGS2020
Stan Grant has opened day two of the 2020 Australian Governance Summit and reported on the feedback from a question put to attendees:
Q: How does your board bring shareholder voices into shareholder decisions?
A: The most popular responses were consultation and engagement.
The latest insights from Edelman on trust
Michelle Hutton, CEO Australia and Chief Growth Officer Asia Pacific, at Edelman says Australia is at important crossroads. We are entering a post-trust era, Australia has been in distrust for the past decade and it's time to ask, is this our new reality?
The latest results show trust has stagnated among the general population around the world. The majority of markets remain distrustful. Surprisingly, when comparing trust between the informed public (17 per cent) and the general public (83 per cent) the informed public were largely trusting, and the general public were largely distrusting.
However, three months later, in the wake of the bushfires, floods and sport rorts, there is a stark shift. The gap between the informed and general public has narrowed. These devastating events appear to have been the catalyst for a significant fall in trust in the informed public.
Not a single institution is seen as both ethical and competent. Business is seen as competent but not ethical, NGOs are seen as ethical but not competent, government and media are seen as neither. And 72 per cent of Australians don't have trust in our current leaders to successfully address our country's challenges.
Australians no longer feel in control. We live in a society where we are influenced by events, rather than influencing events. The public has concerns around the environment, job security, globalisation and the pace of technology.
However, there is cause for hope. Organisations need to show competency and be ethical. Successful companies must adopt a stakeholder model. And CEOs themselves are expected to act. 78 per cent of Australians believe CEOs should be leading on change rather than waiting for governments to step in.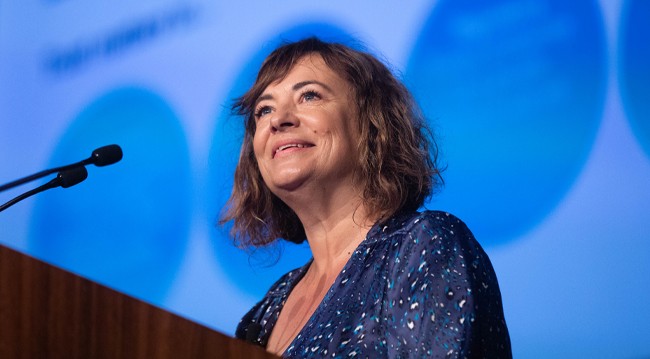 Four takeaways to drive trust:
Measure trust in your organisation, you can't manage what you can't measure
Be good at what you do and stop doing bad things
Put aside differences and find common ground to work together on solutions to problems
Change the narrative to reduce social hostility and articulate social purpose; be clear and engaging about your positive contribution to society, to both the informed and mass population
This is of of your complimentary pieces of content
Already a member?
Login to view this content