Former jackaroo Bernie Shakeshaft is the founder and CEO of BackTrack, which uses unconventional methods to give kids a chance at a better future.
BackTrack founder Bernie Shakeshaft has three main KPIs. "We have to keep the kids alive, keep them out of jail and chase their hopes and dreams. That's what we do on a daily basis."
When he first meets one of his new charges, usually referred by the police or juvenile justice system, one of the first questions Shakeshaft asks is, "What are your hopes and dreams?"
"It takes them a while to answer because they're not used to hearing that," he says. "Most of them want to read and write, to have friends, to feel safe… to have a job."
BackTrack, based in Armidale, in the northern New South Wales region of New England, has delivered life-changing outcomes for some of the most marginalised rural and regional young people in Australia since 2006. It uses flexible strategies, first developed by Shakeshaft, to help the youngsters reconnect with education and training, become work-ready and then secure meaningful employment. Most of the participants are boys aged from 11–19. The former jackaroo said he set it up for boys initially, because they have sharply higher rates of incarceration, poorer mental health and higher suicide rates than girls.
BackTrack's results are impressive — almost 90 per cent of more than 1000 participants have transitioned out of BackTrack into further training, education or stable employment. The organisation claims there's been a 40 per cent drop in suicidal thoughts among the teens, and a 70 per cent fall in multiple suspensions at school.
The community has also benefited. A 2014 study by the University of New England, UNSW and Hunter Medical Research Institute showed that since the program began, Armidale's crime rate has declined steeply. The four offences commonly committed by teenagers (aged 14–17) — break and enter, trespass, assault, malicious damage — had dropped 52 per cent. By contrast, in nearby Tamworth, those same rates increased by 90 per cent. The researchers estimated that BackTrack has saved the community about $3.15 million through increased employment and the lower crime rate — an estimated return of $6.78 for every $1 invested in BackTrack.
Shakeshaft, 50, spent many years living in remote areas of the Northern Territory learning his trade working with old-school stockmen and Aborigines. He lives and breathes the BackTrack cause. He says that in a system where it costs more than $215,000 a year to keep a child in juvenile detention, the BackTrack program costs around $15,000 per person per year.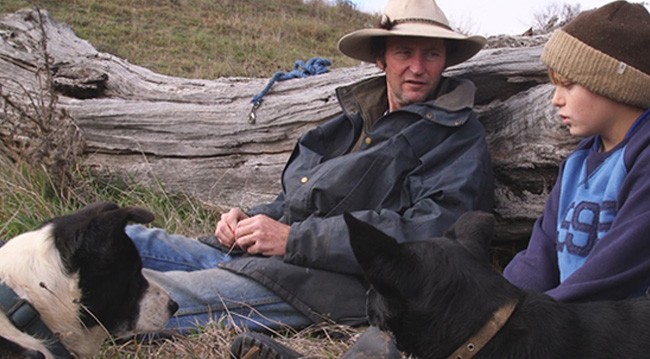 Getting organised
In the past financial year, the organisation evolved from being a subsidiary of Jobs Australia Enterprises (JAE) — a quasi-government employment body — to an independent charitable organisation. A new board was constituted, chaired by Sydney fund manager and philanthropist Greg Paramor AO, managing director of developer and funds management company Folkestone and former CEO of property developer Mirvac Group, who was awarded an AO in 2015 for his work in the NFP and property sectors. Paramor had read about BackTrack and was keen to help. He has since created a new structure and registered the group for deductible gift recipient status, ensuring all donors receive a tax deduction. "Having a proper governance structure is essential," he says, "especially if you're raising money."
It's a different and difficult type of organisation and also high-risk from a company director's position.
The eight board members have diverse skills — Rosemary Mort is the former editor of the New England Times and Nigel Barlow is CEO of Jobs Australia — but they all share Shakeshaft's core vision: that everyone can be rehabilitated. "We need people who can respond like Bernie does. It's a different, difficult type of organisation — and also high-risk from a company director's position. You're dealing with young people who are vulnerable," Paramor says.
The board has developed strict protocols and risk-management structures around the participants in order to keep them as secure as possible and protect them from physical and mental harm, he says. "One of the problems is that you sometimes won't know something is an issue until it happens. You're dealing with kids who are incredibly damaged. Things happen out of left field. You can't put that in a manual."
Paramor says that his risk management toolkit includes keeping sufficient funds aside to pay operating costs for six months. "You need money to make sure the organisation is robust and employees need to know that the money is safe. We keep six months (running costs) aside as contingency money and beyond that, all the money goes to operations." He describes BackTrack as a "social venture", saying it is not the same as a charity. "The social dividend that the community gets is the same as a financial dividend." Part of that is making sure staff are not penalised for not working in the commercial sector; they must be remunerated appropriately.
Asked about succession planning, Paramor says that if you have a good board, you can act swiftly. BackTrack has focused on building a team of people around Shakeshaft to enable him to take holidays.
Donors are the lifeblood
According to Shakeshaft, private funding has helped BackTrack to be flexible. The organisation has been going since 2006 without government funding, much of its money coming from large donors such as Social Ventures Australia, the Vincent Fairfax Family Foundation and a network of individual donors. Last financial year, the organisation had revenue of $1.1m. However, it recently received a $30,000 grant from the NSW Youth Employment Innovation Challenge, which will be used for finding ways to help the boys get into secure employment. BackTrack works closely with its donors to set KPIs. Shakeshaft reckons non-government funding allows BackTrack to try new approaches and abandon ones that don't work. "We are trying to teach kids anything that will make them work-ready."
BackTrack Everywhere... the model we have can be used anywhere. We want to use that skillset in rural and regional areas.
In the movies
The work of the BackTrack team and its supporters has captured the public imagination with the global release in June of an independent documentary — The Backtrack Boys, directed by Catherine Scott. The film follows Bernie and his charges as they hit the road with a dog-jumping team, travelling to rural shows across NSW. The documentary received a standing ovation and won the Audience Award at the Sydney Film Festival, and was a finalist in the festival's Documentary Australia Foundation Award for an Australian Documentary.
Shakeshaft says the exposure has led to more inquiries from potential donors.
Skills transfer
Such is the success of the program that many other communities have contacted BackTrack, asking them for help. "Over the next five years, we want to work with other communities in a mentored program," says Shakeshaft. "We call it 'BackTrack Everywhere'. We want to train youth workers in the types of programs we deliver and how we fund them. The model we have can be used anywhere and we want to use that skillset in rural and regional areas."
This is of of your complimentary pieces of content
Already a member?
Login to view this content