As the NDIS drives the biggest-ever shake-up of the disability services sector, providers need to make substantial changes to survive.
The National Disability Insurance Scheme (NDIS) is having a far-reaching impact on health and medical services, workforce participation and the shape of the national economy.
In July 2013, the National Disability Insurance Agency (NDIA) — the Commonwealth body responsible for the implementation of the NDIS — established a number of trial sites around Australia. Since 1 July 2016, the scheme has gradually rolled out around the country. By 2019, it is estimated it will support around 460,000 Australians with disability, their families and carers.
According to analysis by JP Morgan, the ramp-up of the NDIS has been a significant contributor to a surge in employment and workforce participation. It has also meant dramatic changes for how service providers operate. The introduction of a market-based model under the scheme moves away from annual block funding for providers and instead funds individual consumers, who can then choose their providers.
[Providers] "need to become much more commercial in orientation or they're dead," says Roland Naufal, a director of Disability Services Consulting, which helps organisations transition.
The scheme doubles, and in some states triples, disability services funding, but at the same time, prices for each service are capped, which is a big problem for many providers, says Naufal. "It's not a cost-saving exercise, yet prices are capped at lower than people are able to provide."
Another major change is the move to an insurance model, which operates on a system of reducing lifetime costs and funding what is necessary. "Funding goes to capacity building, to reducing lifetime costs, to supporting a person to be independent," says Naufal.
Fran Connelley, author of How to Thrive Under the NDIS, says organisations will need a "very different business model with significant new skillsets [especially in marketing and business development] in order to control their costs, transform their internal culture and attract new clients".
Connelley advises providers to actively pursue change and reach out to their clients.
Naufal has three tips for boards responding to the NDIS:
Learn. Boards need to understand the strategic basis of the NDIS and Naufal says he is surprised how many directors haven't yet learned the basics. "They've got to be seeing the investments they will require, that assets need to shift and will change… fixed infrastructure needs to be used a lot more effectively."
Engage. It used to be enough for not-for-profits to only engage with government because it was government handing out the contract. But in an open market, organisations need to engage with consumers and referrers. Engaging with consumers is difficult, because the system is also new to them and in many cases they don't know what they want, Naufal says. "What they get in the first year may be very different to what they demand in the second year and in the third year, particularly with the influence of social media."

The Facebook page NDIS Grassroots, for instance, has more than 43,000 members.

Adapt.Providers need to adapt their services rather than taking their existing services and trying to shoehorn them into the NDIS, says Naufal. This might work for a few years, but eventually new services in other organisations will arise that will better suit consumers' needs. "They have to really rethink what they're offering because consumers are coming to them in different ways asking for different things."

Naufal says a lot of organisations are looking to merge with or acquire other providers because they mistakenly believe they have to be big to survive in the NDIS.

"The truth is that most of those economics of scale don't work in the NDIS. You need to be nimble and flexible. There are easier, ways to do it than running an expensive head office."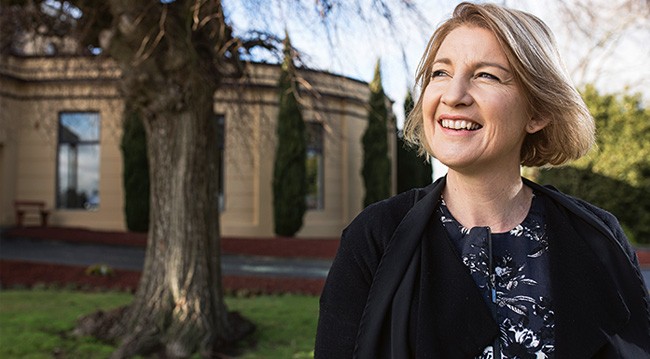 Eskleigh Foundation
Tasmania
Operates a supported 42-bed accommodation in Perth plus group homes throughout the rest of Tasmania for people with a disability requiring moderate support.
Aims to assist Tasmanians living with disabilities to enjoy a meaningful, active, fulfilling way of life.
For the Eskleigh Foundation, like other disability services providers, adapting to the NDIS is a work in progress.
"We trod water for a little while because we really didn't know what the impact on our facility here in Perth would be. It's really only been in the past six to 12 months we've actually had that information to make the right decisions to move forward," says Lynette Broomby, chair of the Eskleigh Foundation, which provides support to people with a disability, their families and carers within Tasmania.
The Eskleigh board is preparing for the move from three years of block funding with guaranteed indexation to the funding-for-service model. So far, the impact has been limited because only a handful of clients have transferred. All will have done so by mid-2019.
Its cash reserves will help make the transition easier, while it updates its client management and finance system to make it compatible with the NDIS portal — the more seamlessly Eskleigh can enter invoices into the system, the more quickly it will get paid.
"We've had a little bit of a cash reserve, but going forward in 2019, that won't be the case. Therefore, we've got to make sure we get those changes in place now and working well," says Broomby, a CPA who joined the Eskleigh board in 2010.
Eskleigh also has to more accurately track and allocate its costs because of the way the NDIS funds individual services. "We've got to make sure we're not accepting clients who aren't providing enough revenue in some of those areas," says Broomby. "The managers in each of our locations must be able to assess that, to ensure we're bringing in the appropriate revenue and matching revenue with cost."
Along with residential group homes throughout Tasmania, Eskleigh has a 42-bed supported accommodation facility with full-time qualified nursing and support staff at Perth, in the north of the state. But this facility is incompatible with the NDIS, which under its insurance model wants to phase out larger group homes because these dwellings "do not have value outside the NDIS". It would prefer Eskleigh to house its high-care residents in five-bed group homes. "We've also had to look at development opportunities and purchasing land so that our business can actually have those people as clients in 2019," Broomby says.
The shift from what the NDIS labels a "legacy facility" will cost Eskleigh more to run because it will have to provide daily nursing care in each. Eskleigh is also altering its mix of services and its service delivery model.
It's really only been in the past six to 12 months we've had that information to make the right decisions to move forward.
"The board is questioning what investments we need to make in infrastructure and is looking at joint ventures and partnerships with people to get the right outcome," she says. This could also entail a shift to more of a service delivery model over one based primarily on infrastructure. Another potential partnership is with an aged care provider that can look after the clients who don't fit into the NDIS.
The change in focus has led to board renewal, with the appointment of Angela Holzberger, who has medical skills and expertise in people management in the aged care area. Eskleigh is also trying to recruit a board member with marketing skills.
CEO Dale Luttrell says the competitive market makes building the organisation's profile more important. "Profile-building and getting people to have an understanding of the services we provide is important. If we have a fundraising activity, then it's also part of our marketing program."
Broomby says being able to adapt quickly is important. "We're going to have to be as nimble as we possibly can."
Just as the board and staff of Eskleigh are facing significant changes, so are its clients, and Broomby says they also need to be engaged and supported through the transition.
Luttrell says an important factor is when clients will require support — as weekend and after-hours care will cut into the viability of the NDIS fee.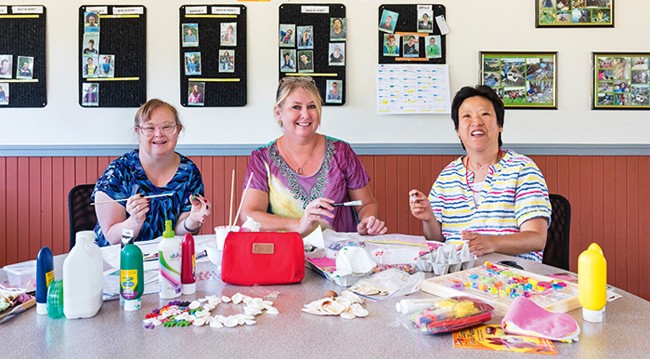 Sunnyfield disAbility Services
NSW/ACT
1200 staff
Aims to enrich the lives of people with intellectual disability by creating choice, opportunities and skills for life.
Provides accommodation, employment, and community and social services.
A decision Sunnyfield disAbility Services has had to make about respite care illustrates the sorts of structural issues boards have to grapple with when they consider the NDIS. Until now respite care — short-term accommodation for the intellectually disabled to give their family member carers a break — was government-funded, but the funding offered for the service under the NDIS doesn't match the cost. So the board has been forced into a decision.
"If we step out of that, what happens to those clients? Or, if we stay in that, at the moment, we can just watch money walk out the door," says Karen Ingram GAICD, chair at Sunnyfield, which supports people with intellectual disabilities in NSW and the ACT. "We're talking about a very vulnerable sector of the community."
The board decided that in the longer term, they would like Sunnyfield to be well known for respite care. So it is seeking other funding options to keep the service going.
Ingram says the change to the NDIS individual funding model has increased the focus on the customer and provided a point of focus for the board. "If anything, it's sharpened the focus of the board — coming to grips with, 'What is our vision? What is our mission? How do we communicate that?'" says Ingram, also a litigation partner at Clayton Utz.
It has also led to structural changes within the business. Where previously there was a sharp separation between the shared-living business and community-based services where living skills are taught, under the NDIS, some clients want both services. Thus, the business is now focused around regions rather than being structured in terms of services while it maintains the service in the short term.
"This is the conflict between the long term, [what] we want to be in the future, and the short-term pain of dealing with a large transition," says deputy chair Tom Pockett MAICD, former finance director at Woolworths, current non-executive chair of Stockland and on the board at IAG.
"The board and the management team have to be highly proactive in understanding these issues as they change, and ensuring government bodies, especially the NDIS, understand what the issues are for people with a disability."
Pockett says partnerships have become increasingly important for disability services providers as they seek to fill gaps in their own services, which is an option Sunnyfield is pursuing for respite care. Partnerships also provide an opportunity to expand existing services and move into new service areas.
At the same time as the board tries to make longer-term plans to adapt, it is now only receiving short-term funding because each client's care plan lasts for only 12 months before having to be renewed.
It's not longer just about maintaining government relationships.
"Sunnyfield continues to provide the services, because we're not going to stop, but then we're waiting for the client's plan to be approved for the second year and [being] paid in arrears," says Ingram.
Sunnyfield started planning for the NDIS about four years ago and has built up cash reserves so it can continue to provide services as it switches to the new funding model. "If we hadn't, then Sunnyfield would be in strife," says Pockett.
He adds that the NDIS fees aren't enough to cover things like community services, which previously entailed a lot of one-to-one support, not viable under the capped funding model. Fundraising hasn't been a strong focus for Sunnyfield in the past. Ingram says this is changing under the NDIS, but with a purpose beyond raising cash. "It's much more on the radar now, but being driven more from that marketing and brand awareness perspective as opposed to some of the bake sales of old," she says.
"You're always mindful of convincing the client why they should stay or pick you over somebody else," says Ingram. "But at the client, family or community level, it's no longer just about maintaining government relationships."
This is of of your complimentary pieces of content
Already a member?
Login to view this content