A recent study from Deloitte Access Economics analyses three possible scenarios for Australia's COVID recovery, indicating which sector may lead the way.
Although events are moving almost too quickly to predict the future with any certainty, recent (May) Deloitte Access Economics research scenarios indicate Australia's economic recovery could come in "waves".
Mild scenario (the future we hope for)
Rapid containment measures result in a short, sharp infections peak. Physical distancing measures are replaced by effective testing, tracking and containment. Domestic economic recovery begins mid-2020, reaching pre-COVID levels as productivity enhancing ways of working and economic reforms are effectively implemented. The world economy recovers faster than expected and global supply chains mend as the outbreak recedes in Asia.
Harsh (the future we prepare for)
Australia flattens the curve, but without enhanced detection/tracing technology, physical distancing is still required. Domestic economic recovery begins in late 2020, but remains below pre-COVID expectations as business investment falters. The world economy faces a lengthy recession with persistently weak supply and demand. Global containment remains a problem, limiting the movement of goods, people and capital.
Severe (the future we want to avoid)
With ineffective detection/tracing and a lack of compliance with physical distancing, a major second wave of infections occurs. No vaccine is available until July 2022. Domestic economic activity weakens as a result of the second outbreak. Recovery starts in late 2021, the economy lacklustre, hampered by financial distress and weak business/consumer confidence. Many countries see a resurgence of the pandemic or struggle to contain it. The global economy faces a more severe and prolonged slump.
Consumer business sector
In the mild scenario, recovery begins in late 2020 and returns to pre-COVID expectations by late 2023. The pandemic impact is persistent in the harsh and severe scenarios as consumer and business behaviour changes to permanently reduced levels of spending relative to pre-COVID expectations. Farmers enjoy increased production and demand for locally manufactured items is likely to rise with reduced reliance on global supply chains. Parts of the wholesale and transport sectors enjoy sustained gains from the rise in online retail.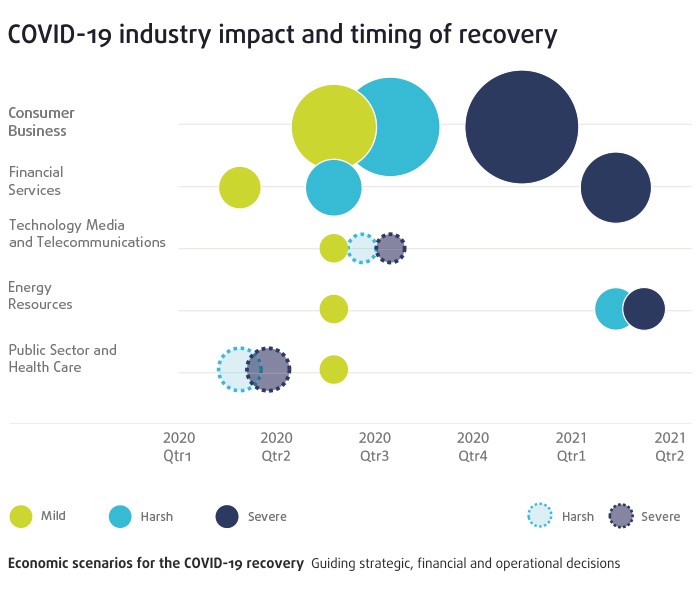 Financial services sector
This sector smooths the income shock for businesses and households. That comes at a cost as bad debts rise and demand for new loans drops in the face of high levels of investor uncertainty. Lenders face a prolonged period of net interest margin pressure as the cash rate remains at the effective lower bound. There is a possible rise in M&A activity as industries consolidate and a shift back towards active wealth management services as households place greater value on financial risk management to protect wealth.
Technology/media/telecommunications
In the mild scenario, constraints in household consumer spending and business investment reduce activity. In the harsh/severe scenarios, prolonged physical distancing encourages more tech investment as we change the way we work.
Energy/resources sector
Demand experiences a small fall in the mild scenario as economic disruption reduces demand and investment. If that escalates, activity could increase with greater levels of infrastructure spending to overcome weakness in other parts of the economy. The demand will be short-lived with a slowdown once the global economy switches back to normal and excess infrastructure capital is sweated to repair fiscal balance sheets.
Public/healthcare sector
In the mild scenario, there is a small fall in demand with the drop in international education, disruption to elective surgeries, and increased activity from the COVID response. If the crisis intensifies, expect a sharp rise in activity as the health response grows and more government oversight is needed to manage economic recovery. As the crisis subsides, the focus shifts to budget repair.
Migration
In the mild scenario, strong border controls cause total population growth to drop to a low of 0.8 per cent. An easing of restrictions through 2021 sees migration return to pre-COVID levels by 2023.
In the harsh scenario, controls remain in place for longer and people remain reluctant to relocate internationally. Total population growth falls to 0.3 per cent in 2020, rising to 1.4 per cent by 2023.
In the severe scenario, a second outbreak again badly disrupts international travel. Australian departures exceed arrivals through 2020–22 as many migrants on temporary visas return home. Total population growth is –0.2 per cent in 2020; remaining below one per cent for several years.
This is of of your complimentary pieces of content
Already a member?
Login to view this content