The country's post-pandemic recovery depends on record levels of spending on critical infrastructure. But does the infrastructure sector have the capacity to deliver the investment pipeline?
From a long-anticipated Melbourne Airport rail link to roads, bridges and water security, governments have committed record levels of funding in critical infrastructure to help underpin economic recovery.
Aside from more than $100b in federal government spending, the states have stepped up, with the recent NSW budget allocating $84.2b over four years, up 17 per cent on the previous year and Victoria allocating $69b, up 28 per cent on the previous budget. The result is the layering of boom on top of a boom. Independent government adviser Infrastructure Australia warns of the growing risk of choke points through a shortage of skills and materials, and cumbersome processes.
Australia was already in the midst of an infrastructure boom prior to COVID-19 with many states already at record levels of spending before, according to Deloitte Access Economics. Its analysis shows Australia had invested almost $680b between 2010–19.
Investment in transport, water and energy dominated (73 per cent of spend) followed by telecommunications, health and aged care. Deloitte Access Economics partner Stephen Smith says the total value of infrastructure projects underway in its database is set to reach $225b in 2022 — more than the amount spent during Australia's liquefied natural gas boom.
Infrastructure Australia CEO Romilly Madew AO says the challenge is ensuring the infrastructure sector has the capacity to deliver in a manner that will build community resilience. "Our reform agenda needs to support Australia's economic recovery, but it must also deliver flexible, agile and resilient infrastructure services that better respond to changing and diverse community needs," she says.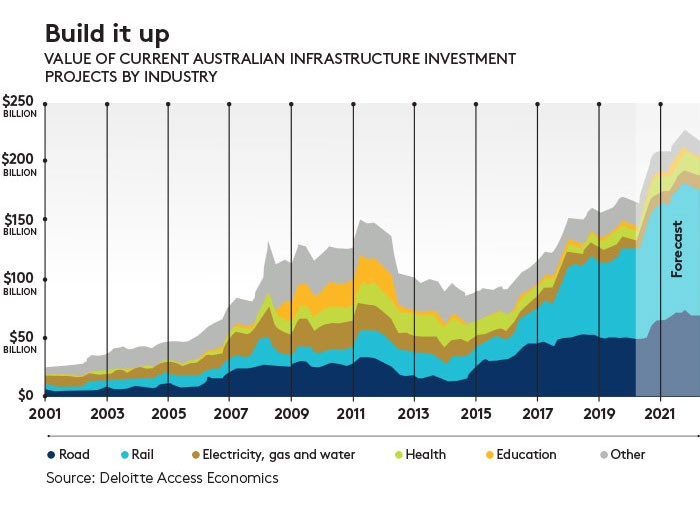 Established in 2008 as an independent adviser, Infrastructure Australia conducts regular audits of future needs. Madew says its 2021 Australian Infrastructure Plan, due midyear, is being substantially expanded to address post-pandemic needs. It will make recommendations on reform and a detailed implementation pathway — informed by engagement with industry and sector experts including the Productivity Commission, ACCC, CSIRO and Bureau of Meteorology.
The plan will include analysis of reform opportunities in transport, energy, water, telco/digital, social infrastructure and waste, and cross-sectoral recommendations on place, resilience and sustainability, and industry productivity and innovation. Infrastructure Australia is also researching the capacity of the sector to deliver the investment pipeline, bringing together Commonwealth, state and territory and industry data. The research provides an opportunity to understand where pressure points are and address long-term challenges including allocation of risk and structuring of contacts.
"Already, we know that increased collaboration and openness in contracting will be vital for the infrastructure sector — including engaging industry early and openly on scope, budget and timing," says Madew.
Another important focus will be addressing funding. "With up to fivefold increases in the budgeted spend for infrastructure in some jurisdictions, public funding should look to unlock private investment or innovation, multiplying the dollar-for-dollar impact," says Madew.
This is of of your complimentary pieces of content
Already a member?
Login to view this content