SMEs are the engine room that drives the economy, but the rate of attrition is high in a cycle of endless shakeout and renewal.
In 2017, a staggering 328,000 new businesses entered the economy, a more than 15 per cent increase on the existing number. That's a record number of startups and virtually all were SMEs. However, 261,000 others exited the economy. Only a minority of new businesses survive five years. The most likely survivors have annual revenues at that stage between $2–$5million. An "overnight success" usually takes six years. Fortunately, only a small proportion (1.25 per cent) of incorporated businesses are declared insolvent each year and a similar percentage of unincorporated businesses made bankrupt. Most exits are not so stigmatised.
Of all the businesses that existed in 2013, 64 per cent of them survived to 2017. Tasmania and South Australia had the best survival rate (67 per cent); the NT (62 per cent) and ACT (61 per cent) the lowest. The fastest growing industries for new businesses over the past four years have been in hospitality and transport (19 per cent a year) followed by administration and support services (18 per cent). The fastest exits also came from hospitality and administration/support (both 16 per cent). Agriculture had the lowest growth in numbers (seven per cent per year) and the second-lowest exit rate (nine per cent). Health had the lowest exit rate at eight per cent.
That said, SMEs are increasing their share of revenue, employment and our GDP — and have been doing so for a number of decades. This growth has been due to such factors as a growing market for outsourced household services — where new entrepreneurs led the way in nearly everything from lawn mowing and fast food outlets to child-minding, house cleaning and hundreds of other new services — employing more than three million people. This will account for $500 billion in revenue in 2018–19.
The second factor has been the growth in business outsourcing, now a more than $720b revenue sector (as noted in July Strategist). Here, non-core business activity is being outsourced to reduce the complexity and span-of-control dilemma of growing businesses. These include trucking (once in-house), cleaning, maintenance, payrolls and staff hiring. Franchising — the outsourcing of core activities — is also part of this growth for SMEs. Outsourcing from overseas, especially inbound tourism, has also been a boost to SMEs in the hospitality and other service industries. 
There are concerns with the rate of churning of SMEs. In the US, a Harvard Business School study showed that 50 per cent of startups fail within five years, and 70 per cent within 10. This is much the same as in Australia. The reasons for failure were: lack of focus; lack of motivation, commitment and passion; too much pride, resulting in an unwillingness to see or listen; taking advice from the wrong people; lacking good mentorship; lacking general and domain-specific business knowledge (finance, operations, marketing); raising too much money too soon.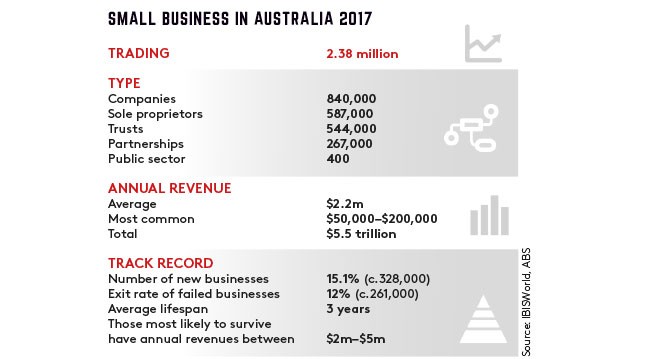 A fair measure of "churn" is healthy for a vibrant, competitive economy. But losing 12 per cent of all businesses a year suggests more education and help is needed for budding entrepreneurs and young businesses (up to five years).
A major source of assistance is the Australian Small Business Advisory Services, an ongoing program with funding rounds announced every three years. It funds service providers to deliver low-cost, high-quality digital advisory services to small businesses across three regions: NSW/ACT ($6.09m allocated); Queensland/NT/WA ($5.68m); and SA/Victoria/Tasmania ($6.25m).
Banks, accounting firms and the likes of the Small Business Mentoring Service in Victoria and the Brisbane City Council — which provides a "power-up" program to help businesses get up to speed with digital marketing — are also providing vital assistance, but their help is needed by 10 times the number that currently use them.
This is of of your complimentary pieces of content
Already a member?
Login to view this content