Selwyn Button, head of the Office of the Registrar of Indigenous Corporations, says transparency is the key to successful Indigenous governance.
The combined income of the top 500 Aboriginal companies in 2015-2016 was $1.92 billion, according to the most recent report from the Office of the Registrar of Indigenous Corporations (ORIC). That's a lot of money — although it is less than one per cent of the total revenue of Australia's top 500 private companies in the same year, according to IBISWorld.
And this $1.92b has to work hard. Nearly half of these 500 companies run health and community services, and people's lives depend on their strong performance. These Indigenous companies are governed by the Corporations (Aboriginal and Torres Strait Islander) Act 2006 (CATSI). This legislation, administered by ORIC, contains special provisions designed to keep Indigenous organisations on track with their financial and corporate governance. The Act requires Indigenous corporations have at least three and no more than 12 directors; that the majority of them are Aboriginal or Torres Strait Islander people; are members of the corporation; and are not employees of the corporation.
The ORIC registrar is Selwyn Button, a former police officer, school teacher and public servant who took on the job in December 2018. Button, a Gunggari man from south-west Queensland, is the first Indigenous person appointed to the role as part of a plan to expand ORIC's role as an educator.
Indigenous governance
Indigenous governance is a contentious issue. Failures attract media attention, while outstanding governance goes mostly unnoticed — although the Indigenous Governance Awards have helped highlight successes in recent years.
ORIC is in the process of decentralisation, a policy to move 10 of its Canberra-based staff to Darwin by June this year, which makes sense, given the Northern Territory is home to 34 per cent of the top 500 Indigenous companies. But it's a stretch for ORIC, which has about 40 staff and more than 3000 corporations registered under the Act. In the first six months of 2018, for example, ORIC received 403 complaints. Most are resolved quickly. Straightforward ones (about half of those received) take only a few days to sort out. Even those deemed complex rarely take longer than a month, according to ORIC reports.
In 2016, the federal government announced a review of the Act. It consulted on reforms to reduce red tape for Indigenous corporations, increase transparency for members and streamline and clarify parts of the legislation. The Corporations (Aboriginal and Torres Strait Islander) Amendment (Strengthening Governance and Transparency) Bill 2018 was introduced into parliament by the government last year. However, the Bill lapsed when the election was called and the House of Representatives dissolved. Should the new federal Minister for Indigenous Australians, Ken Wyatt, wish to pursue amendments to CATSI, he will need to recommence the process.
Special administration... is very much focused on getting the corporation back on its feet, not about winding up or liquidating the company.
Support role
In addition to managing complaints, Button and his team interact regularly with the companies they regulate. Button is keen to identify companies that are struggling before it's too late. It's this role that makes ORIC different to other regulators, he says.
"A couple of things are different between us and the Corporations Act or state-based legislation. ORIC has the capacity to undertake 'examinations' of our Indigenous corporations if we feel they may be experiencing issues — such as when red flags pop up in our conversations, or if there are complaints from the community. We have the power to undertake an examination to see if they require any extra assistance."
If ORIC cannot help the company get its governance back on track, it can put the company into special administration. The process is similar to voluntary administration — however, only companies registered under CATSI can be put into special administration. During this time, Button appoints an administrator to manage the company's financial affairs — to find out what has gone wrong and correct it.
"It is very much focused on getting the corporation back on its feet, not about winding up or liquidating the company," he says.
In 2017–2018, only six companies entered special administration, 0.2 per cent — down from eight in 2016–2017 and 10 in 2015–2016. Governance is not a big problem, and it's improving, as ORIC's work attests.
We've established a priority for ORIC's work with corporations this year of transparency of information to members... it's not such a big challenge.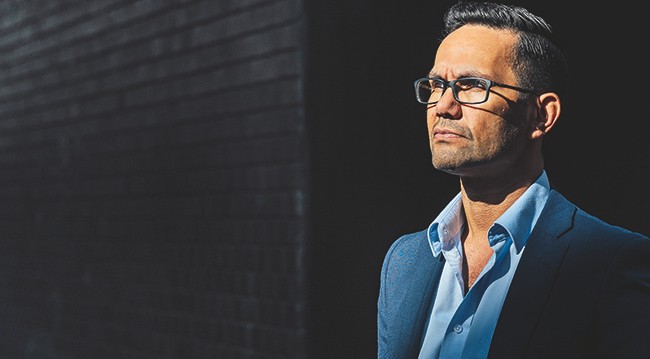 The answer is in the data
ORIC collects and publishes a lot of data. Button sees an opportunity to use this information to educate Indigenous companies in best-practice governance. ORIC already runs governance and business training, but Button thinks the data could help.
"We've established a priority for ORIC's work with corporations this year of transparency of information to members: analysis of the information that sits inside ORIC," says Button. "When we look at the complaints, the investigations, the whole regulatory process that goes on inside the organisation, a lot of them relate to members not receiving the necessary information to make effective decisions. We certainly think that will put a dent in some of those things that commonly occur."
Transparency is not such a big challenge, says Button. In his former role as CEO of Queensland Aboriginal and Torres Strait Islander Health Council, he instigated a system of reporting on performance. "We had a two-page performance report card that gave a snapshot for the members and community about the performance of the organisations," he says.
"We handed it out at AGMs, posted it on the website and passed it around in the communities. People knew exactly what was going on."
The card contained relevant data, portrayed graphically to make it easier to understand — the numbers of patients, health checks, chronic disease management plans, staff numbers, revenue sources and spending.
"The conversations at the AGMs changed completely to focus on the performance of the organisation," says Button. "It was no longer about 'how many proxies can I bring to get my family members on the board?'"
Button says organisations can be reluctant to embrace transparency because they don't know how much information to share. "Let's start the conversation. If they ask for more, or if they ask for less, then we can adapt along the way. At least that way we're starting to bridge the gap around transparency of information."
This is of of your complimentary pieces of content
Already a member?
Login to view this content