Concerns with energy prices have well and truly filtered from the political discourse into boardrooms, with a recent global survey highlighting potential energy price shocks as the highest-rated risk among Australian executives

.

The World Economic Forum (WEF) survey asked 12,411 executives across 136 countries to identify the five biggest risks they see to doing business in their respective countries. From a master list of potential risks, the No. 1 answer among Australian respondents was energy price shock, with two-thirds of executives identifying it as being one of their top five concerns.
Asset bubbles, unemployment or underemployment and failure of critical infrastructure were also among the five, and 39 per cent of Australian leaders were concerned about cyber attacks.
Among Australia's primary trading partners, worries varied. In China, which accounts for 39 per cent of Australia's exports, leaders were most worried about natural catastrophes and deflation. Data fraud/theft, illicit trade and cyber attacks were also concerns.
In Japan, 71 per cent of directors were most concerned about cyber attacks. Nearly two thirds of respondents were worried about natural catastrophes and half about interstate conflict. Fiscal crises and terrorist attacks completed the list of major concerns.
Cyber attacks were the second-biggest worry in the United States after terrorist attacks, which concerned nearly a third of the respondents. The Swiss rated large-scale involuntary migration and cyber attacks as their main worry, while fiscal crises and asset bubbles were the joint top-risk issues in the United Kingdom with just under a third of respondents.
The complete data set will be released in January 2018 alongside the WEF's Global Risks Report.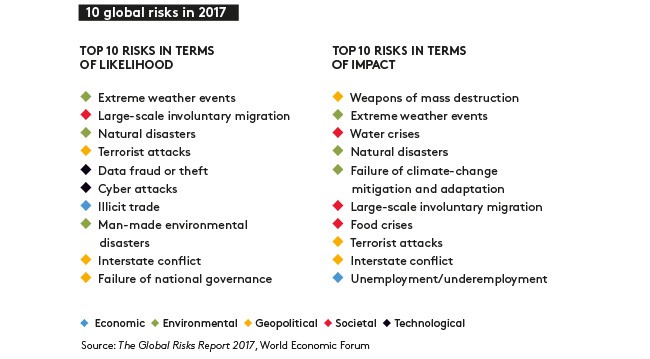 This is of of your complimentary pieces of content
Already a member?
Login to view this content