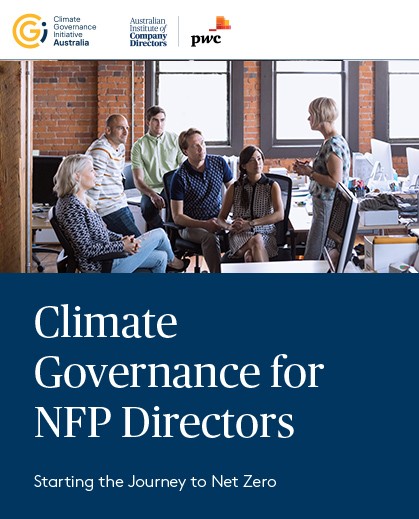 Every organisation will need to understand and respond to climate change in the coming years. The challenges for not-for-profits (NFPs) are multi-faceted, complex and increasingly urgent. Many NFPs will face higher demand for their services due to climate change triggering more extreme weather events and significant economic change in communities.
In recent years, directors of NFPs have consistently told us that they are concerned about climate change but unsure how to get started against competing priorities and limited resources. To assist NFP directors in addressing climate change governance, the AICD has developed a practical guide with PwC.
This new guide provides a simple roadmap for NFPs seeking to make a difference at a local level. It includes tools and specific examples to take action to address climate change, such as reducing energy consumption or transitioning to renewable energy sources. 
Specifically, the guide covers the following:
Understanding and improving your organisation's carbon footprint
Understanding your climate governance obligations. 
Considering stakeholder views on climate
Assessing climate risks and developing mitigation measures
Considering climate opportunities.
Webinar
Join us for our 'NFP Climate Governance Guide – Starting the Journey to Net Zero' webinar to understand the practical steps NFP directors can take now to start their climate journey. Register here.
This is of of your complimentary pieces of content
Already a member?
Login to view this content