With the release of the banking Royal Commission's final report, we reflect on the year gone by in banking and finance.
Round 1: 13–23 March, 2018
Consumer lending practices, car finance, residential mortgages, credit cards
The first round of public hearings raised issues over the treatment of consumers by banks and financial service providers around credit products, including residential mortgages, car finance and credit cards. It identified breaches of responsible lending obligations and conduct by ANZ, Aussie Home Loans, CBA, Citibank, NAB and Westpac, which fell below community standards and expectations.
Among the case studies was NAB's "Introducer" program, which enlisted third-party referrals and members of the public to help sell mortgage loans to unqualified candidates, writing $139.8m in loans between 2013–16. The Royal Commission heard of the bank's financial advisors falsely witnessing client forms.
The conduct at the heart of the Commission's work is inextricably connected with remuneration practices, deficiencies in governance and risk management and the culture of the entities concerned. The inescapable fact seems to be that interest too often trumps duty.
Round 2: 16–27 April
Financial advice, wealth management
The second round investigated the alleged conduct of financial advisors and the wealth management sector, and the adequacy of the current legal and regulatory structure. The Royal Commision heard of a number of alleged breaches of the law and several instances of conduct that fell below community standards and expectations, along with alleged breaches of the Code of Banking Practice, by AMP, ANZ, CBA, Dover, Henderson Maxwell, NAB, and Westpac.
Among the revelations was AMP's financial planning arm charging customers "fees for no service" and providing inappropriate advice that adversely affected customers' financial wellbeing. AMP chair Catherine Brenner FAICD, CEO Craig Meller and general counsel Brian Salter MAICD soon resigned. Directors Holly Kramer MAICD, Vanessa Wallace and Patty Akopiantz followed.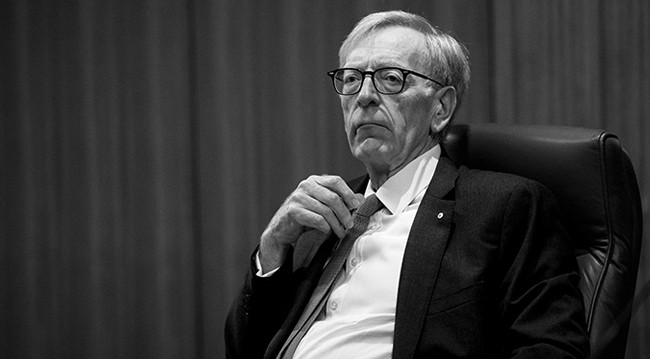 Round 3: 21 May–1 June
Loans to SMEs, banking code of practice review
The third round focused on the dynamics between banks and small and medium enterprises, in particular in providing credit to businesses, the extension of unfair contract terms legislation to small business contracts and current legal and regulatory regimes, as well as self-regulation under the Code of Banking Practice. Case studies included ANZ, Bank of Queensland, Bank of Melbourne, Bankwest/CBA, NAB, Suncorp and Westpac.
The Australian Securities and Investments Commission (ASIC) was quizzed on its enforcement record and whether it had the internal capability to hold the financial services sector to account.
Round 4: 25 June–6 July
Agricultural lending, Indigenous lending and interactions
This round turned to lending practices affecting Australians in remote and regional communities. Themes included changes to lending conditions, access to appropriate banking services, restricted support due to distance from local branches, and the use of property valuations.
Other issues affecting the farming sector included the provision of hardship assistance by banks, the adequacy of the farm debt mediation process, bank practices in connection with the charging of default interest, non-monetary default-related issues, and the broader treatment of farmers in relation to financial matters.
Case studies included ANZ (Landmark), Bankwest, CBA, NAB, Rabobank, and Bendigo and Adelaide Bank's Rural Bank. The Royal Commission heard that a Rabobank manager miscalculated the loan serviceability of customers Wendy and Adrian Brauer who, as a result, proceeded with a $3m-plus loan facility, eventually being forced to sell their property at a loss of $1m. Another related to the conduct of ANZ during its acquisition of the Landmark loan book in 2010. The bank's communication to Landmark customers during the transition, complaints handling, and approach to debt recovery were aired.
The round exposed issues for Indigenous communities relating to alleged misconduct around the sale of funeral insurance plans. Indigenous customers claimed they were targeted by financial institutions to sign up to funeral insurance and subjected to door-to-door sales. Case studies included insurer Aboriginal Community Benefit Fund deducting money from the Centrelink benefits of 6000 customers for funeral plans, cancelling policies without notice and questionably marketing policies to people under the age of 30.
Too often entities have been treated in ways that would allow them to think that they, not ASIC, not the parliament, not the courts, will decide when and how the law will be obeyed or the consequences of breach remedies.
Round 5: 6–17 August
Superannuation sector, industry regulators
Round five heard examples of systemic issues of bad behaviour and misconduct across the superannuation sector, including conflicts of interest, lack of customer focus, a strong sales mentality, flawed advice, deficient risk management processes, poor culture, and leadership turning a blind eye. The trustee conflicts in retail super funds came under question, including AMP, ANZ, CBA (Colonial First State), IOOF, NAB (NULIS) and Suncorp.
Counsel Assisting Michael Hodge QC started the round off by asking "What happens when we leave these trustees alone in the dark with our money?... Consumers are unable to do anything more than peer dimly through the darkness of their superannuation trustees..."
In the case of NAB superannuation trustee NULIS, hearings suggested its conduct fell below community standards and expectations, with the bank since admitting to breaches of the Corporations Act 2001 (Cth) in charging customers fees for advice and other services it did not provide, failing to report serious financial service licence breaches to ASIC, and engaging in deceptive conduct with respect to disclosure to and communication with members. The Royal Commission also questioned former NULIS chair Nicole Smith GAICD on the perceived conflict between the for-profit nature of the business and the interests of fund members.
Michael Hodge QC commented that the behaviour highlighted and "may be attributable, at least in part, to the culture and governance practices within the NAB Group".
Counsel Assisting suggested that NAB's behaviour was "ethically unsound" and its handling of the fee-for-no-service issues displayed a "disrespect for the role of the regulator and a disregard for the gravity of the events in question".
Some of the stories make you want to go in a corner and weep and some of the most vulnerable people have been affected.
Financial investment manager IOOF was alleged to have contravened superannuation and corporations law, with chair George Venardos and managing director Chris Kelaher stepping down in December 2018 after Royal Commission revelations and a move by the Australian Prudential Regulations Authority (APRA) to disqualify them from managing super funds.
The conduct of industry super fund Hostplus was alleged to have fallen below community standards when it sought to keep low-balance accounts in the fund to boost revenue from insurance premiums.
Regulators APRA and ASIC were criticised for their approach to regulation and interactions with regulated entities, suggesting neither had been an effective conduct regulator, with calls for a capability review of APRA.
This is the #MeToo moment for Australia's financial sector… each organisation and the sector needs to look at the causal effects.
Round 6: 10–21 September
Life/general insurance, administration of life insurance by superannuation trustees
This round raised issues over the sale, promotion and design of life and general insurance, including inappropriate and "junk" policies, and products that did not meet customer needs and targeted the poor and disabled. Case studies included direct and "pressure" selling techniques, ignoring laws preventing cold calling, and misleading advertising. Examples of poor claims handling were highlighted including delayed and refused claims, and evidence of insurers searching for legal and medical loopholes or exceptions in order to deny payouts.
Insurers were also questioned for a lack of disclosure, lengthy and complex product disclosure statements and the use of non-standard definitions. Dispute resolution time frames as outlined in the Life Insurance Code of Practice were also raised, as was insurance offered through superannuation and cases of "over-insurance" causing balance erosion.
Round 7: 19–23 & 26–30 November
Policy questions arising from the first six rounds, bank case studies, regulator reviews, bank chairs and CEOs.
Following the Royal Commission's 1000-page Interim Report released on 26 September, the final round of hearings focused on major policy issues arising out of the previous six rounds of hearings. Chairs and senior executives of some of the major banks and ASIC were called to the witness stand.
CBA chair Catherine Livingstone AO FAICD was questioned in relation to the adequacy of board oversight and the challenge of management — and on the preparation and the level of detail of board minutes.
Questions were also asked of new ASIC chair James Shipton in relation to enforcement, about the nature of ASIC's relationships with senior industry leaders, the authority's failure to "name and shame" entities, its perceived lack of candour and transparency in entities' dealings with ASIC, as well as the need for change.
NAB chair Dr Ken Henry AC also raised fundamental issues in relation to directors' duties and board accountability. During his evidence, Henry questioned interpretations of the principle of shareholder primacy and suggested that the notion that directors are only accountable to shareholders has been an important contributor to the subsequent loss of public trust and confidence in business.
AICD Royal Commission Response
The Royal Commission has major implications for governance and accountability beyond the financial services sector. The AICD provided several policy submissions to the Royal Commission and has a range of policy materials, expert insights and webinars available to help keep members up to date.
These include a complimentary (for members) webinar on Wednesday 6 February, 2pm–3pm (AEDT) with AICD head of policy, advocacy Christian Gergis MAICD and senior policy adviser Sally Linwood. It will cover:
Governance themes arising from the final report
Recommendations and proposals for reform
Lessons and questions for directors
This is of of your complimentary pieces of content
Already a member?
Login to view this content