A new study by executive search firm Heidrick & Struggles identifies the capabilities and drivers behind high-performing boards. Zilla Efrat reports.
Four key capabilities combine to build the foundations for a high-performing board — people, vision, leadership and innovation.
That is the view of the directors surveyed by executive search firm Heidrick & Struggles for its Foundations and Building Blocks for High-performing Boards, Asia Pacific Corporate Governance Report 2014.
Those surveyed, however, say their boards are under-performing on all four metrics and need to focus much more on developing their talent mix and clarifying the company's shared vision.
Commenting on the report, Heidrick & Struggles' Australian CEO and board practice partner Fergus Kiel MAICD says a focus on compliance at the expense of corporate strategy may be limiting the performance of many boards.
"Our more informed boards are moving away from just looking at statutory compliance to being more closely involved in overseeing the direction and strategy for the enterprise," he says.
"There is a stronger emphasis on working with the management and operating teams to assess the resilience of a business as well as its ability to innovate, while understanding the risks involved in innovation. In this context, the selection of board members has become critical."
The report draws on data from 170 companies listed on stock exchanges across six countries in Asia Pacific – India, China, Hong Kong, Singapore, Australia and New Zealand.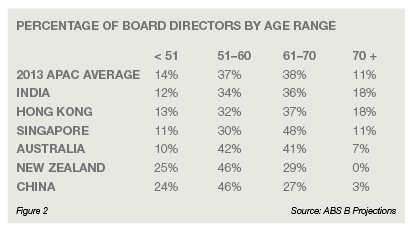 It is also based on a survey of 165 directors in these countries on the issues related to board performance – process, profiles, competencies, culture, behaviours, team dynamics, evaluations and independence.
Not surprisingly, it reveals that innovation is considered one of the key capabilities required of 21st century boards.
However, Kiel says companies have been demanding more senior-level business experience to balance the risk of innovation as the business climate has become more challenging.
"We are finding that CEOs who have successfully navigated their companies through changing business cycles are in great demand, rather than board members with a more compliance-based focus. This translates as shrewd business leaders with the ability to test strategies when necessary."
The four capabilities of high-performing boards were defined as "top talent performance and succession planning" (people), "clarity of vision/strategy that is both shared and understood" (vision), "leadership on the board that promotes team dynamics" (leadership) and "capacity to adapt to risk and innovation" (innovation).
While different Asia Pacific countries placed the capabilities in a slightly different order of importance, Australian boards ranked people and vision at the top of their lists, closely followed by leadership and innovation.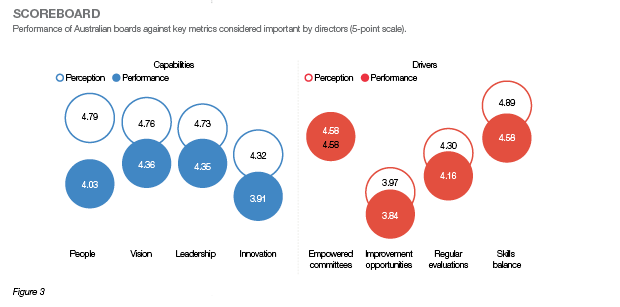 Survey respondents also identified four core drivers and five supporting drivers which feed into the four capabilities. In order of importance, they are:
1) Balance of skills and experience:
Australia is well-served on this driver, with more than a third of boards surveyed consisting of former CEOs. About one-quarter of directors also held three or more non-executive director (NED) roles.
"Balanced judgement comes from the right mix of skills, knowledge and experience and this is identified by survey respondents as the most important quality needed to constructively challenge senior management and improve board effectiveness," the report says.
2) Empowered committees:
Having committees with the authority to conduct research, report back to the board and make recommendations likely to be adopted by the board is regarded as a major factor in board decision-making.
Australian boards are performing well in terms of empowering their committees, with those surveyed saying the performance on this metric measures up to the perceived importance.
But with a relatively low number of committees (3.8) and a high number of board meetings (11.1 a year), there may be room for increasing the number of committees in order to spread the workload.
"Most boards have audit, remuneration and nomination committees, but perhaps they could add others, such as health and safety, corporate social responsibility and risk to share the burden and allow more focus and more time for analysis of business issues," says Kiel.
3) Regular evaluations:
Australian boards perform well on this metric, with 52 per cent conducting an external assessment at least once every two years and 48 per cent every three years.
According to the report, objective evaluations should look at competencies such as skills, knowledge levels, experience and talent, as well as culture and team dynamics, particularly leadership style, strategic alignment and experience in different business environments. 
4) Improvement opportunities:
Respondents generally felt their boards were under-performing on this driver, which feeds into all of the four capabilities needed for success.
"Boards will stagnate if they do not continually identify and implement improvements ... and put in place processes and culture which promote better performance," observes the report.
5) Executive and non-executive balance:
Most Australian boards already consist largely of NEDs.
6) Regular meetings:
The report says the number of board meetings has now become an issue, "not so much with the regular meetings, but with the many ad hoc meetings called to deal with crisis issues as they arise".
Heidrick & Struggles notes: "If agendas are organised to allow more time for business, rather than compliance discussions, our research would suggest there would be a positive impact on the capacity of boards to discuss risk and innovation, which could lead to improved performance."
7) Director replacement criteria:
With 48 per cent of Australian board members aged between 61 to 70-plus, a large body of senior, experienced directors will be retiring over the next five to seven years.
"A challenge for chairmen will be to replace that seniority and experience without diluting the capabilities of their boards," says Kiel.
8) Diverse gender and nationality mix:
Australian directors rated gender and nationality mix more highly than other Asia Pacific countries, but the issue is still a subject of debate in terms of speed of progress.
But the report notes: "China appears to be 'over reporting' on progress, compared with other countries… The focus in organisations should be to create a diversity of thinking from a broader pool of diverse candidates."
9) Independent directors:
According to the report, 91 per cent of Australian directors believe their boards are independent. Most respondents defined independence as having no commercial contracts, employment by the company or cross-board roles.
In contrast, most public debate has been around the two characteristics regarded as least important by the respondents: not being an executive of the company in the previous five years and longevity of board service not being more than nine years. Australian board members rank personal integrity, and constructively challenging decisions as more important than the traditional definitions of independence used by the regulators, such as exposure to governance issues, distance from senior management, and diversity of experience.
The report concludes that good governance is an outcome of good leadership, with the leadership of the board and the people on it determining how effectively the capabilities and the drivers are deployed to achieve success.
"In the end, it is all about the people on the board – they are the key to high-performing boards. It is the ability of the directors to work together in a collegiate and sharing culture that makes top-performing boards. Without a common culture and a strong bond between directors, boards will be compliance-driven and not high-performing, effective boards," the report states.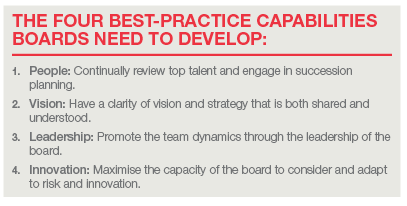 This is of of your complimentary pieces of content
Already a member?
Login to view this content