Energy regulators will have new powers and a more strongly scrutinised mandate to avoid shortages as retail and wholesale prices surge, exacerbating pressures on low-income households.
In early June, an emergency meeting between new Climate Change and Energy Minister Chris Bowen, state and territory energy ministers, the Australian Energy Market Operator (AEMO) and the Australian Energy Regulator (AER) culminated in a number of commitments. These are:
A National Transition Plan will be created by all Australian governments in line with AEMO's Integrated System Plan (ISP), which lays out the transmission and generation infrastructure necessary to meet future demand in the National Electricity Market.
The federal government has asked the Energy Security Board to develop a draft Capacity Mechanism to ensure there is adequate dispatchable capacity in the system to ensure demand is always met. The mechanism will be "expert-led" and focused on renewable energy and storage, remain within the bounds of net zero by 2050 and include consultation.
AEMO will have expanded powers to procure and store gas to be used in times of market spikes.
Carbon Market Institute CEO John Connor said the current energy crisis is a "stark reminder" of some of the pain points Australians will experience as part of the transition to net-zero emissions. "Clearer guidelines are required for energy providers and broader industry to guide a smoother transition and assist their decarbonisation journey."
The rising cost of energy and food is dramatically worsening pressures on low-income households, according to St Vincent de Paul. "We are seeing a growing number of Australians call on our services as they struggle to cope with the cost-of-living crisis," said St Vincent de Paul president Claire Victory.
Foodbank Australia says the national NFP has seen a dramatic rise in requests for help, with average monthly demand for food relief up 50 per cent on 2019.
Climate governance forum
How can boards best equip themselves to deal with the fast-moving risks and opportunities associated with climate change?
On 1 August, leading climate and governance experts will discuss actions at the Climate Governance Forum at the AICD, Australian host of the Climate Governance Initiative. Speakers include:
Ming Long AM GAICD
Chair AMP Capital Funds Management, Diversity Council of Australia, director QBE Insurance, CEDA
Geoff Summerhayes GAICD
Chair Beyond Zero Emissions, director Zurich Financial Services Australia, Heartland Group Holdings
Penny Bingham-Hall FAICD
Director Fortescue Metals, Dexus, Vocus
Stephen Dunne FAICD
Chair Investor Group on Climate Change, director Cbus
Michael Ullmer AO FAICD
Chair Lendlease
Dr Katherine Woodthorpe AO FAICD
Chair Natural Hazards Research Australia
Karen Chester
Deputy chair ASIC
Philip Chronican GAICD
Chair NAB, director Woolworths
Professor David Karoly MAICD
Honorary professor School of Geography, Earth and Atmospheric Sciences, University of Melbourne
Diane Smith-Gander AO FAICD
Chair Zip, CEDA, director AGL, HBF Health
Indigenous Governance Awards
In June, more than 300 people gathered in Sydney for the 2022 Indigenous Governance Awards, which recognise outstanding leadership in Indigenous- led entities around Australia.
By Shelley Dempsey 
The 2022 Indigenous Governance Awards recognise outstanding examples of governance in Aboriginal and Torres Strait Islander communities and organisations around Australia. Run by Reconciliation Australia (RA), the Australian Indigenous Governance Institute (AIGI) and the BHP Foundation, the awards are the first in four years due to the COVID-19 pandemic.
Speakers included the new federal Minister for Indigenous Australians Linda Burney, CEO of RA Karen Mundine, and AIGI CEO Jessica Bulger MAICD. Singer- songwriter Archie Roach also performed.
Three category winners were chosen from nine finalist organisations in five states and territories. Taking out the award for large organisations was Perth- based Wungening Aboriginal Corporation, which has around 200 staff and deals with addiction and support services for domestic violence, homelessness and child protection. It is a force for healing in the community, according to its CEO Daniel Morrison, who said that by combining Aboriginal ways of working with good governance and therapeutic services, "we have been able to make significant changes in our communities, which is something we are very satisfied with".
In the category for Indigenous-led SMEs, the NSW-based Brewarrina Local Aboriginal Land Council won for its fight for land and self-determination. "Cultural preservation of our land and our environment is the first priority of business for our Local Aboriginal Land Council," said chair David Kirby. "That sets the platform for very strong governance."
Winning the category for Indigenous-led non-incorporated initiatives was the Sydney-based Aboriginal Health and Medical Research Council Human Research Ethics Committee, the peak body for Aboriginal-controlled health services in NSW.
"The ethics committee helps ensure Aboriginal people are at the centre of Aboriginal health research and provides an Aboriginal lens to make sure that research is conducted ethically and in a culturally safe way," said committee co-chair Dr Summer May Finlay.
Cyber pulse
An AICD-Australian Information Security Association (AISA) survey into board preparedness for cybersecurity incidents, reveals nine out of 10 organisations have characteristics that make them vulnerable to a cyber attack.
Over the past year, 75 per cent of directors surveyed said they had increased investment in cyber resilience, while seven in 10 boards now consider cybersecurity as a high-priority issue. However, the survey also revealed that reporting to the board on cyber issues appears irregular, especially on internal training and the cyber risks and performance of key suppliers. These are particular barriers for NFP boards and create challenges with obtaining cyber insurance.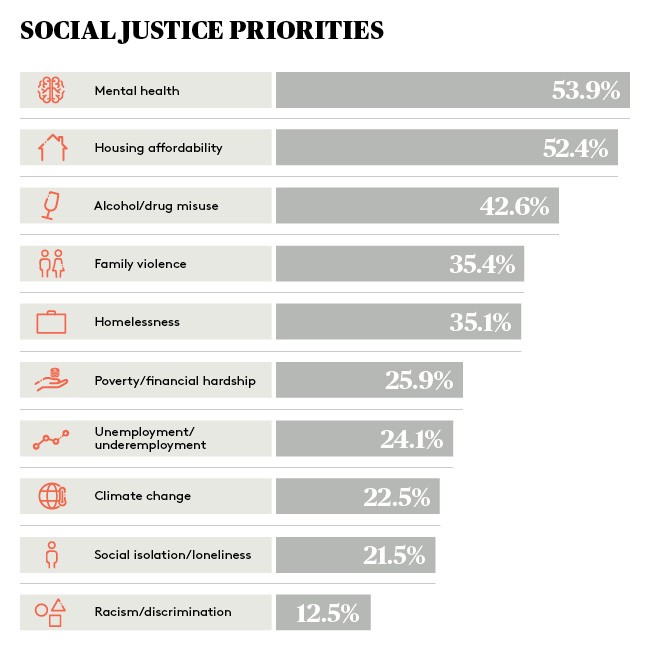 This is of of your complimentary pieces of content
Already a member?
Login to view this content