Australia is one of just three countries in the world to have exceeded 30 per cent women on their top listed company boards without mandated quotas.
A new independent report from the University of Queensland Business School has revealed for the first time how this was achieved.
The Towards Board Gender Parity report outlines how Australia achieved more than 30 per cent women on ASX 200 boards from a paltry 8.3 per cent in 2009 to 33.6 per cent today (as at 30 June 21).
The report which was supported by the Australian Institute of Company Directors (AICD) and the Australian Gender Equality Council (AGEC), is an in-depth look at the key moments, bodies and individuals who were central to the 30 per cent campaign and looks ahead to how Australia might achieve board parity in the future.
AICD CEO and Managing Director, Angus Armour, said, "The AICD was pleased to support the research and we're proud to have been identified as one of the direct influencers to reaching the 30 per cent target. 
"The Australian experience is a fascinating example of corporate-led change without government intervention. This warrants investigation so that other jurisdictions might gain insights from our experience.
"This report speaks to the many individuals and organisations that stepped up to ensure action and advocacy within their spheres, and the result is an historic milestone."
The report highlights two significant milestones from 2009 as critical in driving change over the next decade: the ASX Corporate Governance Council Recommendations in relation to reporting on diversity and the implementation of the AICD's Chairs Mentoring Program.
Mr Armour said, "The AICD is proud of the role it has played in this story, demonstrating a long-standing commitment to the progression of women in leadership through targeted initiatives including the Chair's Mentoring Program. 
"Ground-breaking at the time of its launch, it has inspired similar programs in other countries and counts many of Australia's leading directors among its alumni."
The report identifies key levers that have underpinned change including:
Data, research and reporting including 'naming and shaming' and media as a key advocacy platform;
Quotas versus targets debate;
ASX Corporate Governance Council Recommendations;
Mentoring of senior women including the AICD Chair's Mentoring Program;
Work of the 30% Club Australia; 
Campaigning by institutional investors and industry superannuation funds;
Contributions of over thirty national bodies across Australia, including Chief Executive Women and the Champions of Change Coalition; and
State and Federal Government targets for women on government boards.
Lead researcher and Senior Lecturer in Leadership with The University of Queensland Business School, Dr Terrance Fitzsimmons, said the results are a positive step in the right direction for gender parity in corporate roles.
"Our research reveals a truly encouraging result, that Australia is leading progress for women on boards at an international level despite the challenges women still face to achieve gender parity, especially in the corporate landscape," Dr Fitzsimmons said.
AGEC Chair, Coral Ross AM said this report provides valuable insights and lessons as we work towards gender parity at the board level and other facets of Australian society.
"It's often said that you have to know where you have been to know where you are going. By examining how we got to where we are, this report recommends a way forward to reach gender parity in the boardroom."
There are a number of recommendations in the report to continue momentum including adopting a 40:40:20 model and the establishment of a formal alliance between all the bodies who helped drive the campaign over the last decade.
The report also identifies some of the potential risks to future progress on gender diversity including the shrinking pipeline of women into CEO and senior executive roles, which is generally where board members are drawn from, as well as child care and the unequal burden of domestic responsibility.
A further barrier identified in the study is the current composition of the board skills matrix, which favours CEO or senior executive line role experience for most board role positions.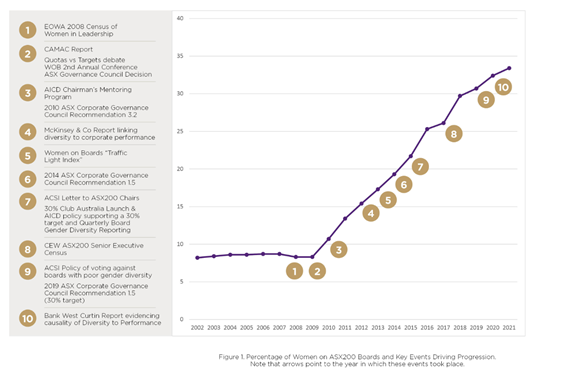 Media Contact: Maegen Sykes 0439 167 567
University of Queensland Business School - Dr Terrance Fitzsimmons 0404 093 655 
AGEC – Pascale Helyar-Moray 0458 500 613
This is of of your complimentary pieces of content
Already a member?
Login to view this content