Co-deputy chair of Fortescue Metals, Sharon Warburton, says these challenging times demand directors to bring more heart into their leadership.
Resilience, confidence, courage. These are words that come to mind when Sharon Warburton describes her approach to roles on six boards — and as a mum. Warburton has faced huge personal challenges that have given her the determination to speak up about issues she considers critical in business and life.
"It's important we share our stories and experiences and I wonder if, as directors, we do enough of that or whether when we become directors we feel we need to create this distance between us and an organisation," she says.
Warburton joined the board of Fortescue Metals in 2013, becoming co-deputy chair in 2017. She also sits on the boards of Worley, Gold Road Resources, NEXTDC, Wesfarmers and the Perth Children's Hospital Foundation.
Warburton has a message for directors on the eve of the 2020 Australian Governance Summit: "When people see the human side of directors, it can be a good step towards helping shape a company culture, which is something we can lead with from the board."
Family matters
Warburton's daughter, Chloe, nine, was born when Warburton was working in Abu Dhabi.
It was Chloe who Warburton saluted when she was named 2014 Telstra Western Australian Business Woman of the Year. Juggling family responsibilities and managing a growing non-executive director portfolio have their challenges.
"I divorced when Chloe was less than one, which wasn't the plan. Soon after, I relocated from the Middle East back home to Perth," says Warburton. "I realised if I wanted to continue to have a career as well as [care for] a small child on my own, being closer to family and friends would make that a whole lot more achievable.
"With hindsight, that was a very good decision, especially when we've had a number of health challenges with Chloe over the years. When she was five, she had open-heart surgery to repair a large hole in her heart. It was a six-hour operation, which felt like 66 hours when she was in surgery. I thought we had done the hard yards with hospitals and her health and then just after her eighth birthday, she was diagnosed with leukaemia. We have been over-investing in the health system for the past couple of years."
Career ladder
Having grown up in Exmouth in Western Australia, it made sense for Warburton to take a job as an accountant in the mining industry after she studied business at Curtin University. She later gained her chartered accounting qualification while working at KPMG. She worked at Hamersley Iron (now part of Rio Tinto) and spent the late 1990s based at Rio Tinto's London headquarters.
Warburton moved into construction at Multiplex, UAE developer Aldar Properties and then Brookfield Multiplex where Sydney, Perth, Abu Dhabi and London-based roles in strategy, risk and finance were a natural lead into a board position at iron ore producer Fortescue. Other board roles followed, including at engineering, gold and technology companies Worley, Gold Road Resources and NEXTDC.
In August 2019, Warburton broadened her portfolio, joining the board of ASX 20 company Wesfarmers, which owns Bunnings, Kmart and Officeworks, and in November she took on the role of chair of the audit and risk committee.
She points to her commercial finance and risk management executive experience, global mining and construction experience and strong financial background as being invaluable in building her board career. "Opportunities don't all come at the same time, they don't all line up," she says. "Inevitably, you end up getting opportunities when you weren't expecting them."
Road ahead
Reflecting on the big issues for directors leading into 2030, Warburton, a keen strategist, says accessing and making the best use of real-time data will be important. Also on her radar is how changes in technology, energy and artificial intelligence will change business.
"I don't have the answers, but I'm very curious," she says. "I'm excited about the boardroom of the future. I see more global expertise appearing and that's a really positive way to contribute to diversity of thought, which is one of the key goals in boardroom dynamics. The exciting thing is that there are so many issues directors are managing now. It's taking more and more of directors' time to get across all the things we need to deal with today, as well as to think forward on what those things might be for the board of the future or the board of 2030. The role of directors has, and will continue, to become more complex."
Improved access to real-time data will help directors make better strategic decisions. "Those organisations that can get there faster than their competitors will have a real advantage," she says. "A lot of organisations use old systems and it can be a huge challenge and big dollar investment to get there. I'm a numbers person, not an IT or data scientist, but I recognise the emerging importance of data in any of the businesses I touch. Regardless of what sort of expert we are labelled, we all need to upscale in this area."
With her role at Wesfarmers and her focus on the resources sector, Warburton is considering what the shopping experience will be like 40 years from now, where and how we will store personal and corporate data, what role gold may play versus cryptocurrencies, and what energy sources will power our businesses and communities. She is keenly watching developments in resources of the future around the globe, including energy transition.
"I'm thinking about a generation of change and how we're going to contribute to the energy transition. What are those emerging new energies, those emerging new minerals and new energy sources we are going to use in our existing businesses to reduce current emissions?"
Having a go
Warburton credits her country upbringing for her courage to try new things. "I have fond memories of the beautiful coastline in that part of the world and the community spirit of growing up in a small town where people didn't hesitate to have a go at trying something new," she says.
The middle of three sisters, Warburton credits her mother and panelbeater father for this can-do attitude. "Mum always told us you get nothing for free and you had to work hard to get ahead," she says. "That work ethic and curiosity to try new experiences and live in new places came from her. Facing the challenges we have with Chloe's health has indirectly given me the resilience and courage to continue to do that."
In October 2018, Warburton and three colleagues travelled to Fortescue's sites in the Pilbara and shared their personal stories and advice with team members across 4000km and 24 workshops. They delivered one key message — mental health matters.
"My younger sister, Kristy, had mental health challenges and tragically took her own life in 2008 when she was 34," she says. "I speak openly about mental health — and work actively with our businesses to create a culture where we talk about and invest in the emotional health and wellbeing, as well as the physical safety, of our people.
"We reflect on it as a family — that if we knew more, we could have helped more. That stigma of not being able to talk about it is something I try to discourage — I try to create a culture where it is OK to talk. There are some great programs in the resources sector, but by no means is the work done. However, I'm encouraged to see that year-round we're looking out for our mates and our own emotional safety."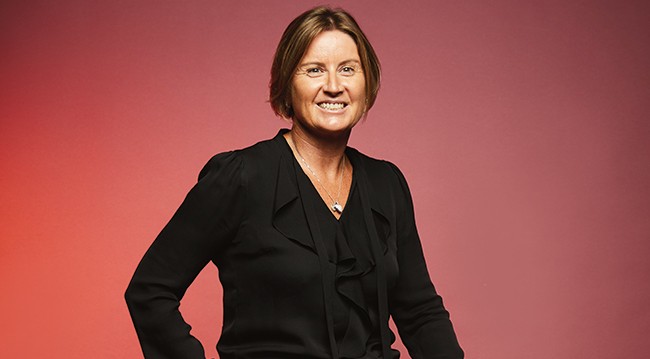 Support network
On the home front, daughter Chloe has five months of chemotherapy to go and managing her treatments alongside the obligations that come with multiple board positions, presents its challenges, says Warburton.
"The number-one thing I did was to be open in my communication with my chairs around what was happening and what it meant for me," she says. "I did not want to give up work full-time as it is an important part of me and my ability to cope with what we were dealing with as a family. And I'm forever grateful to my chairs, who were very supportive."
These chairs are Fortescue's Andrew Forrest AO, Tim Netscher (Gold Road Resources), Douglas Flynn (NEXTDC), John Grill AO (Worley), Michael Chaney AO (Wesfarmers), and Ian Campbell (Perth Children's Hospital Foundation). She says each has "personified flexible working to let me continue in my board roles and to join new listed board roles in a way that enabled me to juggle those competing priorities. The use of technology has facilitated that. But while I did a fair few board meetings via phone and VC during Chloe's early leukaemia treatment, there's nothing like being face-to-face in the boardroom," she says. "I have an enormous support network. My mum is core to that and she holds the fort whenever I travel. That was one of the big things I needed to scale back when Chloe was really ill."
Warburton adds she has also had invaluable support from her partner, Damian Johnston, who works in the oil and gas sector for BP in WA.
When people see the human side of directors, it can be a good step towards helping shape a company culture, which is something we can lead with from the board.
Managing the workload
Warburton says while the workload that comes with six board positions is large and consistent, talk of "over-boarding" is unnecessary.
"Board work is not 60 board meetings or 10 board meetings a year — it's a full-time job and it's month-round," she says. "It might be one day a month formal scheduled committee, then board meeting. That means there are 29 days for the rest of the month outside of the boardroom where I am investing my time.
"One thing I can guarantee is that in the formal [board] schedule, you can be certain it will change and move and there will always be more or less board meetings than what we first program in. I may have 40 scheduled board meetings, but there ends up being somewhere between zero and 10 unscheduled board meetings for each company during the year. Those tend to happen via phone or VC, so the number of meetings can go from 40 to 70 quite quickly. Then you have commutes."
Warburton employs a commerce student to run her diary and juggle the appointments from the six boards, with some administrative assistance from the companies she helps lead. Asked how she manages her workload, she replies, "I'm a mum, so it goes without saying I'm organised. It applies to all parents, not just mums — dads as well. When we become a parent, something in our DNA turns on and we become a whole lot more organised than we thought we were capable of being."
Warburton says the investment she needs to invest in a NED role grows as the job grows.
"I need different strategies for the five listed boards I'm part of. There's no one-size-fits-all.
Of course, the workload is lumpy. It goes without saying you find the time when you need to and there can be very long days for extended periods. When you take on new boards, the investment in the early years is a lot higher than when you've been on a board for some time and understand the mechanics of the existing business. When you take all those variables into account, you need to make a judgement on how much is too much, but we shouldn't just jump to the conclusion there is a magic number of listed boards to sit on."
That said, Warburton plans to step off one board and expects an announcement before the end of the calendar year.
"You can't come off a board at five seconds' notice. You have to think about what is fair to shareholders, your colleagues and the organisation. A transition takes some time on both sides of the equation."
Sharon Warburton GAICD will be part of the AGS "Boards of 2030" panel discussion on 2 March.
This is of of your complimentary pieces of content
Already a member?
Login to view this content