Peter Drysdale and Eroni Puamau are revolutionising housing in a cyclone-prone Fijian village, writes Ivan Ah Sam.
In early 1985 Fiji was devastated by two tropical cyclones. On 17 January Severe Tropical Cyclone Eric, with winds that measured up to 185 kilometres per hour, wreaked havoc on the Pacific nation's main island, Viti Levu.
Leaving the beleaguered no respite, within 36 hours Severe Tropical Cyclone Nigel, with even stronger winds up to 195 kilometres per hour, lashed the Fijian islands. Viti Levu again bore the brunt.
When the final assessment was done, the death toll from the cyclones had reached 28. On top of this, $73 million in building insurance claims were lodged and 21,846 homes had been left totally or partially destroyed, with 30,000 people left homeless.
Peter Drysdale AO, who at the time was a Fijian Australian in his thirties working in the timber plantations on the western side of Viti Levu for Fiji Pine, was conscripted into the relief effort.
"Because we were in forestry and we had four-wheel drive vehicles and chainsaws, the government asked us to help with the opening of roads where trees had fallen and for the distribution of emergency tents that had been flown in from the United States," Drysdale recalls.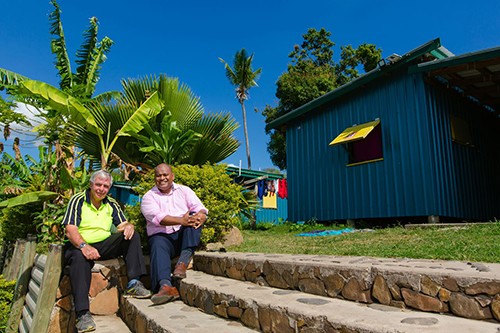 By the time the twin cyclones hit, Drysdale had already been involved in half a dozen previous cyclone recovery operations. He was beginning to tire of the same cycle where short-term aid would be parcelled out without long-term solutions being put in place for the most vulnerable.
"We would distribute a bit of rice and some tents. Then the people affected would gather up all the bits of old sticks and branch wood and make another shack. Then in January, another hurricane would come through and blow them apart."
We are working to make sure that all the projects are properly executed and outcomes reported back to the donors.
Drysdale happened at the time to have recently joined the Rotary Club in Lautoka, a town of around 50,000 in the Fijian sugar belt. He took the idea to the club that they could build a cyclone-safe house to end the destruction and rebuilding cycle. And so with money raised by the club, Drysdale built a basic but sturdy one-room shelter for a family in the hills outside Lautoka.
Thirty-two years later, cyclones continue to hit Fiji causing widespread devastation. But now, Drysdale's shelters protect thousands of people from their worst depredations. He has built 965 homes, including 232 in a township he founded near Lautoka, Koroipita – literally Village of Peter, named in Drysdale's honour by the township's residents.
Until his professional retirement 18 months ago, Drysdale would fit in the construction work around his full-time job, initially with Fiji Pine, then as executive director at logistics company Williams & Gosling.
Koroipita's timber-framed homes, clad in blue steel, are a marvel of simplicity and ingenuity. Each is divided by a breezeway into two sections, one with two bedrooms and the other with a shower, kitchen and toilet. The homes cost $13,000 and can be built in five days. Most importantly, held together by 1,400 roof and wall screws, the homes have withstood the worst the elements have thrown at them. In 2016, when Tropical Cyclone Winston, the most powerful storm to make landfall in the Southern Hemisphere, tore through Fiji, leaving tens of thousands homeless, not a single Koroipita house suffered any damage.
The robustness of the structures, the low cost of housing – rent costs $8 Fijian per week – and the quality of life in the village, in a country that has a large squatting problem, has led to a long waiting list of families looking to move in to Koroipita.
The village is overseen by the Model Town Charitable Trust, which was established in 2011 when the operation became too large for the Rotary Club to manage, and its board of trustees. Drysdale chairs the board, which numbers nine, among them Eroni Puamau MAICD, general manager of Rosie Holidays, one of the leading inbound tourism companies in Fiji. The relationship between Rosie Holidays and Koroipita goes back over a decade and Rosie managing director Tony Whitton also sits on the board.
"We were inspired by the work Peter had done," Puamau says. "We saw it as something that was really vital to the prosperity and development of Fiji."
During the construction phase of Koroipita, Rosie ran a program where its workers would volunteer on public holidays to help build the houses. And Rosie has helped Koroipita in raising money through its network of overseas tourism partners, which have supplemented its main sources of funding, aid from the New Zealand government and donations from Rotary Clubs.
"Rosie has put us in touch with donors like Expedia and the Collette Foundation," Drysdale says. "Where they are so valuable is that they are very fast to respond when I have a need for some cash for a project that is not within the New Zealand aid budget. For example, we needed a serious scale bus shelter to accommodate hundreds of people in the mornings. So this is a large-scale structure and I needed to stitch together about $28,000. The bulk of that came from those sources."
The attention of the trust board is now focused on succession planning to make sure Drysdale's work continues, as he plans to move to Brisbane to be reunited with his wife and family who moved to Queensland more than two decades ago.
"Twenty-one years is enough. For decades, I used to see my family every five or six months. Now I get to see my family," Drysdale says.
The succession planning is tied up with the trust's talks with the New Zealand and Fijian governments about the next round of funding for the housing project.
"We now have a general manager who's been appointed and confirmed, and I think that was a very important requirement to have someone else aside from Peter who would be in charge. That's been a big achievement for us to have a general manager who's in place that's now running and responsible for the daily operation of Koroipita," Puamau says.
The board are planning various scenarios now, depending on the funding that can be secured with the New Zealand aid money due to expire next year. The preferred scenario is to build another model town. Part of the pitch to the Fijian government is that the low-cost houses could accommodate some of the climate change refugees that are expected to flee to Fiji from other imperilled Pacific nations.
At the very least, the trust board is seeking funds to continue the development programs at Koroipita.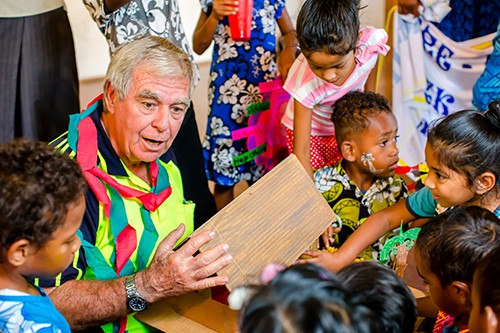 Koroipita is famous now for our community development program, which is very scientific,"
"So when families come in and sign an agreement to live at Koroipita, we expect them to advance their family. The advancement is in, for example, self-sufficiency and food. We expect them to have 100 per cent attendance at school. We have 68 kids in our two kindergartens. When our children graduate kindy, they are reading and writing English."
The worst-case scenario would see this work stop.
"Everything would melt down," Drysdale warns. "Forget about any community development, the trust basically would collect the revenue from the town fee, which is not much, then you have a manager and two maintenance men, a driver and a mechanic and that's about it."
But the board is in overdrive at the moment to avoid the withering of Drysdale's three decades of work to give Fiji's poor shelter from storms.
"We are lobbying so we get government support. And we are working to make sure that all the projects are properly executed and outcomes reported back to the donors," says Puamau. "The key thing is really just making sure that we deliver on these projects and then when it comes to the future of Koroipita, it can stand on its own."
This is of of your complimentary pieces of content
Already a member?
Login to view this content