From mine to owner, Everledger is using blockchain to globally track and protect items of value for sale. Founder Leanne Kemp explains its value.
Leanne Kemp is on a mission to fix trust and accountability in global supply chains — and she's determined to achieve it with something most people still struggle to understand: blockchain technology. That blockchain is useful for verifying all kinds of transactions in a shared ledger is often lost in the hype. Kemp saw a way to build on her experience in the jewellery and software industries with a blockchain she called Everledger, in a nod to the technology's "trusted ledger" foundation.
The company pioneered a method to track the provenance of diamonds from mine to owner along the supply chain — a digital ledger that tracks globally and protects items of value. It beat the likes of De Beers to deliver the first blockchain for the Kimberly Process, a global diamond trade certification aimed at improving transparency and preventing "blood diamonds" (diamonds mined in a war zone and sold to finance insurgency or warlord armies) entering the market.
Everledger was named in the World Economic Forum (WEF) Technology Pioneers Cohort in 2018, along with two Australian-based companies — the blockchain voting/decision-making platform Horizon State and quantum cybersecurity company QuintessenceLabs. Everledger is now applying its technology and intellectual property to other supply chains.
"We've ticked the boxes of product-market fit, solving a real problem and timing in the market," says Kemp. "Now the big question is: can we solve problems in other markets?"
Kemp started the business in March 2015 with just US$118,000 seed funding and mentoring support from the Barclays-Techstars Accelerator program. A year later, Everledger was listed as one of the seven most valuable blockchain startups alongside Bitcoin competitor Ethereum by influential technology blogger Ameer Rosic.
By March 2018, Everledger had 40 team members across five countries, attracting US$10.4m Series A funding in March 2018 — which included the Canadian arm of Fidelity Investments and Toronto-based GMP Securities.
"The true test of any startup is taking it beyond the first three to five years operationally," says Kemp. "Being awarded a tech partnership with the World Economic Forum was a big validation from our peers. It shows we're on the right track. But it's pretty scary because it puts us in the same category as billion-dollar companies such as Google, Airbnb and Spotify, which rethought the paradigm. So, no pressure."
Kemp is confident in Everledger's growth because it's focused on solving billion-dollar problems. She points to three growth drivers in the business strategy — deeper research into cryptography, building relationships with innovators at universities, and taking a global-first position. "Strategically, our market entry, focused on the diamond industry, was a strong foundation," she says. "We knew there was geographical density across the diamond supply chain allowing us to establish a solid footprint."
As Everledger locks verified contract and value data for every transaction of an asset into irreversible records on a blockchain ledger, technically it can be used to provide transparency in the supply chain of almost any measurable asset. Tamper-proof transaction records add trust and accountability, Kemp explains. These records identify an asset's origins and trades, and can also help insurance companies and law enforcement agencies combat fraud.
Battery trackers
Kemp has her sights set on solving another global problem — stored energy.
"Peel back the layers of the supply chain: lithium and cobalt are the major minerals extracted to support the battery industry," she explains. "When we think about how many batteries are being retired off the lot, what are we doing with them? How can we recycle their materials?"
These questions could be addressed by a new application of Everledger's technology, which is being developed in partnership with the WEF's Global Battery Alliance. Kemp's company is testing ways to track lithium-ion batteries throughout their lifespans from origin to production to sale, then recycling or refurbishing. Knowing details of a battery's origin could help recyclers and refurbishers decide if it is suitable for end-of-life energy storage. Battery manufacturers could add disassembly instructions on the blockchain in order to help reduce the amount of lithium, cobalt, aluminium and other components going into landfill. "Australia is incredibly well-placed with clean supply chains," says Kemp, "and we're starting to see the benefits".
The financial incentives to track a battery's lifespan using Everledger technology could also motivate more environmentally and socially responsible sourcing.
"If we think the Leonardo DiCaprio movie Blood Diamond was [topical], wait until we see the conflicts arising out of the supply chain dynamics of lithium and cobalt," Kemp warns. "It's a big play, because it (battery power) covers everything from electric vehicles to mobile phones to solar on houses. We all need some form of stored energy."
The key to a successful startup is to seek and solve very real problems. Challenge yourself to think and transact globally from the outset.
Keeping it collaborative
Kemp observes some larger players are trying to introduce proprietary technology to dominate blockchain, running against the collaborative principles of the open source movement that spawned it in the first place.
"The Hyperledger protocol came from the Linux Foundation (an open source champion)," she notes. "So I find comfort that it sits across the right kinds of constructs in the web world. It will surpass some of the bigger muscle that might want to come in, own, control and take the technology down a certain pathway."
Kemp's enthusiasm for open source technologies was a big motivator for her first startup in 1996 — Absoft Queensland — which developed several supply chains based on open source technologies, including wireless scanners and vehicle trackers.
"No-one has ever given me a real job," she muses when asked about her proclivity for building technology businesses. "They must think I'm officially unemployable, which makes me a great entrepreneur."
In September, Kemp received the 2018 Advance Global Australian Technology Innovation award. Then the Queensland government made her Chief Entrepreneur — a 12-month, unpaid appointment to mentor local entrepreneurs and assist in attracting investment to Queensland. "The key to a successful startup is to seek and solve real problems. Challenge yourself to think and transact globally from the outset. One of my aims in this role is guiding Queensland entrepreneurs in that approach. We are living in an incredible time with exponential technologies — AI, blockchain, robotics, precision medicine — within arm's reach of every Queenslander."
She insists Australia is on the doorstep of "something quite spectacular" and that by aligning the interests of startups, venture capital funding, government and universities, "we'll solve some big problems".
"When you go out into the world and see miners in the Congo or Colombia living on a dollar a day you think, 'Hang on a minute, I don't need another house — let's go do something that makes a difference'. Maybe not everyone is wired like that, but certainly a lot of the people sitting in my realm are."
Blockchain by the numbers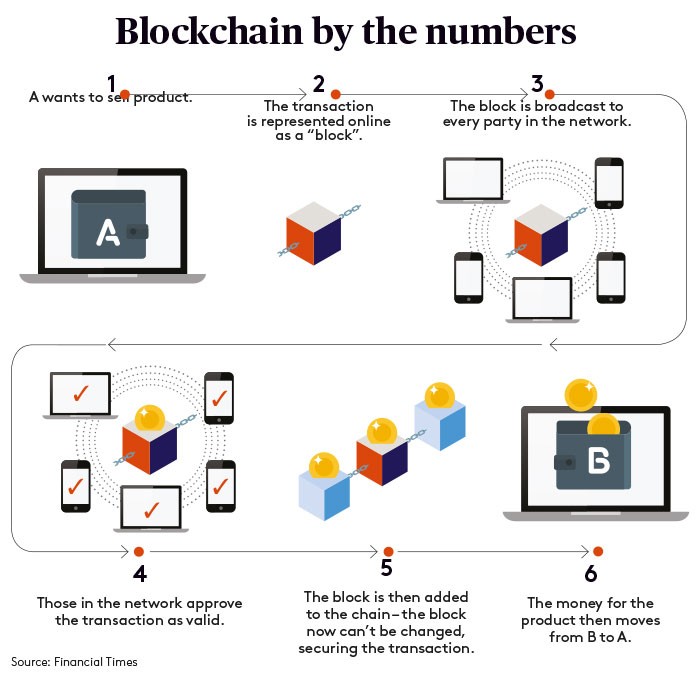 A blockchain is a ledger (or database) of transaction records, linked to each other and shared among approved members of a network. Every transaction is signed by all involved then shared with the network, which puts those records into a block. Each new block is attached to the previous one with a code sequence to form a sequenced "chain". Every block is public and the more detail recorded, the more trustworthy it becomes — potentially generating more value. Supply chain transparency can be enhanced by tracking each component back to its source.
Blockchain security methods include:
Verification Details of each transaction are checked and validated/rejected by member nodes before being added to a block. Once added, a record can't be edited.
Decentralisation Copies of the updated ledger are distributed across the network and automatically compared to each other to ensure they're identical, reducing fraud risk.

Hash code sequence (cryptography)

 Each block of records is encoded with a unique, irreversible mathematical hash, identifying its place in the chain and linking it to the blocks either side.
This is of of your complimentary pieces of content
Already a member?
Login to view this content