Technology, new consumer preferences and cost pressures are reshaping how organisations manage their transport needs.
Fleet management organisations (FMOs) have a crucial job: wringing efficiencies out of our transport fleets is a $3b-a-year business. Fleet vehicles for commercial, rental and government transport make up more than half of Australia's total vehicle sales. But experts say the disruptive change wrought by new technologies and techniques has now moved the game on from incremental improvement to full-scale transformation.
This transformation is big enough to alter even the industry's description of itself. Take SG Fleet, one of the industry's largest players. It still calls itself a fleet manager and lease provider. However, SG Fleet head of innovation Andy Graham and managing director Andy Mulcaster now talk of "mobility services" — a term that covers a huge sweep of options, from leasing a vehicle to catching a bus.
Rob Wilson, the owner of fleet management consultancy 4C Management Solutions (4CMS), uses terminology borrowed from the computing world to take this a step further, referencing the new wave of "mobility-as-a-service" (MaaS). Wilson sees MaaS as potentially moving the industry "from the management of assets to the provision of the most suitable transport solution".
For these fleet industry insiders, the range of suitable transport solutions has exploded over the past few years, and is still expanding despite the current impact of coronavirus. A McKinsey study calculates that US$221b in disclosed funding has been invested in the mobility field since 2010, most of it in the past six years. Says McKinsey: "The automotive industry is quickly turning into a true mobility ecosystem."
A surge of choice
To see more clearly this range of options, start with a single passenger vehicle, model the Hyundai Kona. Mulcaster notes that in 2020 you can buy the Kona as both a petrol and a diesel model, a petrol/electric hybrid, a slightly different petrol/electric plug-in, or a fully electric vehicle. Not enough choice? Hyundai also offers its slightly larger Nexo, powered by a hydrogen fuel cell and now being trialled in NSW.
As Graham observes, "the scope of the whole fleet exercise is broadening out." Some traditional fleet managers now offer many more options than simply buying or leasing. The rapidly growing segment of car subscription services are also providing more efficient ways to manage vehicle options and cater for growing customer appetite for alternative forms of vehicle ownership. Examples include Carbar, which launched in Melbourne in 2016 and is part owned by Australia's largest general insurer, IAG; and Carly, which rents cars to customers for a weekly fee. SG Fleet has invested in Carly and has also partnered with car-sharing service GoGet to provide vehicles to drivers for a few hours at a time. Traditional leasing remains more cost-effective for needs that stretch into years.
John Barlow, senior manager of integrated fleet services for the New South Wales Department of Planning, Industry and Environment, oversees a fleet of more than 2500 vehicles, and was named 2018–19 Fleet Manager of the Year by the Australasian Fleet Management Association. In just one example of broadening mobility options, he reports that over recent years, his unit has removed pool vehicles as an alternative for Sydney CBD users, replacing them with car share and public transport options to save around $150,000 a year on parking and operating the fleet.
Mulcaster points out the benefits such solutions can bring. "You know for a fact that GoGet inspect their vehicles every X number of days — they're serviced on time and there is a quality control around that process. You may not necessarily have that comfort and risk management process around an employee's individual car."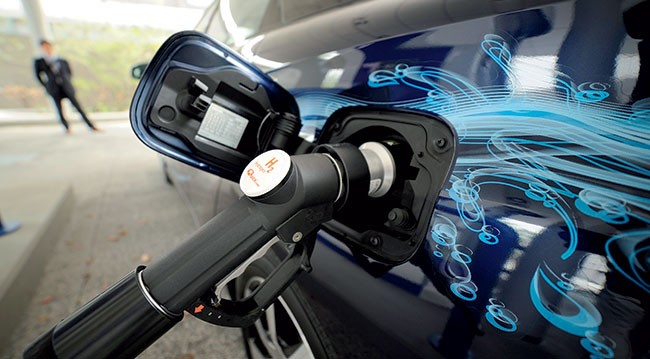 COVID-19
Like many other sectors, FMOs have felt the impact of COVID-19. As people stayed home, during the coronavirus shutdown, many corporate fleets were off the road. However, logistics companies reported some of their busiest times responding to the surge of demand for online shopping and home deliveries, and ensuring supply lines were maintained for essential goods and services such as supermarkets and manufacturing.
The pandemic, and the additional work health and safety considerations that come with it, confronts fleet managers with yet more change. Wilson lists the new challenges — vehicle availability, high cleaning requirements, the need for new safety measures and social distancing in workshops. Laws and organisational policies may restrict travel to one person per vehicle; vehicles may need to be handed over without human contact; delivery drivers may need new protections.
Already, users are asking for more short-term vehicle ownership and investigating car subscription services. "For those who don't even want to commit to three months, who just want to commit to 30 days, we're passing those enquiries through to the subscription service Carly and they can take care of that," says Graham.
Barlow anticipates more changes as the effects of pandemic-driven changes sink in. "Do people really need to drive down to Sydney to have face-to-face meetings when we've proven over [recent] weeks we can successfully have the meetings via the Microsoft Teams environment we operate in?"
Mulcaster admits fleet decisions are growing more complex, but notes organisations now have unprecedented choice. "There are more ways to hone your fleet to get the best outcome, whether your push is for lower emissions or costs, or ensuring you've got the right safety features around your drivers. There are more opportunities to get it right."
The future is autonomous
In 2017, the RethinkX Group, founded by Silicon Valley entrepreneur Tony Seba and London tech investor James Arbib, released, Rethinking Transportation 2020-2030, an in-depth analysis of data, market, consumer and regulatory dynamics.
The report flagged a transport revolution that would end over a century of individual vehicle ownership and reshape energy and cities in the process. It forecast that by 2030, within 10 years of regulatory approval of autonomous vehicles (AVs), 95 per cent of US passenger distances travelled will be served by on-demand autonomous electric vehicles — owned by fleets, not individuals.
This new business model, transport-as-a-service (TaaS), will offer a considerably lower-cost transport alternative and massively disrupt the transport and oil industries. Mobility experts expect fully autonomous vehicles to appear on the market during the 2020s. McKinsey has estimated that by 2030, AVs could make up 13 per cent of all passenger-kilometres travelled.
The carbon change
In 2019, Australian fleets and private buyers together bought just 6718 electric vehicles — and barely any hydrogen vehicles. The traditional petrol and diesel fleet is still more than 90 per cent of SG Fleet's business, for instance. But mobility firms are banking on non-traditionally-powered vehicles making deeper inroads into the market during the 2020s. That outlook is fuelled by initiatives from huge fleet users such as Amazon, which says it will put into use 100,000 electric delivery vehicles during the next decade. The e-commerce giant is leading an initiative to make businesses net-zero carbon emitters by 2040 — 10 years earlier than required by the Paris Agreement. "There are pockets that are starting to test that and move more towards alternative methods," says Graham. "That's probably the biggest change we're seeing at the moment."
The solution with the most momentum is plug-in electric vehicles (EVs). Their rise has been driven by what Wilson terms the "organisational imperative" to show environmental responsibility.
The problem, acknowledged by firms from McKinsey to 4CMS, is this: such electric vehicles don't yet win simple comparisons of capital costs. That should change over time as electric vehicles grow in number, since EVs contain less moving parts than their internal combustion engine (ICE) rivals. SG Fleet's innovation team, for instance, has faced a challenge to educate potential buyers that EVs will not automatically save them large sums of money. On top of that, cost-efficient EVs have not been available in fleet numbers and charging infrastructure remains limited.
But fleet managers consistently report that cheaper maintenance makes EVs more competitive when analysts calculate their lifetime costs. Although an EV currently costs (not much) more than a standard Toyota Corolla, Mulcaster says more "fleet-viable" vehicles are coming to market, with lower maintenance costs that can make them a feasible solution in some circumstances.
Over the course of four years, a Toyota RAV4 — useful for rough roads in rural NSW — costs about $34,000 in financing, operating and maintenance, says Barlow. Over the same period, an electric Hyundai Kona costs $42,000 a year, he calculates. The cost gap is shrinking and the Electric Vehicle Council of Australia predicts that it will have disappeared by 2025.
"Over the past two years, we have seen internal combustion engine vehicle sales drop in key markets, including Australia, while electric vehicle sales have risen," says EV council CEO Behyad Jafari. He predicts the likely economic impact of COVID-19 will be more immediate in terms of a sales slump and delays in new models being released.
"Car companies have invested billions in EV tech and what we're hearing from their global offices is that they are solidifying their focus on future plans rather than scrapping them," says Jafari.
Hydrogen power
Hydrogen-fuelled vehicles are now also in the mix for buyers seeking low or zero emissions. These have a smaller market presence than EVs, but require few behavioural changes from users. Like fossil fuel cars, they can be refuelled in less than five minutes and run for more than 500km between refills.
Graham says some government organisations are now trialling hydrogen-driven vehicles.
"The script hasn't yet been fully written," he says. "There is still a long way to go and I don't necessarily think the way it is today is going to be the way it is in 15 or 20 years."
Information wave
Vehicle return-on-investment analyses remain at the core of fleet management, letting users pick appropriate vehicles for tasks and conditions. Many vehicles spend most of their time parked, so you don't want to run more vehicles than you need. Fleet managers can crunch the numbers to discover true usage, and assess and respond to risk issues.
As it has rolled out across the industry, telematics (a combination of informatics and vehicle telecommunications) has helped to improve such analyses. After John Barlow's unit adopted telematics in 2017, he says it was able to save $1m a year by removing more than 100 vehicles from a fleet that then numbered more than 1200 vehicles (a merger has since doubled the fleet's size).
Telematics has also helped Barlow keep his users safer. On one occasion, pre-telematics, he recalls being phoned by a fleet manager and told that a departmental staffer had called to report having an accident — but the phone had then cut out. As it turned out, the staffer was uninjured, although badly shaken. But Barlow "had absolutely no idea where he was or how badly injured he was".
Contrast that with a more recent post-telematics accident — a five-car pile-up in a NSW dust storm — where "we knew straight away that the person was fine, he wasn't injured, his passengers weren't injured and we were able to get them the necessary assistance that they needed straight off the bat."
This is of of your complimentary pieces of content
Already a member?
Login to view this content