Tech-driven customer data provides rapid insights that can guide marketing, product and service development, strategy and supply chain decisions. For these organisations, information is power.
Organisations harvest customer data, they leverage artificial intelligence (AI), use customer relationship management (CRM) software, install chatbots, scour the internet of things (IoT) to understand what the customer needs and how to best engage them. Success comes from using vast swathes of customer data to secure fast insights to steer marketing, product and service development, strategy and supply chain decisions.
Every day, a million Australians walk into a post office. Last November during the 2020 "Black Friday" and "Cyber Monday" retail week the organisation delivered more than 13 million parcels — 17 per cent more than the year before.
About 8.5 million Australians have shopped online since March 2020. That signals one million households making online purchases for the first time, all of which need to somehow be delivered. In August 2020, 384,000 small businesses went online for the first time and signed up for Australia Post's MyPost service.
Director Resources
Numerous organisations have resources to help boards and companies manage customer data, including:
Every day, a million Australians walk into a post office. Last November during the 2020 "Black Friday" and "Cyber Monday" retail week the organisation delivered more than 13 million parcels — 17 per cent more than the year before.
About 8.5 million Australians have shopped online since March 2020. That signals one million households making online purchases for the first time, all of which need to somehow be delivered. In August 2020, 384,000 small businesses went online for the first time and signed up for Australia Post's MyPost service.
It's this sort of granular customer data that organisations need to operate effectively and plan for the future according to Nicole Sheffield, executive general manager community and consumer at Australia Post. Previously chief digital officer at News Corp, Sheffield says that customer data is essential for executives designing successful products, services and experiences. She says data's value was magnified during the pandemic because the algorithms that many organisations relied on to steer decision-making were suddenly out of whack. Customer behaviour switched overnight and only the underlying raw data could reveal what was really happening.
Australia Post sources its data from a Salesforce Customer Relationship Management system, from Google Analytics, from the point-of-sale systems in its 4340 post offices, from the 10 million people who have personal MyPost accounts and almost half a million MyPost business customers.
By analysing that data during the pandemic Australia Post was able to change its parcel notifications system, reboot its delivery tracker, introduce no-sign delivery where the postie takes a photo of the parcel left at the door, and trial a two-hour delivery window.
"When you are an organisation that brings in $7.5b a year in revenue and delivers 13 million parcels in a week, those volumes require intense understanding of data to make sure you are making the right decisions — on automation investments, on major capital expenditure, on where we're going to have facilities, what is happening in regional Australia, where we will have pop-ups in terms of our property footprint and how we can ensure our customer centre can manage customers calling," says Sheffield.
"We don't do a board presentation that doesn't use a number of data sources to underpin the strategies and the investment to keep up with the volumes. COVID-19 was very different — we were probably doing fortnightly short Zooms with the board," she says, adding that the more normal cadence would be eight meetings a year plus a strategy day.
"All boards have to be incredibly flexible to ensure they're using data to make the right strategy decisions and the right investments," says Sheffield. "But data can also be paralysing — too much can confuse people. You have to know what your strategic options are then use the data to make those trade-offs."
Banking transformers
Judo Bank, Australia's first neobank for small business enterprises (SME), understands the value of transformation. It uses technology to restore the personal touch to business banking. The former federal Minister for Small Business, Bruce Billson GAICD, is now a director of Judo. "The data piece was very important to understanding the pressures and dimensions of what was going on in that business," he says. "We could then tailor our response, partner, bring our expertise around risk to the conversations (with customers) — it is crucial for us having a well-calibrated understanding of risk."
Data literacy should be a core competency for directors, says Billson.
"It is not enough to consume the data, [we must] also understand what it means for our strategy, risk, our business overall and an insight into the health and wellbeing of our customers."
Billson says customer data and analytics have allowed Judo to continue to support SMEs through the pandemic, to secure funding through the government's Australian Business Securitisation Fund, participate in the Structured Finance Support Fund and act as a "really good sounding board" for the Australian Office of Financial Management and other organisations.
It's not the only bank using customer data to inform strategy and policy. The NSW government, for example, asked banks for customer data at the start of the pandemic. ANZ responded and supplied the NSW Data Analytics Centre (DAC) with anonymised credit card and merchant data each week, overlaying that with AI-interpretations about what customers were doing, whether they were buying online or instore, and the effect that was having on businesses.
"As the impact of the COVID-19 pandemic grew, NSW reached out to a number of partner organisations including ANZ to bring in unique insights to help shape the NSW response," says Dr Ian Oppermann GAICD, NSW Chief Data Scientist. "The insights from ANZ were delivered to the secure DAC environment to improve our understanding of the impact of social distancing and mobility restrictions in NSW, as well as the effectiveness of stimulus measures."
Billson says that however potent the data, directors need to wrap it with robust governance. "[Data is] the oxygen in the decision-making of the business."
Big Red Group's data adventure
David Anderson is CEO and co-founder of the Big Red Group (BRG), home to brands including RedBalloon, Adrenaline and Lime&Tonic. In 2019, the organisation brought data scientists into the business for the first time. Anderson wanted a single view of customers and clean data to steer decisions about businesses BRG might acquire. It took 18 months to collect, clean and curate the data to an adequate level, then COVID-19 struck.
"We're in the business of doing things, so in March the business was in free fall," says Anderson. But he and co-founder/director Naomi Simson MAICD were able to normalise the CRM data using Google mobility data to see how the business was tracking. They also followed the McKinsey & Co five horizons framework to manage the business and communicate with the broader organisation.
"The most important thing we did was look externally to understand our performance to market rather than compare previous periods of trading," says Anderson. "What was the return, and velocity of return, against which we could plan forward cashflow?"
At the start of the pandemic, Google made its mobility data available, which provided a reference point for BRG to normalise its data and assess whether it was in line with what was happening in different states. "It gave me and the bank enormous confidence about our financial wherewithal," says Anderson. "We could see as mobility returned in the states, so did demand, and we tracked with a high degree of correlation."
This gave Anderson and Simson the confidence to extend the life of their experience vouchers from three to five years, giving customers added value, and to continue exploring international expansion opportunities. The data also showed that intra-state purchases were higher than interstate demand, so the company was able to adjust suppliers, and the sorts of experiences it offered.
Simson also took on an operational role during the pandemic, speaking directly to customers every day. "We wanted to stay close to our team members, to 'hear' what they were hearing from our customers," she says. "The two biggest questions facing our business customers were the challenge around planning when there were many elements out of their control, and worries about the experience of work, corporate culture and productivity. We commissioned The Experience of Work white paper and developed a six-point framework to help leaders [ask] the right questions for their organisation."
One of the questions was how to drive conversion rates that turn online browsers into buyers. "A 0.1 per cent increase in conversion rates drives multiple millions of dollars through our business," says Anderson.
Deep dive the data
As always, the answer is in the data. Lynette Clunies-Ross GAICD is region vice president and MD of data analytics firm SAS ANZ. She says COVID-19 has accelerated the company's customer digital transformation plans by an average of six years, adding the move to online purchasing has provided real-time insights into customer buying habits and preferences.
"Big data is interesting and, yes, you can ingest from all sources, but it is analytics that turns that into insights," says Clunies-Ross. "The end game is decisioning — data plus analytical insight that informs decisions and is now evolving around augmented and automated decisioning. What I fear is cases like Robodebt driving a fear around algorithms — it's about getting the right balance of ethics and governance."
Borough Markets is an online marketplace launched in NSW and South Australia in November 2020. It uses IBM Watson AI to pull data and insights on consumer shopping habits, allowing small businesses such as Spring Gully and Emu Ridge to reach new customers and grow revenue. Managing director Grant Baker GAICD says it's based on a simple premise. "Customers expect you to know what they want — if you can't, they will go elsewhere." Big retailers, he says, understand that and have the digital muscle to collect data, hyper-personalise offers to customers and offer them online deals. Borough is aiming to do the same for SMEs.
Futurist Steve Sammartino warns directors to be alert to a European push that is seeing control of data revert to consumers. In 2016, Europe's General Data Protection Regulation lobbed the data ball into the customers' court and Australia's Consumer Data Right legislation will allow consumers to take their data with them when they move to another bank, telco or utility.
"Directors and companies in general need to be careful of accumulating as much data as they can because data might turn from being an asset to a liability," says Sammartino. "It might be in the future that you get taxed on how much data you hold. If I was a director, I'd be focusing on accumulating data consumers don't generate, which comes from IoT devices or ambient data."
Many large corporations already integrate IoT-sourced data with CRM data, and transcripts of customer calls and videoconferences. That data is then interpreted using AI get a more complete understanding of customer sentiment and behaviour.
Sammartino says customers understand their data will be used — and accept that as long as companies are transparent and the value to the consumer is clear and significant. "Rewards need to be real and tangible — they can't be corporate chicanery," he says. "Qantas is the best example of a company on gamification — they game us on tier, whether or not you want to be a gold, silver or platinum member. The value equation needs to lean toward the consumer, but too often it's used against the consumer."
In the clouds
Oneworld, the global airline alliance, operates a data hub to support both its partner airlines and international travellers.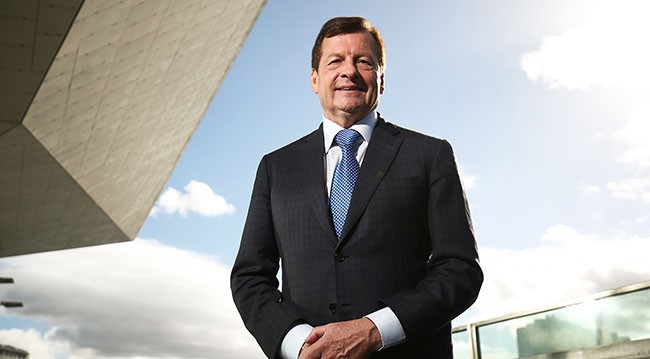 Australian Rob Gurney is the New York-based CEO of global airline alliance oneworld. It uses data to connect its members so they can create streamlined customer experiences. "Our remit is to focus on how we provide the best customer experience we can as customers traverse the networks of our airlines," says Gurney, whose team has been challenged in the disrupted times in global air travel during the pandemic.
He says data is critical — knowing who is travelling where, when, on which airline, as well as their loyalty program memberships. "Data and digital enablement are not things that are standalone on a business plan," says Gurney. "These things need to be at the heart of pretty much every business, consumer-facing or not."
At oneworld, the combination of digital technologies and data has allowed travellers using multiple airlines belonging to the alliance to check in online — using one airline's app from start to finish. Oneworld does not store customer data, but has set itself up as a data hub where partner airlines can share their data in order to create and deliver new customer services. "We built the capability to be able to do that," says Gurney. "The airline would only have to integrate once to the platform and they control permissions about releasing boarding passes."
For the eight million passengers (pre-COVID-19) who each year complete legs of their journeys on different oneworld airlines, it strips friction from check in. And if data streamlines check in, the alliance wondered whether it might streamline other customer experiences as COVID-related restrictions ease.
Trade between the UK and US is worth about $402b a year and airlines play a critical role. But by November 2020, the 111 weekly London-New York flights operated by oneworld members American Airlines and British Airways had plunged to just 14.
Gurney considers quarantine a "blunt instrument" for ensuring passenger safety, instead championing a COVID-testing trial for transatlantic passengers. It involves a nasal swab from a passenger 72 hours before their flight (passengers collect this themselves, following online instructions), which is submitted for testing. If negative, that data clears them for flight and they will be re-tested on arrival. "We are running the trial to show that a single pre-departure test is a significant risk mitigator to allow governments to consider removal of quarantine," says Gurney.
If the trial is successful, he hopes the testing data could be available directly to customers, with their negative test results allowing access to other services such as sporting venues on game day. It's an example of Gurney's belief that data needs to be embedded in enterprise DNA to deliver long-lasting value.
This is of of your complimentary pieces of content
Already a member?
Login to view this content