Two years into a three-year APRA-enforced remediation plan, Commonwealth Bank chair Catherine Livingstone AO discusses the board's approach to rebuilding culture, accountability and reputation.
There's been a lot of water under the bridge for Catherine Livingstone AO FAICD since she became chair of CBA in January 2017. A money laundering scandal, a scathing APRA prudential inquiry and enforceable undertaking, a replaced CEO, the banking Royal Commission, court action by ASIC, shareholder and customer class actions, and massive fines and remediation costs. To cap it off, a national bushfire disaster and now the shock of a global pandemic.
For any chair, and board, these challenges would be formidable. So when in May this year, the CBA rejoined Roy Morgan's list of the top 10 most trusted brands in Australia, two years after the scathing findings against the bank's culture and governance in the APRA prudential inquiry and then the 2019 banking Royal Commission, there must have been at least a small sense of relief. Supporting this was the swift and coordinated offering of deferrals of loans worth $236b as the virus and efforts to contain its spread wreaked havoc on the economy.
That the bank moved quickly could be seen as a testament to the strong capital buffers mandated by APRA and the hard work of the board to redress and right a long list of wrongs after a 2018 APRA prudential review panel brutally described the century old icon's fall from grace through risk, governance, culture, accountability and remuneration failings, dulled senses and "chronic ease".
Reflecting on subsequent events, Graeme Samuel AC, one of three independent panel members who conducted the review, says CBA's disciplined focus and transparency in becoming a better, simpler bank, "has set the benchmark for how to drive cultural change" and Australia needs more banks to follow its lead.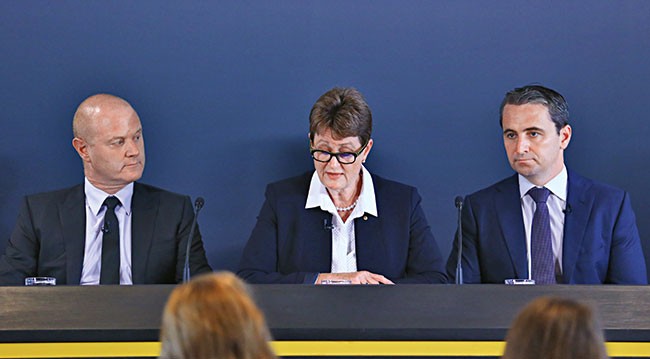 COVID circumstances
Social distancing in her corner office overlooking Sydney's Darling Harbour above eerily quiet CBD streets, Livingstone describes the intense focus on right the banks governance and risk management as still very much a work in progress. The long tail consequences in terms of regulator scrutiny, capital requirements, penalties and customer remediation costs will ultimately run into billions. But she also wants to talk about resetting Australia's economic agenda for the times ahead.
CBA's head office is a reflection of the dramatically changed circumstances we are responding to as a nation. A building that usually holds 4400 staff now has only 700. Those entering have their temperatures checked, sanitise their hands and the restricted number of occupants permitted in any room is signposted on the doors.
Speaking exclusively to Company Director magazine for the first time since the tumultuous events of recent years, Livingstone is guarded and circumspect. With a Federal Court shareholder class action against current and former directors and officers stemming from allegations of inadequate disclosure of breaches of anti-money laundering and counter terrorism financing (AML/CTF) laws exposed by financial intelligence agency AUSTRAC, an ASIC investigation and court action and a number of customer class actions on foot, there are things she won't discuss.
But after a personally and professionally searing nearly four years as chair, Livingstone has some reflections on how CBA has replaced the "chronic ease" that APRA described. Firstly, the former chair of Telstra, the CSIRO and Business Council of Australia president references the pandemic, joining a growing group of business leaders urging a national effort to "optimise" Australia's economic recovery. "We have to get on top of this pandemic and recover as best we can, and in doing that, think about how we can and should change things," she says.
Livingstone says things have changed in past months in terms of the social contract. "It has just demonstrated the really powerful impact of business and government and research working together. We want collaboration? It took a pandemic to achieve that. The focus on solving the problem together has been the most extraordinary lesson. Everyone sought to find that middle ground and signed on to the problem. In this case, everyone's optimising the country. In optimising for the country, you also optimise for community and business."
Work in progress
In May 2018, after six months examining the reasons behind a series of incidents that significantly damaged the Commonwealth Bank's reputation and public standing, the Australian Prudential Regulation Authority (APRA) independent panel made 35 recommendations and required the bank to increase its minimum capital requirements by $1b.
In the report, which APRA signalled as a wake-up call for the sector, panellists Dr John Laker AO, Jillian Broadbent AO and Prof Graeme Samuel AC were scathing. "Failings in the provision of financial advice, dubious lending practices, mis-selling of financial products, shortcomings in the setting of benchmark interest rates and compliance breaches have undermined community trust, drip by corrosive drip," the report said.
It noted that an environment of continued financial success contributed to a complacent, insular, reactive and overly collegiate culture — impeding accountability and individual ownership of risk issues. "Taken together, complacency and reactivity led to a sense of 'chronic ease' in CBA, rather than the 'chronic unease' that has proven effective in driving safety cultures in other industries," the report said. It had dulled its senses and made it hard for the "voice of risk", particularly for non-financial risks (NFR) and the customer voice to be heard.
Designing a three-year remedial action plan in six weeks, CBA set up a board and management working group, which monitors milestones, in design, implementation and embedding. Independent reviewer Promontory Australia provides APRA with quarterly progress reports and the company reports publicly twice a year on its progress.
In its eighth report in August 2020, Promontory noted that while there is much still to be achieved, it perceived a material change in CBA attitudes and culture. "In many respects CBA is almost unrecognisable as the institution described in the prudential inquiry into the Commonwealth Bank of Australia final report. In particular, there is now clear and committed leadership from the top in managing NFR. Accountabilities have been sharpened. The 'voices' of risk and compliance have been elevated, and are being heard," said Promontory.
It noted CBA successfully managed the initial impact of COVID-19, which put pressure on the program to adapt, "which it did". However, it has concerns about the risk of change fatigue as CBA transitions from the design and implement phases to the embed and closure phases. "While the group has come a long way in two years, the greatest hurdles still lie ahead. Some of the remaining milestones are the most difficult, and will require considerable focus and attention if they are to be closed. Consistency in the maturity of NFR management across business and support units remains a concern, as does the quality of data supporting NFR metrics and reporting. The greatest overall challenge... will be ensuring that the hard-won changes in CBA's culture and NFR management are not only embedded, but sustained."
The restoration of CBA's reputation and the release $1b in capital are riding on its progress in the final year.
For the banks, as during the GFC, "liquidity and capital is your job" and the priority was working closely on how to provide financial support to people in need, quickly, at scale. "What has been demonstrated is that the government can move quickly and business can move quickly," says Livingstone.
She is also impressed by the number of enterprises that quickly adapted their business models, and the rapid uptake of digital platforms — from health, to universities to banking and shopping — which also highlighted where we could do better in terms of that digital capability. "There's more confidence in the community around digital technology and we should build on that mindset. People suddenly realised it's not as frightening, not as difficult, not as scary and, in fact, has a lot of advantages."
Collaboration, moving quickly and leveraging the improved willingness to engage in a digital environment will need to be foundational elements in resetting the economic agenda, says Livingstone. In recent decades, she adds, we've had an open economy based on trade agreements and a business model that relies on three main exports — resources, tourism and international education — dependent for about 35 per cent of exports on one key customer, China. We've also relied on immigration for growth, but we have not not backed it up with the necessary investment and infrastructure.
"All of that is absolutely right, but we've had set and forget, this lazy mantra," says Livingstone. "We have to look at the whole coronavirus circumstance that's caused a discontinuity and ask, right, what opportunity does that present? It presents many considerable challenges. The government's doing a really solid job in the circumstances, iterating on its decisions, which is the way it should be working. But we need to be looking at the economy now with a different lens. It's not just addressing the coronavirus issues, huge as they are, it's saying with a more purposeful intent, 'Where could we take the economy now? Where is the growth coming from? How can we underpin it? Where is it vulnerable, exposed? In what ways could we leverage it?' We haven't had that purposeful strategy in that sense."
Technology take-up
Just as the deployment of electricity was the technology that drove rapid growth in the 1920s after the economic shock of the Spanish flu pandemic in 1919, Livingstone says pervasive digital technology must do the equivalent in the 2020s.
"It's AI, data engineering, automation. It's all the capability you can build on top of a truly digital environment," she says. "I don't mean just having a few nice apps and websites. It's a deeper point about the technology infrastructure we have in Australia. It is about an economy that is truly sitting on a technology platform, and we are not there."
Certain sectors are doing well in developing and adopting technology, Livingstone says, but "we could do a lot more". She notes the context provided by NASA's TRL scale — assessing technology readiness levels.
"It has stages one to nine, ranging from generating ideas, to how you take those ideas and turn them into a technology, to what products and services and markets emerge," she says. "You''ll hear lots of comments about, 'we're no good at commercialising'. It's the wrong way of looking at it. What we're not so good at is stages four, five and six — which is to take your proof of concept, build your prototype and do a demonstration model. Test it, demonstrate that it works then scale it up. That's hard work, and that's where we need to invest as a country. Where we lack the critical mass of skills is in this connector zone."
To escape the TRL middle zone and have pervasive technology infrastructure, Livingstone argues that Australia needs a broad-based upskilling of the workforce to provide familiarity, capability and confidence, and to deepen its intellectual capital infrastructure. "If we're talking about working in a data-driven world and a digital world, if we're going to be purposeful about this, that broad-based upskilling [needs to occur] not just in business, but also in government," she says.
For example, Livingstone is encouraged that the initiatives of the National Cabinet will finally get things moving on the critical economic pillar of vocational skills and technology, ending years of state-federal paralysis. "It isn't about how much money needs to be spent, it's a facilitation role," she says. "If there's ever a time to do it, it's now. If everyone gives a bit, you find that middle ground. We need to find that middle ground and find the pragmatic, practical things that work, not seek perfection. Let's find that practical way forward."
Responding to events
Reflecting on the shift in public sentiment to the CBA during the pandemic, Livingstone is realistic. "It hasn't been dramatic, it has been a long, hard, persistent road," she says. "Where we are today reflects three and a bit years of very hard work by a lot of people throughout the whole organisation. The best thing that happened out of that [AUSTRAC scandal] was the APRA prudential review because it was insightful, it was incontrovertible, it was independent, it was thorough (see breakout p21). That gave the board working with management, through a remedial action plan, the mandate to look at our process system capability in a thorough, integrated way."
The review was initiated after AUSTRAC launched court action in August 2017, alleging more than 53,700 contraventions of the Anti-Money Laundering and Counter-Terrorism Financing (AML/CTF) Act 2006 after an investigation into its compliance. Days later, Livingstone announced the early retirement of CEO Ian Narev. The CBA head of retail, Matt Comyn, took over in April 2018.
"When we hit the bushfires and the coronavirus [in January 2020] that team was working as a team," says Livingstone. "We devoted considerable time to board and management working as a meta-team. This team, with Matt's leadership, was able to move quickly into action in response on both the bushfire front and then on the coronavirus front."
As COVID-19 escalated, Livingstone says the board met out of cycle. She and the CEO would check in almost every day and keep the board informed as its pandemic measures cut in. "You don't want the board getting in the way and taking up valuable management time when time is of the essence, so we had a rhythm. My communication with Matt, Matt keeping the board informed, having board meetings, risk committee chair Rob Whitfield working with the CRO. There was a controlled intensity."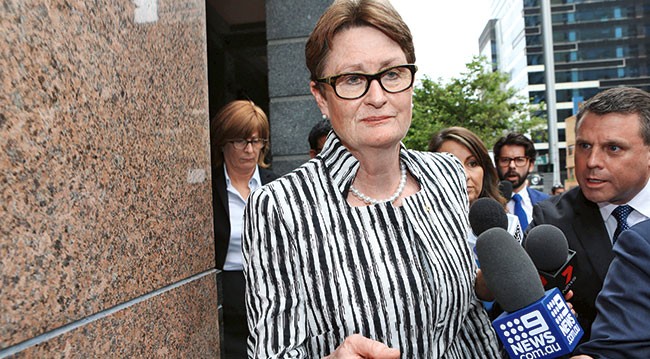 Motivation
Livingstone says the national interest and the role CBA plays in that is a strong motivating factor for her. It's a strong thread through her career. Born in Kenya, her family moved to Sydney's upper north shore via a brief stint in England when she was five. After studying accounting, she worked as a chartered accountant in Sydney and London before joining medical technology company Nucleus under the late tech pioneer, Paul Trainor AO. She became CEO of Cochlear in 1994, and saw it through its initial public offering and international expansion. She became chair of the CSIRO in 2001, then Telstra in 2009. Livingstone is chancellor of the University of Technology Sydney and a director of The Australian Ballet and CSIRO Australia Telescope National Facility Steering Committee, but gave up other roles given the demands of the role at CBA.
A directorship on Australia's biggest bank must have been a career highlight, but given the corrosive issues that subsequently blew up CBA, was Livingstone's due diligence adequate? "It's not until you're actually on the board that you understand how it works, she says. "You join a board and you make a commitment. As a director you have to deal with what comes your way is all I can say. You've got a responsibility and just because it's hard, doesn't mean you can resile from that responsibility. I think it's just to recognise the challenge that comes with being a director. It's very non-trivial."
Remaking the CBA board
Catherine Livingstone moved quickly in 2017 to refresh the CBA board, overseeing the appointment of five new directors in just over two years. Incoming were Citadel and Worley director Anne Templeman-Jones FAICD, former Westpac senior executive and NSW Treasury head Rob Whitfield AM FAICD, former Bluescope Steel CEO Paul O'Malley, and senior Intel fellow Genevieve Bell. Simon Moutter, former MD of Spark New Zealand joins the board this month.
For Livingstone, thinking about board composition is a constant. "There is no time in my experience of being chair of any organisation when I wasn't in an active search for someone because of turnover or building a pipeline for potential people who could come onto the board," she says. "You're constantly thinking of that composition, you're using your skills matrix, but you also have to be opportunistic about people you might come across. You've got to think also about personal style and temperament that will contribute to a board culture that ensures directors challenge each other and management, but can work together effectively."
Just as institutions need to upskill to deepen Australia's digital capacity, Livingstone says directors and boards do, too. "I don't agree with this concept of having a digital director," she says. "A board is a mix of skills... We have to move on from digital disruption as a concept, as well. The business world is more and more about the ability to predict versus the historical ability to report... It requires skill that combines judgement and insights based on experience and evidence, in concert with anticipation and good instincts about change. So increasingly, a board has to have this mix of attributes to be able to work with management in developing and delivering the strategy."
She stresses that while the board must have people who understand the bank's balance sheet and risk, no board should rely on a single individual. "We're looking for people who increasingly come from environments where the business has a significant digital component," she says. "We have a skills matrix, but we are looking at it as a broad concept. They don't have to pretend to be an expert, but need to be comfortable with technology and in a digital context."
Off duty
Livingstone's work ethic has been legendary and she has been accused of shouldering too much of the burden as a chair. She says chairing a board is a hard job and a chair should be devoting quite a bit of time to the role. "I've always worked hard, so I don't really know any other way," she says.
"Inevitably you talk to people, to colleagues, read a lot, think a lot, lots of different inputs. I always make sure I take breaks and the breaks usually involve hiking somewhere. When I take a break it's always in the natural environment, it's not to resorts or cities."
Livingstone is a big reader and a long-time member of a book group. "I read things that might relate to technology or psychology, but not management books." she says. On her bookshelf are: Say Nothing: A True Story of Murder and Memory in Northern Ireland by Patrick Radden Keefe about the troubles in Northern Ireland — "It's an extraordinary book, very, very confronting, but very good" — American Dirt by Jeanine Cummins, a novel about migrants trying to get into the US, and The Spy and the Traitor and other books about the Cold War by Ben Macintyre.
In the dock
Any conversation must turn to banking Royal Commission matters and Livingstone's tense cross-examination in November 2018 by senior counsel assisting Rowena Orr QC. Orr challenged Livingstone's narrative over the degree to which she said she had taken management to task over the handling of breaches, given a series of "red-rated" audit reports and the matter of board minutes. It led to a joint statement by the AICD and the Governance Institute of Australia on the relevant legal obligations, the level of detail that should be included in minutes and the status of drafts and notes.
The Commission noted that CBA's internal audit department identified "red rated" issues with compliance with AML/CTF laws in 2013, 2015 and 2016. "When the audit committee was informed in December 2016 of the third 'red' rated audit report for AML/CTF issues, it did not do enough... It did not challenge, or at least adequately challenge, management about why three audit reports for the same issue over four years had all been rated 'red', or about management's assurances that the matter was being dealt with."
So what has changed in the approach to minutes on the boards she's involved in? CBA has improved its approach, but Livingstone won't elaborate. "There has been so much said on board minutes, whether it's the AICD or whether it's lawyers writing about it," she says. "I will leave it to all that commentary."
Lessons learned
Livingstone says there has been a lesson on the power of having strong frameworks and processes. "You have to be very clear on what your governance landscape is," she says. "Then you can form a view about where you might have weaknesses and where you've got strengths."
For example, CBA's significant work to improve its risk management framework, to bring in non-financial risk reporting and its remuneration framework. "The engine room and the strategy are the yin and yang really," she says. "You can't have one without the other and we've had to run them in parallel, which is particularly challenging."
Livingstone also refers to the unease that John Laker (former APRA chair and prudential panel chair) drew out. "Directors should always have unease. And as the APRA report said, there wasn't that level of unease on the CBA board. As a director, you have to have a sense of 'do things feel right?' And if you don't think they feel right, regardless of what everyone else on the board might think, then you have to respond to your own concerns. As a director, you've got to form your own judgement. And ask yourself, have I done what I think was right?"
Livingstone says that although a board is a unit, ultimately, a director has to be comfortable with the actions they have or have not taken. "You have to form judgement about what you're going to do about it," she says. "On three occasions over my career, I've resigned from a board or a council because I didn't feel enough was being done about particular aspects. I spoke to the chair, who said nothing more was going to happen. So I resigned. If you feel change is necessary and you can't make the change, then actually your only option is to resign".
Samuel is quick to record his admiration for Livingstone. "I look at her overall behaviour and actions and say this is one effective chairperson and we need a few more effective chairpersons around town like that. To fess up and not gild the lily, and with a steely determination and some micro-managing when it is needed. The tone starts at the top."
Disclaimer: the writer has shares in CBA.
CBA Timeline
2016
March Catherine Livingstone AO FAICD joins board; ASIC announces investigation of alleged systemic issues in CBA life insurance division.
November CBA receives 49 per cent first strike vote by shareholders against its executive remuneration report at AGM.
December David Turner, chair since 2010 and a director since 2006, retires.
2017
January Catherine Livingstone replaces David Turner as chair.
February CBA announces $23m compensation scheme for customers over financial planning scandal.
August AUSTRAC launches Federal Court proceeedings, alleging CBA breached anti-money laundering and counter-terrorism financing laws; APRA begins prudential inquiry into governance, culture and accountability; Board announces retirement of Ian Narev, CEO of six years. Board reduces non-executive director fees, cuts short-term variable executive pay.
September CBA announces board renewal — three directors to depart.
October Shareholder class action filed over losses due to the share price fall following legal proceedings by AUSTRAC alleging CBA knew about serious instances of non-compliance with the AML/CTF Act and failure to disclose that information to the ASX amounts to misleading and deceptive conduct and a breach of its continuous disclosure obligations.
November Launa Inman and Harrison Young leave board.
2018
January Board announces CBA retail head Matt Comyn as new CEO.
March Anne Templeman-Jones FAICD joins board.
April Final APRA report. Enforceable undertaking agreed between APRA and CBA; Board signals 20 per cent pay cut for directors for "significant damage caused to the group's trust and reputation"; Matt Comyn starts as CEO, reshuffles leadership team.
June AUSTRAC and CBA agree to $700m fine and CBA pays $2.5m AUSTRAC legal costs to resolve court case.
November Catherine Livingstone fronts banking Royal Commission on how the board dealt with a series of audit red flags and notices from Austrac. She concedes the board failed to challenge management appropriately and to properly assess non-financial risk; Andrew Mohl retires from board after a decade of service; Audit committee chair Brian Long retires after eight years. CBA announcement of board renewal.
2019
January 3A Institute director Genevieve Bell and former Bluescope Steel CEO Paul O'Malley join board.
February Banking Royal Commission final report released.
March CBA announces Royal Commission implementation taskforce will be chaired by deputy chief executive officer David Cohen.
December Sir David Higgins retires from the board after five years.
2020
March Banks announce loan deferrals worth an estimated $100b for SMEs and home loan customers in response to COVID-19.
June ASIC starts Federal Court penalty proceedings against CBA and subsidiary Colonial First State Investments in relation to alleged conflicted remuneration paid by it to CBA for the distribution of Essential Super between 1 July 2013 and 30 June 2019. Australian Financial Review reveals a secret board report into the handling of the AUSTRAC scandal by Speed & Stracey Lawyers to attempt to resolve conflicting recollections by Mohl and Livingstone over events at a 2016 board meeting recounted by Livingstone to the Royal Commission.
July Banks enter phase two of COVID-19 loan deferral after discussions with APRA and ASIC; CBA announces additional customer remediation provisions of $300m pre-tax across aligned advice businesses for year 30 June 2020.
August CBA reports 11.3 per cent fall in cash earnings to $7.3b for FY20. ASIC advises it has finished its AUSTRAC investigation and will not take further enforcement action.
September Simon Moutter, former MD Spark New Zealand, joins board.
This is of of your complimentary pieces of content
Already a member?
Login to view this content