Business Models Inc shares tools and techniques with directors and businesses around the globe.
Michael Eales MAICD
My introduction to strategy came when I worked with an ASX financial services firm through the global financial crisis. I saw a lot of leaders completely knocked off their feet at that time. In 2009 the firm sponsored me to do the Stanford Advanced Project Management Certificate Program to help with its [post-GFC] strategic focus. My teacher, Professor Robert Sutton, recommended Business Model Generation by Dutch author Patrick van der Pijl. I emailed him to get a copy and we stayed in touch. In 2013, he invited me to Amsterdam to meet with seven other people from around the world. Over three days we co-designed Business Models Inc (BMI).
I began looking for like-minded people to help me run the Australian arm of BMI — people who understood design craft as a discipline, but who also had business skills — and found (partners) Ben and Suhit Anantula.
Ben brings a strong intellectual curiosity about how the world works. He has hands-on design experience working for our venture design partner, Josephmark. He can tell compelling stories and shape narratives to help people understand some of the most complex ideas. The way I work with Ben is to ensure we have the right ingredients on the table to shape and frame those narrative threads and that we, as a team, are looking at everything two ways — zooming in to the detail and zooming out to see the big picture.
In 2017, we won the Good Design Australia Design Pioneer Award, and this year, the Design Strategy Gold Award (for an ideas and innovation hub for the Royal Society for the Blind). We also announced the launch of the Design Pioneers Fellowship Program — a partnership with Good Design Australia to create a new credential for business designers.
There is a lot of confusion among directors and management about strategising and planning. They're not the same thing. Boards that plan for certainty over long-term time periods are the worst culprits.
As humans, we have a limited ability to make good decisions over a long period of time. Boards need to be strategic and look at what the business does as continuous experimentation and real-time adjustment to planning and shaping goals at a higher level. This means new business design skills and tools at a board level to help leaders plan for and navigate uncertainty better. Leaders should not outsource this way of working, relying on someone else to shape decisions about the future of their organisation. They must build this capability in order to build a robust business.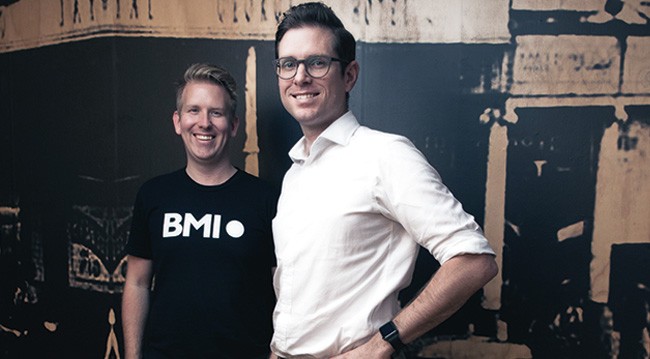 Ben Hamley MAICD
My background isn't formally in business or strategy — I did undergraduate training in fine arts and worked across theatre, events and music. This sparked my interest in the entertainment industry and how, as a multi-disciplinary business, it was able to generate highly valued pieces of IP with an incredibly fluid workforce. It created an interest in how creativity can be a functioning business.
When I sat on the board of the Brisbane Writers' Festival (now Uplit) it was my first board role, so I took AICD's one-day NFP Governance for Directors course where I met Professor Helen Chenery (Bond University). She invited me to a G20 Global Cafe event in Brisbane, which is where I met Michael in 2014. I joined BMI in 2015.
Michael has one of the sharpest minds when it comes to understanding the complexities of international business and managing multi-party projects, and has taught me an immense amount about negotiating with stakeholders and how to spot untapped potential and opportunities.
Since joining BMI, I've found there is a certain romance associated with strategy. We meet people who say strategy is a key component of their role or they're eager to do more of it, but when asked what it means they go white in the face. The definition of it is as varied as its execution.
Strategy has almost become a science. We're increasingly moving into a space where you can't just have nice ideas, you have to have evidence for their success. We're seeing a convergence between science and design. It's essential to develop a shared understanding and a common language for what strategy means to your organisation. Good strategy needs to be aligned to a vision, and that vision needs to be compelling and tangible. A vision statement needs to say something about how the world has changed and what you did to change it. People will get behind that.
If a vision isn't tangible, boards and executives tend to make decisions on the tangible things they can see evidence in, like systems. For example, implementing a new CRM to improve relationships with customers, or getting on social media to communicate better with millennials. Any time you approach a strategic initiative with a system first, you're doomed to failure, because you then need to retrofit the systems to your organisation.
Strategy insights for directors
You need to develop a shared understanding for what strategy means to your organisation.
Strategy needs to be experienced and lived. If you can't experience the strategy in an operational sense, it won't work.
From the board down, there needs to be a deep awareness and understanding of the way everyone makes choices in the business, as well as across the organisation.
Have a clear understanding of the world now and a level of intelligence of where the world is going, before you start to shape options about where your business will be in the future.
Go slow to go fast — go slow at the start of the process and spend more time building your understanding. This will help you shape better options and make better decisions for the future.
This is of of your complimentary pieces of content
Already a member?
Login to view this content