Unlike much of the wider retail sector, Coles Group increased its online capacity and grew sales during COVID-19. Chair James Graham AM shares their strategies for performing under pressure.
Coles Group's James Graham AM FAICD had his work cut out chairing one of Australia's major retailers, first through bushfire disaster and then the pandemic. Coles's 118,000-strong workforce across stores and distribution centres was, in a very real sense, on the front line.
Security staff took their place alongside check-out operators to preserve order and courtesy in stores, while a raft of hygiene measures such as disinfectant trolley wipes and plastic screens were introduced to reduce the risk of infection for customers and employees.
The executive team also stepped up to the challenge, with members of the senior leadership team on a 24/7 roster during the height of the pandemic. The company recruited an extra 10,000 people (including some redeployed airline staff) to manage increased demand. "We had more than 600,000 applications during a very short period of a few weeks," says Graham.
The board and executive were cognisant that team members who "did a great deal more than would have ordinarily been the case" delivered a very strong outcome for all stakeholders.
Coles's annual report identified earnings before interest and tax of $1.4b and Graham notes that the retailer achieved more than 30 per cent total shareholder return over the 2019–20 financial year.
Governance challenges
As with many other organisations, the frequency of board meetings increased dramatically and "countless" telephone calls were undertaken on an ad hoc basis. "The way the situation evolved, there was new information of a totally unprecedented kind occurring every day," he says. "There's no rhythm to a pandemic."
While supermarkets have emerged as one of the few sectors in good shape at year's end, early in the pandemic, they faced a roller-coaster ride as panic buying by customers stripped shelves of pasta, toilet paper and other staples. "The virus created a great deal of uncertainty and unease," he reflects.
The onslaught of demand meant reformatting operations and working with competitors —including Woolworths, Aldi and IGA — to ensure continuity of supply.
The Supermarket Taskforce established by the federal government coordinated with various authorities to smooth a path towards greater flexibility in the way Coles and others did business, such as allowing trucks to arrive at stores beyond the hours that might ordinarily be permitted. "We were a beneficiary of assistance [that opened] up channels in order to allow us to be more efficient in how we met customer requirements," he says.
Intense demand also put pressure on supply chains to restructure operations to increase product availability and, as a result, Coles saw material growth in the volume of goods handled. "Those goods went through not only our traditional distribution centres, but also three specially established pop-up distribution centres," explains Graham. "One lesson from the pandemic is the way people came together to collectively provide solutions in an uncertain world."
Concern about rising inequality between better- and worse-off consumers spurred the introduction of a special shopping "community hour" for the elderly, disabled, and emergency services workers.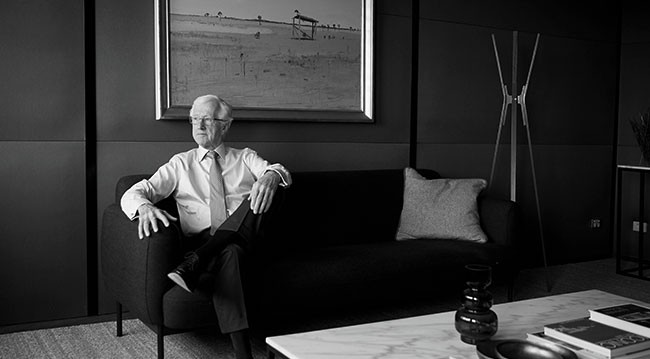 Risk issues
Graham says the introduction of many new and unparalleled initiatives heightened the nature of the board's role in supporting and counselling the senior leadership team. "When you're operating in a very uncertain environment, the important thing is to be sure that the initiatives being taken are appropriate," he says.
Some unforeseen issues arose. For example, consumer demand for product was so strong that there was virtually no food waste, which affected Coles's decade-long association with food rescue organisations SecondBite and Foodbank. "The risk was that these organisations would not have access to the quantity of food to which they were accustomed to serve Australians in need with whom they work," says Graham.
To support these two organisations during the height of the pandemic, Coles made a contribution of $1m a week in addition to what would otherwise be available from the shelves. In total, through its partnerships with SecondBite and Foodbank, more than 30 million meal equivalents were provided during the 2020 financial year.
"Part of the Coles vision is to be the most trusted retailer in Australia and to grow long-term shareholder value. To achieve this requires building trust and engagement across all of our stakeholder group," says Graham.
Team members' store discount doubled and everyone working in stores and distribution centres received an unprecedented thankyou payment "to express our appreciation for the fact that they had gone the extra mile".
Looking to the future, Graham believes the "new normal" will remain out of reach until the development and application of a vaccine globally. "Until we are more certain about the world's response to COVID-19, there will be an ongoing necessity for carefully constructed levels of government support along the lines that we have seen clearly demonstrated in Australia.
"It's important that business leaders and individuals approach the community with a sense of compassion to ensure we bring together our whole community and don't leave people exposed in areas of risk."
For Graham, being the chair of a large public corporation such as Coles is an "extraordinary honour", as he describes it.
"It was really pleasing to see the way everyone stepped up… and to see that we were able to meet the needs of our customers and keep everyone safe," he says. "Safety is an important attribute of Coles. We measure it, we train for it and we reinforce its significance at every turn along the way."
Virtual meetings
The board last came together face-to-face in Melbourne in June, right before the city's second lockdown. While virtual meetings have progressed well since then, says Graham, he believes face-to-face meetings are more effective when it comes to developing ideas and exchanging information.
"In virtual meetings, you tend to talk about matters at hand, whereas face-to-face, the ambit of your discussion is much wider," he says. "If you're concerned about the personal wellbeing of people with whom you're speaking, I think you are more sensitive to and more able to assist when you are in closer contact.
"We have placed a great deal of emphasis upon personal support of team members and especially ensuring their mental wellbeing in these very unusual circumstances."
This is of of your complimentary pieces of content
Already a member?
Login to view this content