Experts explain how to maximise value from your off-site, plus our guide to the best corporate retreats.
John Cossons MAICD, chair, Developing East Arnhem Land
Developing East Arnhem Land hosts strategy days in the Northern Territory mining town of Nhulunbuy twice a year. Darwin local John Cossons MAICD believes "off-sites work better for a couple of reasons. They're one of the few occasions during the year when the executive team and the board can get together and you have an opportunity to build some social capital."
It also makes it more difficult to be distracted by what he politely calls "matters external". "Even if we do have a meeting in town, we tend to do it off-site because we don't want people trying to get hold of staff members. And we're pretty solid on putting the phone away."
Cossons also prefers retreats to span more than a day, as it offers the chance to build social capital. "It's about getting to know where people are coming from, better understanding what's driving them when they propose things and what angle they're coming at," he says. "There are lots of layers that make it work and the organisation benefits from it."
Selecting a different location each time can keep things fresh
Laura Ruffles, CEO, Corporate Travel Management Australia and New Zealand
Off-sites are increasingly popular and trending towards incorporating healthy lifestyle options, says Laura Ruffles. Prerequisites include finding an environment that inspires creativity and encourages clear strategic thinking. It helps to have exclusive use of a property to ensure confidentiality and privacy.
"A location can work for many reasons. A rural or wilderness area can be inspirational, but we've also received great feedback about events and strategy days hosted within walking distance from a company's office," she says.
"Selecting a different location each time can keep things fresh. We often work with businesses to think creatively about using one of their own venues... a warehouse or kitchen. You don't have to go off-site for the meeting component to achieve maximum results."
David Shortland MAICD, AICD facilitator and principal, Shortland Consulting
It's vital to "get clarity around precisely what you want to achieve and in what time frame", according to David Shortland. For major tech companies, for example, that might mean creating an immersive learning experience by travelling to Silicon Valley, or staying local and using the time for analysis and planning. Both options are valuable, he says, but have very different requirements and outcomes.
"Equally, if you're a small startup, you might have an off-site on-site, which is about giving yourself time to pause, reflect, discuss and debate the things that are important." The success of the retreat and the company, says Shortland, comes down to making time for proper discussion and that means not cramming too much into a day. "You spend the morning doing the downloads and 'death by PowerPoint', market analysis, CFO chat and the what-if scenarios. Then you're supposed to arrive at a sophisticated strategy before 3pm, when people get on their flights.
"Having a sensible staged approach to half-days, maybe [scheduling] insight download in the afternoon before dining together and reflecting overnight before recommencing in the morning, is incredibly powerful."
Simone McDermid, PR and communications manager, Stayz
Whether overnight or not, retreats don't have to be ostentatious. Holiday rental site Stayz has corporate options and recommends private homes, such as Millfield Homestead in NSW's Hunter Valley and Dacha on Daylesford Lake in Victoria, for small retreats.
Simone McDermid says the company's most recent off-site was hosted in Sydney, with colleagues from parent company HomeAway flying in from Texas and Singapore. The Point Piper home they chose, which sleeps eight and costs $9500 a week, provided a seamless solution for a multi-day retreat, complete with harbour views and a pool. "Our international guests could roll out of bed and into the living room to meet with the rest of the team. It saves on additional accommodation costs per night for each executive and doubles as an event and meeting space."
Nuts & bolts
Tips for planning the perfect off-site.
• Clarify the purpose of the retreat. Decide what it is that you want to achieve. A successful retreat is well planned and well structured, no matter where it is held.
• Arrange a good facilitator – someone familiar but external to the business is probably best.
• Timing is everything. Don't plan an intense strategy session in the mid-afternoon. Downtime allows people time to relax and mull over the events of the day.
• Build social capital. Think about the personality make-up of the board and plan opportunities for directors to get to know each other in a casual, relaxed setting.
Switching off
Eight corporate retreats that will (almost) make you forget you are working.
Maitraya Luxury Private Retreat 
NANARUP, WA
Just an hour's flight from Perth to its private airstrip, Maitraya Luxury Private Retreat (maitraya.com) is set on 200 hectares with views of the Southern Ocean. The venue balances corporate needs with wellness and health facilities.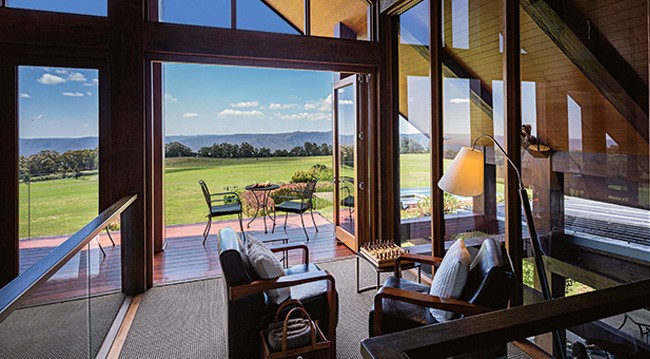 Spicers Peak Lodge
MARYVALE, QLD
The 13-room Spicers Peak Lodge provides a no-extra-cost option for exclusive use of its property atop a mountain in the Scenic Rim. Hiking, tennis, mountain-biking and off-road discovery tours are available. Less than two hours' drive from Brisbane, it won Best Boutique Corporate Retreat at Qantas magazine's 2017 Business Travel Awards.
Q Station
MANLY, NSW
Q Station on the site of the old Quarantine Station at North Head (below), an hour by ferry from the CBD, is far enough removed from the daily bustle to free up some head space for strategic thinking.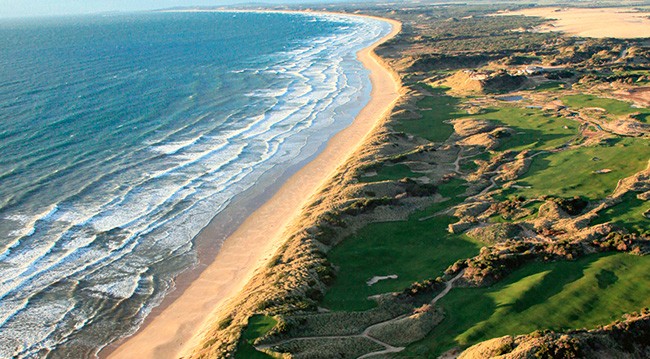 Barnbougle
BRIDPORT, TAS
Looking for an excuse to play a round of golf or take a windswept walk? Barnbougle, on Tasmania's rugged north coast, can be reached by private charter or via Bridport. It caters for daytrips and overnight stays, and offers the choice of intimate-sized venues as well as larger conference spaces.
Emirates One&Only
WOLGAN VALLEY, NSW
In a World Heritage area about three hours' drive from Sydney, One&Only Wolgan Valley is a luxury conservation setting for memorable meetings. Spa treatments and a wildlife safari option are available after a day of information downloads in the Creekside Room. There is a choice of one-, two- or three-bedroom villa accommodation.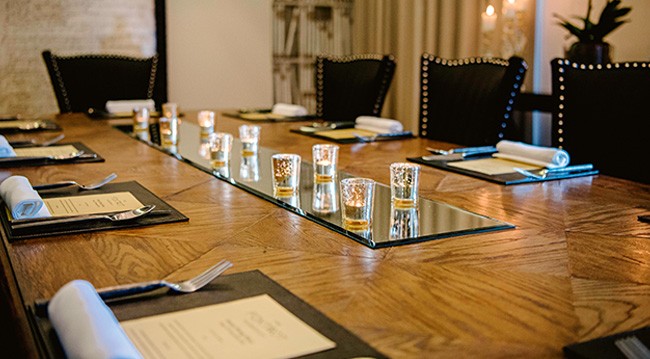 The New Inchcolm Hotel & Suites
BRISBANE, QLD
Work away from the office without leaving the city at the Foxtrot Room at The New Inchcolm, voted Best Meeting Room at this year's Business Travel Awards. The Art Deco space caters for 12, with larger rooms available.
Elements of Byron
BYRON BAY, NSW
Winner of the Business Travel Awards' Best Large-scale Corporate Retreat, Elements of Byron combines state-of-the-art meeting spaces with a spectacular beachfront setting. The 22ha retreat, accessed from Ballina and Gold Coast airports, features five-star accommodation and dining facilities. Downtime opportunities include yoga sessions and hinterland food tours.
Fairmont Blue Mountains
LEURA, NSW
This corporate favourite hosts more than 300 events a year — from small strategy meetings to conferences. Just 90 minutes' drive from Sydney, the 9.5ha retreat offers 15 flexible spaces for up to 850 delegates, a ballroom that can seat 450, plus outdoor options. Off-duty, enjoy Segway tours of the property, golf, yoga and bushwalking
This is of of your complimentary pieces of content
Already a member?
Login to view this content