A financially sustainable business model, pioneered by banker turned chair and company director Audette Exel AO, is bridging the worlds of finance and philanthropy.
When Adara Group founder Audette Exel went to see director David Gonski AC FAICDLife in 2014, she was keen for his thoughts on a novel idea. Exel had already run a successful global advisory business to fund her not-for-profit (NFP) development organisation. Now she had hatched a plan to get top investment bankers and dealmakers to donate their fees from a range of corporate financial transactions to support good causes.
His reaction was forthright. "I thought it was fantastic," he recalls.
Background
A commercial lawyer by training, former managing director of Bermuda Commercial Bank and ex-chair of the Bermuda Stock Exchange, Exel was also a member of the board of the Bermuda Monetary Authority (her signature was on Bermuda's $5 note).
In 1998, she founded the international development non-profit organisation Adara Group (formerly Isis Group) after witnessing appalling conditions in the Humla District of the Himalayas and in Uganda's Nakaseke District. The organisation's expertise lies in two distinct areas: maternal, newborn and child health and community development. It works with communities in remote parts of Nepal and Uganda to help improve lives through health, education, infrastructure and other development projects.
A business/not-for-profit hybrid
The Adara Group consists of two Australian corporate advisory businesses, Adara Advisors and Adara Partners, whose sole purpose is to support its NFP international community development organisation, Adara Development, which encompasses trusts and charities around the world — including Australia, Uganda, Bermuda and Nepal.
Exel notes that in the world of hybrid business/NFP constructs, there are legal and regulatory risks around holding integrity and ensuring the purpose is embedded. But while it might look like a complex structure, she says, it really isn't.
"To do the international NFP work that we do, we need regulated NFP entities in every jurisdiction we operate in. We have two businesses because Adara Partners needed a specific legal structure to allow the panel model to comply with all the relevant regulatory and conflict-of-interest issues."
The model has worked so well that Adara has grown significantly and earned itself a global reputation. It funds a development-team payroll, directly and indirectly, of more than 160 people. Each year its work touches more than 50,000 people in poverty.
Governance
Exel emphasises that governance must be taken seriously and managed to the highest standard. "Because Adara has both advisory businesses and multiple non-profit entities in the group, we also have to ensure that the relationship between those entities is clearly explained and managed — with any conflict-of-interest issues front of mind."
This model helps Adara be more financially sustainable. "It's also a positive way to attract donors, as they like that 100 per cent of their donations go to projects," she says. "Adara has put $36 million to work for women and children in extreme poverty. Our businesses have funded $12m of that, with the rest coming from donors."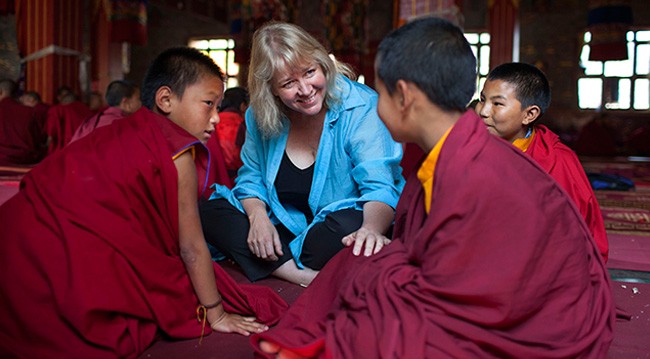 Tapping into the business world
Exel believes people can be motivated by contributing to the social good. "There's been a sea change in the way people think about using business skills," she says. "Setting up a corporate advisory firm to finance an NFP is one way. People thought I was crazy because it was so far from the way traditional philanthropy is funded."
Motivating a group of Australia's leading — and quite often competing — investment bankers and corporate advisers to work together on top of their hectic day jobs, then to donate their fees, is a challenge. Two years after the launch of Adara Partners, there are 16 members on its panel. These include founding members Ilana Atlas MAICD, Catherine Brenner MAICD, Guy Fowler, David Gonski, Matthew Grounds, Peter Hunt AM, Diccon Loxton, Peter Mason AM FAICD and Steven Skala AO. Panel members, on behalf of Adara Partners, have advised the likes of Wesfarmers, the Football Federation Australia and Macquarie Atlas Roads — generating more than $2.3m in fees for Adara's work, with an additional $2.2m in fees expected from current mandates.
Adara blueprint
Other NFPs are interested in Adara's approach and Exel sees potential for the model. "I want Australia to model this and take it to the world's great financial markets," she says.
While the Adara Partners model requires a financial services licence to drive it, Audette Exel says it has broader relevance to the not-for-profit world. "I think it has wide applicability in the understanding that you can partner with business and do it in a deep strategic way. NFPs and the financial services community often see themselves as separate. Adara Partners shows they can work hand in hand. Don't think of business as the enemy — think of it as a potential strategic partner."
This is of of your complimentary pieces of content
Already a member?
Login to view this content