Australian researchers highlight the importance of financial statements as a communication tool for investors, rather than merely an exercise in compliance.
There has been recent criticism that annual financial reports are becoming increasingly less decision-useful and less relevant to investors and other users. However, Australian research into the use of financial statements by investors finds that, although financial statements are not the only source of information for investors, they are the primary source of information for investor decision making. Accordingly, annual financial reports are an important communication tool for companies.
The criticism of annual financial reports focuses on their lack of timeliness, the rise in companies highlighting alternative performance measures not required by accounting standards, the development of knowledge-based industries, as well as the complexity of the financial reports themselves. In response to these criticisms, Australian research funded by CPA Australia examined whether financial statements are decision-useful for Australian investors, and whether this usefulness has changed over time. The research examined this question by looking at the effect of financial reporting on company share prices, as well as interviewing investors and other financial reporting stakeholders. The sample of firms analysed for the research consisted of 29,838 firm-year observations of Australian listed entities from 1992-2015.
The results found that financial statements are useful for investor decision making and continue to be relevant over time. Specifically, net profit and a company's book value are relevant for investment decisions, and remain so over time. On average, 67 per cent of company share prices is associated with information related to net profit and book value (combined).
Figure 1: Relevance of Australian companies' financial reports over time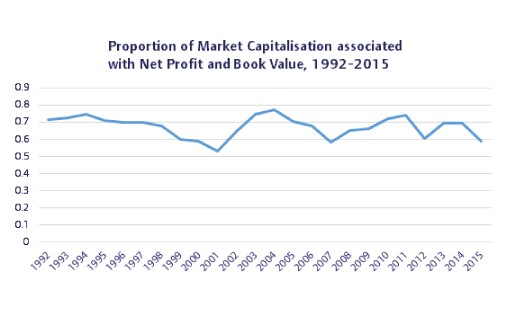 This result is particularly interesting given the significant increase in available information for investors over the research period. The results suggest that the prevalence of alternative performance measures, and the limitation of the timeliness of the release of annual financial information, do not mean it is the end of accounting as some have claimed.
These research findings were supported by interviews with investors and other financial statement stakeholders to gain insight into how and why investors use financial statements. In total, 17 interviews were conducted with investors, regulators and practitioners. Transcripts from the interviews amounted to over 69,000 words and 107 pages.
One of the key themes that emerged from the interviews was that annual financial reports are the primary source of information for investor decision making. Further, investors commented that annual financial reports, as audited information, provide confidence to the investors and play a confirmatory role for information that has already been provided to the market. The interviews evidenced that audited financial information was prized for its credibility as a key input into investor valuation models.
The interviews also highlighted that alternative performance measures (for example, non-GAAP financial information) were not considered by investors to be a substitute to annual financial reports. Some of the key reasons provided by investors for this view related to a lack of:
transparency in the development of the information;
reliability of the measures; and
consistency both within and between companies in how the measures are calculated.
Overall, information provided by alternative performance measures was viewed by investors as complementary to the information provided in annual financial reports. Non-GAAP financial information is often used by investors to help establish what part of earnings performance is expected to continue (i.e. predicted, sustainable, persistent earnings).
This contrasted with the view of the role of financial statements, which was primarily to confirm current performance and as a reliable starting point for prediction of future performance.
In addition, the timeliness of financial reporting was not considered by investors to be a significant limitation of annual financial reports. Investors, recognised the trade-off between timeliness and reliability of the annual financial report relative to alternative sources of information used in assessing company performance. Historical trend data from the annual financial report was seen as providing a critical initial input into the valuation and prediction models used by investors. Investors, recognising the strengths and limitations of the annual financial report, viewed it as a necessary, but not sufficient, basis for predicting future performance of an entity.
Overall, the Australian research highlights the importance of the financial statements as a communication tool for investors, rather than merely an exercise in compliance. The findings indicate that financial statements play an important role in investor decision making. Accordingly, directors should be mindful of the key role of financial reporting in communicating performance to investors.
About the authors
Professor Michael Davern is a Professor in the Department of Accounting, University of Melbourne
Nikole Gyles is an Enterprise Fellow in the Department of Accounting, University of Melbourne
Dr Dean Hanlon is a Senior Lecturer in the Department of Accounting, Monash University
This is of of your complimentary pieces of content
Already a member?
Login to view this content