At its monetary policy meeting on 4 October 2022, the RBA Board decided to increase the cash rate target by 25bp to 2.6 per cent. That marked a sixth consecutive rise – the RBA has now lifted rates at every meeting since starting to 'normalise' policy on 4 May this year – and to that extent was in line with pre-meeting expectations. What was different this time was that markets had been expecting another 50bp move. In that context, the decision to surprise markets and go with a smaller increase suggests that the RBA has become more dovish, more quickly than markets had anticipated, as well as more dovish than some of its key international counterparts. That said, it's a strictly qualified kind of dovishness: after all, the central bank again signalled that it thinks more rate hikes are yet to come, noting that 'further [rate] increases are likely to be required over the period ahead'.
I'd like to remind readers that I will be presenting an economics webinar (free for members) on 3 November that will look back at some of the key economic lessons from a turbulent year and examine some of the implications for 2023. I hope that you can join me.
A new note of caution from Martin Place
The target cash rate is now back to its highest level since mid-2013 when it had stood at 2.75 per cent between the May and July meetings before being cut to 2.5 per cent in August 2013. What attracted more attention than a return to the highest level of the policy rate in nine years, however, was the size of this week's move. After four consecutive 50bp rate hikes across the June-September 2022 meetings, the RBA has returned to a 'business as usual' 25bp-sized increase. I've suggested for some time that a slowdown in the pace of policy adjustment was on the cards, and had originally pencilled in this month's meeting as a likely option for such a downshift. But the batch of aggressive rate hikes over September from other leading central banks, including in particular the US Fed, along with the bout of market nerves following the UK's abortive fiscal policy experiment, had encouraged me to join the consensus last week and push that timing back to November. Turns out, I should have stuck with my original call.
What sits behind the RBA's decision to moderate the pace of monetary policy adjustment? In large part, the story is a mechanical one. As discussed in the data 'catch up' section of last week's note, the RBA had reported in the Minutes of the 6 September 2022 Monetary Policy Meeting that, 'All else equal, members saw the case for a slower pace of increase in interest rates as becoming stronger as the level of the cash rate rises.' Similarly, in his recent testimony to the House Standing Committee on Economics, the Governor had explained that 'the fact that we've raised interest rates by quite a lot already increases the strength of the argument for smaller increases going forward. We were having interest rates at essentially zero…so we needed to move fairly quickly to get interest rates back to a more normal setting. We're closer to a normal setting now, which means that the case for large adjustments in interest rates has diminished.'
The decision also involves a balancing act between two sets of risks. The first set includes an inflation rate that is not only currently well-above target but that is also expected to move further away from that target through the rest of this year and then to remain somewhat above target throughout 2023 (this week's statement included the reminders that 'a further increase in inflation is expected over the months ahead' and that the RBA's central forecast 'is for CPI inflation to be around 7.75 per cent over 2022, a little above four per cent over 2023 and around three per cent over 2024') together with the consequences that such a prolonged period of overshooting could have for inflation expectations and central bank credibility. Set against that are the risks that a too-rapid domestic tightening of monetary policy plus an increasingly difficult global environment could tip the Australian economy into recession. The decision to slow – but likely not stop – the pace of tightening suggests that while the RBA's focus remains on the first set of risks, it has now increased the relative weight it assigns to the second set.
In terms of those downside risks, the statement flags two key sources of uncertainty. First, it notes that the outlook for the global economy 'has deteriorated recently'. That implies that the RBA's assessment of recent developments has been influenced less by the need to follow the policy lead of the US Fed (and also thereby support the value of the Australian dollar) and more by the downside risks to the global economy including those triggered by the financial market turbulence that followed the Fed tightening last month and that was then exacerbated by the UK government's ill-fated fiscal policy experiment. And second, the statement also highlighted the unknowns around how household spending will respond to higher interest rates, higher inflation, lower consumer confidence, and declining house prices, with this week's data releases bringing another drop in monthly home values (see next story).
One immediate consequence of the RBA's decision, and of that implicit rebalancing of risks, is that the market has re-priced its expectations about the future path of the cash rate target, moving to a shallower trajectory than the one anticipated immediately before this week's meeting. On 3 October, the market was expecting a cash rate of about 4.6 per cent in a year's time, while by the close of business on 5 October that had fallen to around 3.6 per cent.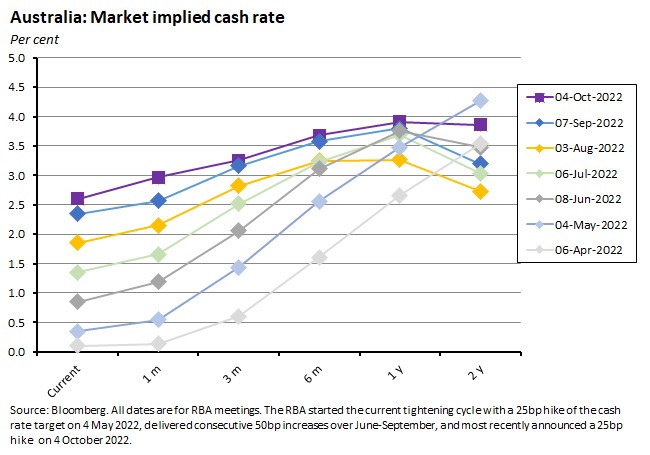 The housing market continues to weaken
The cumulative 250bp of RBA monetary policy tightening delivered to date is already having an impact on the Australian housing market. According to this week's data releases, house prices fell again in September and new lending contracted in August, although the same month did bring a rise in the (typically volatile) building approvals series.
CoreLogic said that its national Home Value Index (HVI) fell 1.4 per cent in September to be up just 1.7 per cent over the year. Meanwhile, the combined capitals index fell 1.4 per cent month-on-month and was down 0.7 per cent over the year marking the first annual drop since October 2019.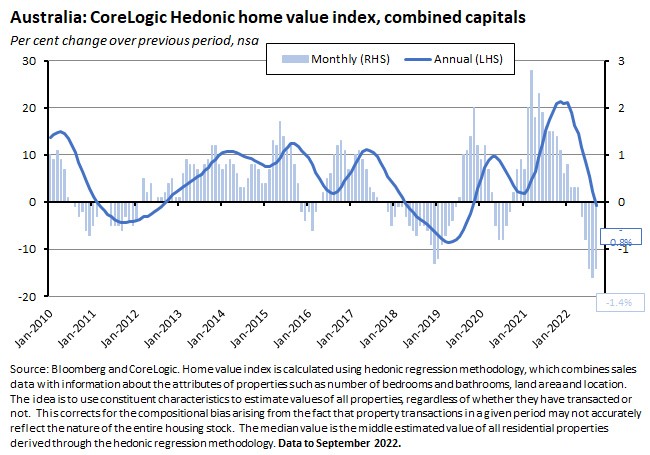 In a sign of the breadth of the housing market adjustment, home values fell across every capital city in October with the exception of Darwin, where values were unchanged. The largest monthly declines were in Sydney (down 1.8 per cent), Brisbane (down 1.7 per cent) and Canberra (down 1.6 per cent). Still, the pace of monthly decline did ease relative to the 1.6 per cent drop reported 2022.
To put the current price falls into perspective, combined capital city values rose by a heady 25.5 per cent from their COVID trough to their peak in April 2022. Since then, prices have only fallen by a cumulative 5.5 per cent (or by about $46,100). Across most capital cities, and in particular across regional Australia, the decline from the peak to date still remains quite modest compared to the scale of the previous appreciation.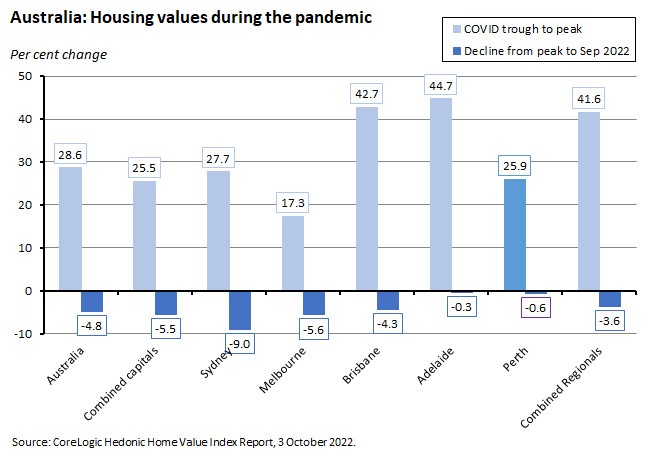 The ABS said that the value of new loan commitments for housing ex refinancing fell 3.4 per cent (seasonally adjusted) over the month in August 2022 to be 12.5 per cent below their August 2021 level. New lending for owner-occupiers was down 2.7 per cent month-on-month and 15.1 per cent year-on-year, while new loan commitments for investors were down 4.8 per cent in monthly terms and down 6.4 per cent in annual terms. The Bureau noted that, despite the declines, the value of loan commitments remained elevated relative to pre-pandemic levels – owner occupier loans in August were 36 per cent higher than in February 2020, while investor loans were 70 per cent higher. Also worth noting: the ABS highlighted that the value of borrower refinancing of owner-occupier housing loan commitments between lenders rose 2.8 per cent in August 2022 to a new record high of $12.8 billion, as borrowers sought out loans with lower interest rates.
According to the ABS, the number of total dwelling units approved rose 28.1 per cent to 17,497 in August 2022 (seasonally adjusted) but was down 9.5 per cent on the number of approvals in August 2021. That monthly gain followed an 18.2 per cent fall in July and was mostly driven by a sharp bounce back in approvals for apartments: Approvals for private sector houses were up 4.1 per cent over the month but down 14.4 per cent over the year, while approvals for private sector dwellings excluding houses jumped by 99.1 per cent in monthly terms although they were still 1.2 per cent lower on an annual basis. The ABS also said that the value of total buildings approved rose 23.5 per cent in August, with the value of residential building up 28.5 per cent and the value of non-residential building up 15.1 per cent over the month.
What else happened on the Australian data front this week?
The Parliamentary Budget Office (PBO) has published the National fiscal outlook (NFO) as at 2022-23 budgets. Graphical overview here. The NFO consolidates state and territory budgets for 2022-23 with the March 2022 federal government budget to provide an overview of the national fiscal position. The PBO notes that the national budget position has improved relative to the numbers presented in its 2021 NFO. That's mainly because revenues have been higher than anticipated (revised up by $84 billion for 2021-22), and by enough to more than offset increased spending (revised up by $70 billion).  As a result, the national net operating balance, which measures the difference between revenues and expenses, is estimated to have been in deficit by $92 billion or four per cent of GDP in 2021-22, as opposed to the 2021 NFO projection of a 4.9 per cent of GDP deficit. The new NFO forecasts this deficit to narrow to 0.5 per cent of GDP by 2025-26. The profile for net national debt has also improved relative to previous projections, being revised down by $126 billion for 2021-22 and by $172 billion for 2024-25 (due to both the improved net operating balance and the impact of higher interest rates on the market value of outstanding government securities). National net debt is now projected to rise from 35.8 per cent of GDP in 2021-22 to 46.8 per cent of GDP in 2025-26 (the previous forecast had net debt above 50 per cent of GDP by 2022-23 and rising to 55.3 per cent of GDP by 2024-25). Less welcome, the PBO now thinks that public debt interest payments as a share of GDP will rise from 1.1 per cent in 2021-22 to 1.6 per cent by 2025-26 due to higher interest rates.
ANZ Australian Job Ads fell 0.5 per cent over the month in September, to a (seasonally adjusted) total of 240,000. That still left the number of ads up 22.3 per cent over the year and 56.5 per cent above their pre-COVID January 2020 level. That's also consistent with the recently released ABS data on job vacancies which, despite slipping a little in the August 2022 quarter, also remain elevated at more than double their pre-pandemic levels.
Related, the National Skills Commission published its 2022 Skills Priority List. Here is the key findings report. Some 31 per cent of the occupations it assessed are in currently in shortage at a national level, up from 19 per cent of assessed occupations in 2021.
The ANZ Roy Morgan Consumer Confidence Index fell 2.6 per cent to an index level of 85.5 over the week ending 2 October 2022 as households reacted to negative global financial news. Four of the five subindices fell (the only exception was 'time to buy a major item') and confidence was also down across all mainland states in what was the first synchronous drop since early August. Weekly inflation expectations jumped by 0.6 percentage points to 5.6 per cent. That was the highest inflation expectations reading since mid-August, with ANZ pointing to the end of the temporary petrol excise cut and the uptick in petrol prices as key drivers.
The ABS said that Australia's trade balance on goods and services in August 2022 fell by $0.6 billion to a surplus of $8.3 billion. Exports of goods and services rose by $1.4 billion (2.6 per cent), driven by exports of coal, coke and briquettes while imports of goods and services grew by $2.1 billion (4.5 per cent), pushed up by fuels and lubricants. (See also the new Department of Industry forecasts for resources and energy exports discussed in the general linkage section below.)
Preliminary estimates for the RBA's September 2022 Index of Commodity prices suggest that the index fell by 0.2 per cent in SDR terms last month after falling by a (revised) 6.9 per cent in August, pulled down by the non-rural and base metals indices. Over the past year, the index is still up 30.6 per cent in SDR terms, reflecting higher LNG, coking coal and thermal coal prices. In Australian dollar terms, the index was up 2.1 per cent over the month and 30 per cent over the year.
Last Friday, the ABS published new experimental estimates for the Australian Defence Industry Account. The Bureau estimates that the defence industry's direct contribution to the Australian economy in 2020-21 was $8.9 billion in gross value added (GVA) terms, or about 0.46 per cent of national GVA. The three largest industries, collectively contributing about three quarters of the total GVA generated by defence expenditure in 2020-21, were professional, scientific and technical services (41 per cent of defence industry GVA), manufacturing (18 per cent) and construction (15 per cent).
This week on The Dismal Science podcast we discuss the latest RBA decision and preview what could happen in the months ahead. Plus, we discuss the debate around "Stage Three" tax cuts.
Other things to note . . .
This is of of your complimentary pieces of content
Already a member?
Login to view this content