The results of the 2018 Director Sentiment Index are in. Here's how directors feel about energy, climate change and penalties for misconduct.
The AICD's Director Sentiment Index for the second half of 2018 shows directors are upbeat about the general business and sector outlook for the remainder of the financial year with expectations for staffing levels, labour demand, investment levels and profits strong.
However sentiment has declined for the first time in 18 months, down 8.5 points on the previous survey in April. Directors are now less optimistic about legal issues, regulation and directorship conditions in general.
Ipsos surveyed the opinions of 1252 AICD members between 13–27 September 2018. Directors continue to be positive about the state of the Australian, Asian and US economies, with Asia predicted to be the strongest while the outlook for the European economy is perceived as weak. Rising global protectionism is considered by directors as the biggest economic challenge facing Australian business followed by global economic uncertainty and energy policy. Expectations of credit availability in the future have also turned pessimistic compared to the first half of 2018, with 31 per cent of directors expecting credit for working capital purposes will be constrained.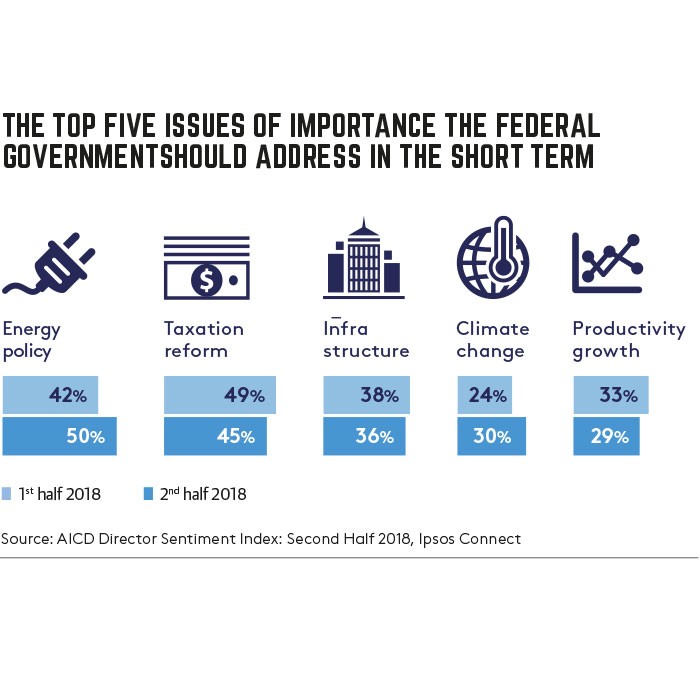 Policy priorities
The survey showed that directors are keen for federal government action around climate change and renewable energy in the long and short term.Directors rate energy policy, taxation reform and infrastructure as the top priorities for the government to address in the short term (see chart). In the long term, 39 per cent of directors want government action on climate change, followed by addressing the ageing population, energy policy, tax reform and infrastructure.
Governance
Culture, regulation and director liability were of concern. A majority (82 per cent) of directors support stronger penalties for misconduct and 57 per cent agree with increased funding for regulators as policy options. However, directors continue to feel pessimistic about the impact of legislation on director liability in the second half of 2018 — 33 per cent saying it has negatively affected their business decision-making and 51 per cent that it has affected their willingness to accept new board appointments.
Nearly three quarters of directors (74 per cent) said their business is actively seeking to improve diversity of skills in board membership and 53 per cent say their business is actively trying to increase diversity in terms of gender.
In terms of federal political and policy leadership, 79 per cent of directors think it has a negative effect on consumer confidence. Directors nominate less focus on short-termism as the top measure for lifting national productivity, followed by a greater focus on fostering innovation and broad-based tax reform.
This is of of your complimentary pieces of content
Already a member?
Login to view this content