The latest Director Sentiment Index finds that our members are less bullish about the economy and business prospects than they were six months ago.
Australian directors are less optimistic about the economy and business operating environment than they were just after last year's federal election and change in government, according to the Australian Institute of Company Directors' latest Director Sentiment Index (DSI). The DSI for the first half of 2014, conducted between 31 March to 13 April, by research group IPSOS, shows that overall director sentiment has fallen 6.8 points since October 2013, although it is slightly higher than at the same time last year.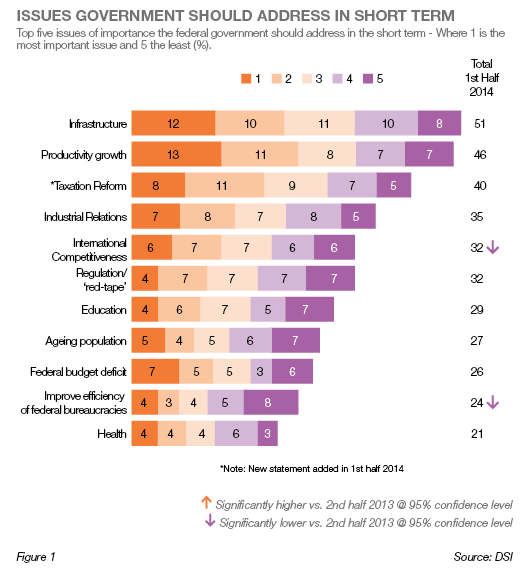 "The results suggest the honeymoon period for the Coalition government is waning," observes Company Directors CEO John Colvin. "Directors have indicated that productivity growth is now their biggest economic challenge, followed by issues such as excessive regulation and a lack of spending on infrastructure."

Infrastructure was again rated the number one priority for the federal government to address in the short- and long-term, with 90 per cent of directors indicating that the current level of government spending on infrastructure was too low. Productivity again followed infrastructure as the second most urgent issue for the federal government to address in the short-term, and was identified as the fourth most important issue for the long-term.

Colvin notes that directors are now more pessimistic about the future health of the Australian economy, with just under half expecting it to be weak over the next 12 months. "For the first time in the three-year life of the DSI, directors expect the US economy to outperform the domestic economy in the next year," he says.

Overall, directors saw the European economy as still weak. They remained positive about  Asian economies although their enthusiasm for this region has declined over the past six months.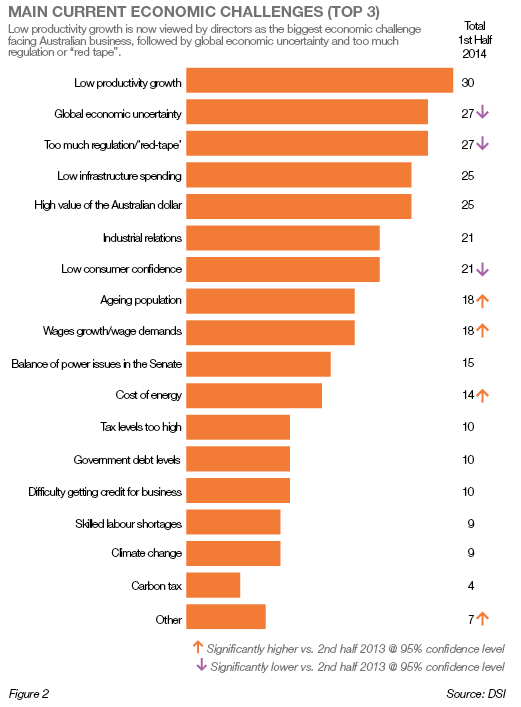 Low productivity growth is now considered the biggest economic challenge facing Australian business, followed by global economic uncertainty. Too much regulation or red tape dropped from being the biggest concern in the second half of 2013 to the third biggest, but remains a big worry for the directors polled. They believed the level of red tape and the time spent on regulatory compliance had risen over the past 12 months — an issue that is high on Company Directors' policy agenda this year.

Directors estimated that red tape compliance consumed an average of 23 per cent of their total board time commitment. And, 40 per cent believed this commitment had increased in the past 12 months.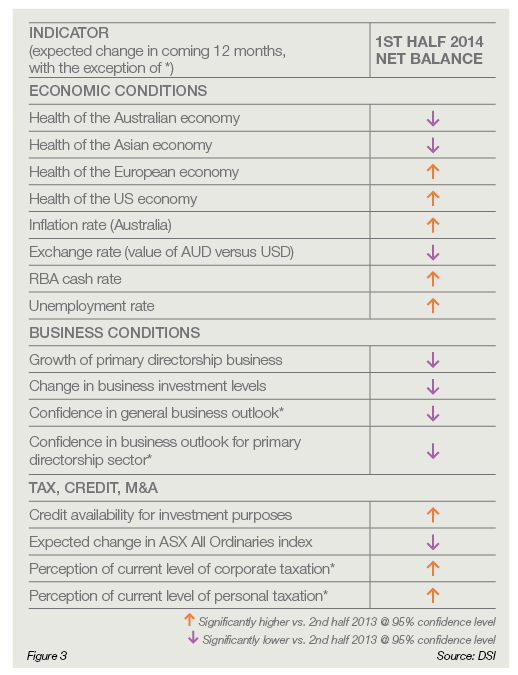 In addition, 75 per cent said the administrative costs and time associated with compliance was having a big effect on their business. Almost 70 per cent identified preparing or paying taxes and workplace health and safety as the aspects of their business most affected by red tape, followed by workplace flexibility and employing new workers. However, 40 per cent were optimistic that red tape would decrease over the coming year.

Almost 40 per cent reported that the growth of their businesses had weakened in the past six months. However, a similar amount anticipated healthier profits in the second half of this year.

Overall, directors expected the exchange rate to decline further in the coming 12 months, but predicted a rise in inflation, the RBA official cash rate, wages growth and the unemployment rate.

Opinion about big picture government policies was mixed. Previous disquiet about the carbon tax and National Broadband Network (NBN) had diminished somewhat. Nearly half of directors polled said abolishing the carbon tax would affect their business positively while a similar amount believed it would not affect their business. However, directors view the NBN in a good light. Almost 60 per cent agree the NBN is a positive thing for Australia.

Directors viewed industrial relations reform as a priority, although 40 per cent believed that an electoral mandate should first be given. They also reported that director liability and compliance requirements reduced their willingness to serve on a board.

Remuneration for non-executive directors had no effect on this decision for 60 per cent of directors, while more than 80 per cent of directors believed the contribution they made to the economy and society bolstered their willingness to serve on a board.

More than 40 per cent of directors said legislation on director liability dampened their willingness to continue on a board while more than half agreed that this legislation dampened their enthusiasm to accept new board appointments.

Directors also remained pessimistic about the effects of legal judgments on director liability. More than 35 per cent said these  negatively affected their business decision-making and willingness to continue on a board. In addition, half believed that these negatively affected their readiness to accept new board appointments.

Most directors perceived Australian companies as generally ethical and more so than overseas listed companies.
This is of of your complimentary pieces of content
Already a member?
Login to view this content