AI, climate change, diversity of thought and 5G are key trends challenging boards and organisations. Are you prepared? Plus, how should your board go about setting executive pay?
How prepared is your organisation for future trends?
Artificial intelligence (AI), climate change, improving how we listen to diverse ideas and 5G were discussed as key trends challenging boards and organisations in the "Future trends: shifts we are seeing globally" session. An audience poll found 53 per cent of people believed their boards were least prepared for AI, seven per cent were least prepared for 5G, 24 per cent for climate change, and 16 per cent for listening to diverse views.
In a panel session moderated by Leonie Valentine GAICD, MD of sales and operations at Google Hong Kong, Dr Stefan Hajkowicz, senior principal scientist strategy and foresight at CSIRO's Data 61, said when it came to the capabilities and applications of AI, it would improve every organisation including banking, aged care, health diagnosis and the justice system. He added that while data privacy is "not a simple challenge", AI is "a boon for human justice" and "doing things more ethically".
Are you prepared?
An AGS audience poll found 53% of people believed their boards were least prepared for AI.
Listening to diverse views – 16%
Climate change – 24%
5G – 7%
Deborah Yates, KPMG national managing partner, people, performance and culture, said the future of work requires skilful, capable and inclusive leaders and that boards need people who are "genuinely active listeners" who "have a real awareness of their biases". She warned board moves to boost diversity could be wasted if different ideas weren't encouraged and "really heard". "It's the difference between genuinely listening to ideas from people like you, to genuinely listen to ideas from people who are different to you," said Yates.
Anny Havercroft, director of brand and marketing at Verizon Media ANZ, outlined some of the applications of 5G — such as faster downloads and easier data access — which would improve the customer experience in retail and improve safety in the sea when combined with drone technology. "The opportunities and possibilities are endless."
James Mabbott, KPMG Innovate partner in charge, said the rise of the circular economy and more investment in renewables, were key trends directors should be across.
The Big Issues
Satisfying all of a company's stakeholders with a remuneration structure is impossible, but boards should nonetheless try to engage and be transparent, the AICD's Australian Governance Summit heard. By Christopher Niesche.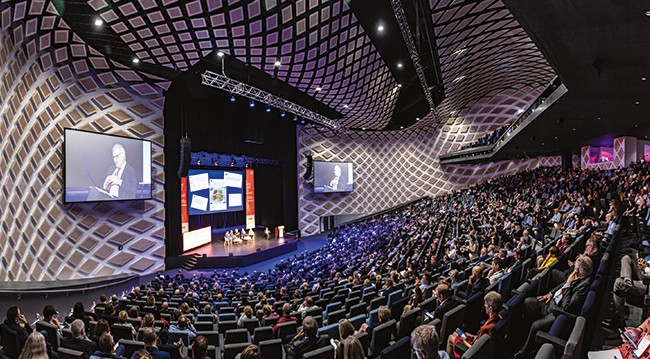 Three experienced directors explained their approach to setting executive pay. Kathleen Bailey-Lord FAICD, a non-executive director of the Bank of Queensland, QBE Insurance and Melbourne Water, noted there is increased consternation in the community about the gap between CEO and median employee salaries, and it's a factor undermining trust in the business sector. She said boards should try to engage and explain what they are doing.
Sylvia Falzon FAICD, a non-executive director at Suncorp Group, Premier Investments and Regis Healthcare, said that while it is impossible to satisfy all stakeholders with a remuneration structure, boards should nonetheless communicate with stakeholders. "It comes down to you as a director and your board having the conviction that what you're doing is the right thing for your organisation and being able to communicate that really well," she said. Staff, customers and stakeholders want to see that boards are "taking and making the tough decisions whenever it's warranted".
She urged boards to resist the pressure to change their remuneration structures to satisfy a particular cohort, which could lead to the long-term detriment of the organisation. "If you believe this is the right thing to do, you need to have the courage to stick with it," she said.
Falzon said it was incumbent on boards to understand how remuneration structures work throughout the organisation, to identify if the way the majority of the workforce is paid is in line with the executives' incentive scheme.
Boards are now expected to "learn a lot more about behavioural science" in understanding how incentives work, said Bailey-Lord. When considering the remuneration strategy, directors need to understand the context and think deeply about what success looks like. "Rem is at the end of the process. It's a consequence of how we have set the performance management expectations both for the short and the long term," she said. "It's very anchored in why do we exist and what is the business strategy to execute that and then what are the targets by which we will measure our performance?"
Graham Goldsmith FAICD AO, chair of Seek, explained Seek did away with short-term incentives in 2013 because directors realised STIs generally paid out at 100 per cent, regardless of the outcome. The board wanted to provide "reasonable" base compensation to executives and the "cream" if shareholders had a good experience, so it moved to two-thirds cash pay and one-third equity, which executives had to hold for two years. Conversations on remuneration "went out the door".
Goldsmith said directors need to know what they're trying to solve with their rem structure and ensure they're not second guessing "what response I'll get from a proxy adviser as opposed to what is right for the company and its stakeholders in delivering on our purpose".
This is of of your complimentary pieces of content
Already a member?
Login to view this content